Didi Chuxing Eyes Brazil for Its Next Market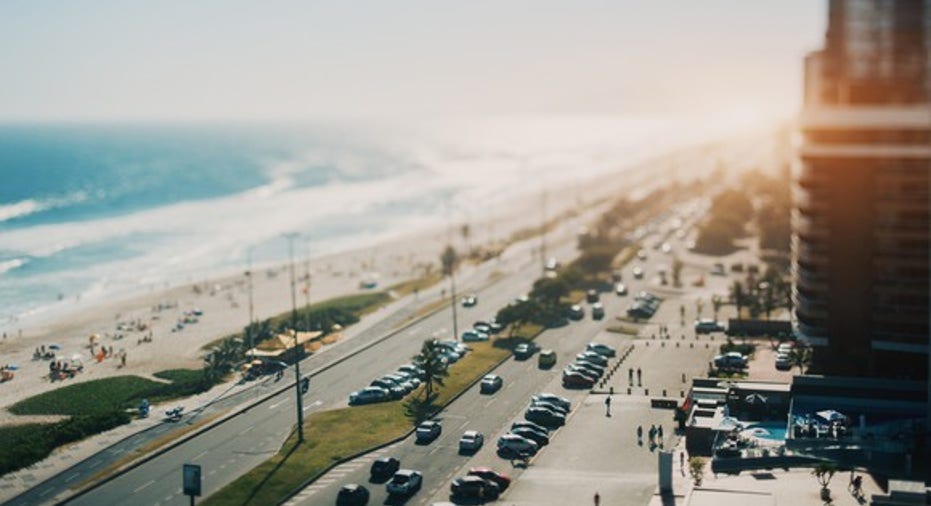 Image source: Getty Images.
Didi Chuxing is wasting no time on expanding its global reach this year. China's largest ride-hailing company said last week that it's investing in Brazil's largest ride-sharing company, called 99. It's Didi's first move into Latin America and it's a clear sign that the company is bent on dominating the ride-hailing market across nearly every continent.
What Didi's doing with 99
Didi is investing more than $100 million in 99, and, in return, it'll gain a seat at 99's board table and offer the company "strategic guidance and support." More importantly, though, it's a way for Didi to influence the global transportation industry and put its mark on yet another ride-hailing company.
You may recall that Didi was part of a $350 million investing round for Grab (formerly GrabTaxi) in Southeast Asia in 2015, gave $30 million to Ola in India, and invested $100 million in Lyft. Didi also formed a partnership with Lyft a couple of years ago, which at the time was thought to take on Uber.
And, of course, Didi bought out Uber's business in Chinalast year for about $1 billion, and gained a seat on the company's board as well. That deal gave Didi control over all of Uber's former customers in China, along with its data in the country. Uber gained a seat on Didi's board as well -- along with the $1 billion investment -- and now has a 20% stake in Didi. The move also gave Didi nearly all of the ride-hailing business in China and proved to the rest of the ride-hailing world that it's a force to be reckoned with.
99 will reportedly use the new Didi money to expand its reach into other Latin American countries and solidify its dominance in Brazil. The company already has 140,000 drivers spread across 550 cities in the country, and boasts 10 million downloads of its taxi-hailing app.
99 problems and Didi is one
Didi's investment is just one more step in a series of moves that has given the company increasing control over ride-hailing companies the past two years.
The company's adept at taking on rivals and building partnerships, and sometimes, contradictorily, partnering with companies in some countries while taking them on in others. Didi partnered with Lyft to take on Uber, only to then join Uber's board and Uber to join its board.
Didi is gaining access to the world's fifth-largest country by population with the 99 investment, and though its plans aren't entirely clear beyond more expansion, it should concern Didi's competitors all the same. So far, Didi has proved it can enter markets outside of China -- through its partnerships -- while its rivals are typically left specializing in their own local markets.
Didi's president, Jean Liu, said in a Wall Street Journal interview last year, "We intend to go global. We aspire to be a global company." And Liu told Vanity Fairin 2016 that, "We're a big sponsor and big believer in local players. If there are no existing local players, we'll go there by ourselves. We will play a global game."
Didi has made it clear that global expansion is one of the company's top priorities and the recent investment in 99 proves that the company plans to make the same aggressive moves this year, as it did last year.
10 stocks we like better thanWal-MartWhen investing geniuses David and TomGardner have a stock tip, it can pay to listen. After all, the newsletter theyhave run for over a decade, the Motley Fool Stock Advisor, has tripled the market.*
David and Tomjust revealed what they believe are theten best stocksfor investors to buy right now... and Wal-Mart wasn't one of them! That's right -- theythink these 10 stocks are even better buys.
Click hereto learn about these picks!
*StockAdvisor returns as of December 12, 2016The author(s) may have a position in any stocks mentioned.
The Motley Fool has a disclosure policy.