Did This Activist Investor Save Olive Garden and Darden Restaurants Inc?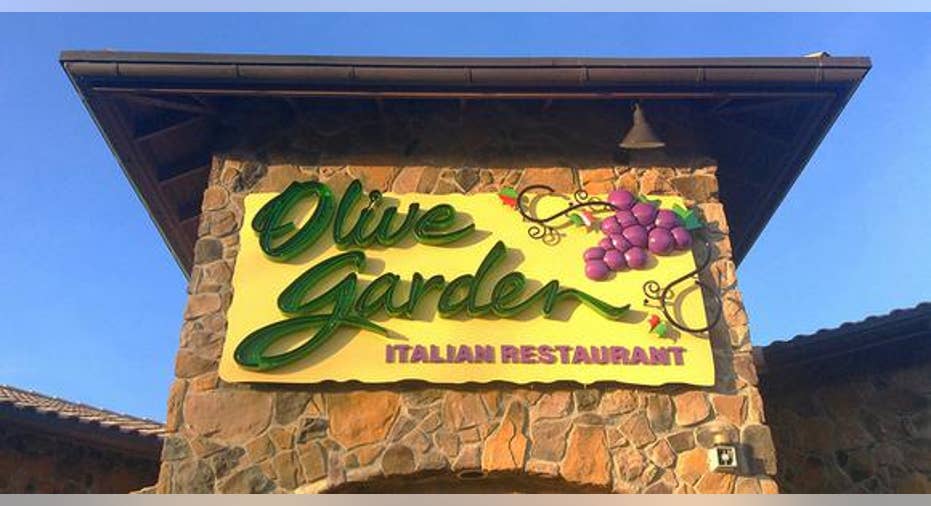 Olive Garden had been a stunted chain for Darden Restaurants, but did new management change anything? Image source: Mike Mozart
Who knew that salting the pasta water, putting a cap on the number of breadsticks served, and not drenching the salad in dressing could lead to such meaningful change at a restaurant chain? Well, hedge fund operator Jeff Smith, for one.
Too many cooks in the kitchen?His Starboard Value private equity firm took over the day-to-day operations of Darden Restaurants last year after ousting the entire board of directors. Smith set about restoring the health of Darden's Italian food chain Olive Garden by implementing just those sort of changes.
Amid the tumult of battling for control of the restaurant operator, Smith issued a 300-page manifesto of what it would take to turn Darden around. While there were the usual prescriptions you'd expect to see from a Wall Street investor, such as creating a real estate investment trust for the company's vast real estate holdings and spinning off its high-growth restaurant concepts, the report also got down into the nitty-gritty of what was wrong with Olive Garden.
Of course, it was more than just wanting to put on a chef's hat that drove Smith and Starboard Value to discuss the minutiae of such operational changes. Because Olive Garden was serving as many as 700 million breadsticks a year, for example, by limiting just how many were ultimately put on a table could save the restaurant up to $5 million a year. Unlimited salad bowls with wasteful dressing applications were also throwing money away, and salting the pasta water contributed to better-tasting food.
When you're here, you're familyThere was method to the madness, and it seems to have worked. Earlier this month, Darden released its fiscal 2016 third quarter earnings report showing solid gains across the board with same-store sales rising at every one of its restaurant concepts, including Olive Garden, which recorded a near-7% increase. Even after adjusting for one-time items like an extra selling week in the period, comps were still up 5% year-over-year.
It might have seemed like getting lost in the weeds, or the breadsticks, but concerning itself with the day-to-day service details has helped bring back Olive Garden for Darden Restaurants. Image source: Bev Sykes
Comparable sales are an important metric for restaurants, because they strip away gains that accrue from simply opening new locations. It was even more important for Darden Restaurants that Olive Garden regain its footing, because it is the largest concept the company owns. Of the more than 1,500 restaurants Darden operates, 844 of them, or 55% of the total, are Olive Gardens. Moreover, the Italian food chain accounts for more than half of all revenues, and it generates three times more profits than the next closest chain. A healthy Olive Garden means a healthy Darden Restaurants.
And comparatively speaking, Olive Garden does look healthier. Bloomin' BrandsCarraba's Italian Grill reported comps were down 4% in the last quarter, while Brinker International's Maggiano's Little Italy saw them fall nearly 2%.Things were so bad at Romano's Italian Grill for Ignite Restaurant Groupthat it sold the chainlast year to a private equity buyer for a tiny fraction of what it had paid for the brand just two years prior.
So Olive Garden's stronger performance is noteworthy. Yet while the chain has begun to recover, there's more to it than that. Comparable sales do strip out store growth, but they also take into account pricing and product mix. A company could report higher comps simply by raising prices with no improvement in foot traffic.
Next up: a traffic cop at the doorAnd that's why it may finally be safe to say that Jeff Smith and his slate of Starboard Value directors has returned Olive Garden to health. For several years, that was the case for the Italian food chain. Price hikes and product mix outpaced store traffic, but this past quarter things were dramatically different.
Of the 16% surge in comps Olive Garden experienced in December, higher traffic contributed 13 percentage points. Similarly in February, traffic was responsible for 5 percentage points of the 6% gain in comps Darden reported. January was the only month where traffic trailed price and mix gains, but it was also a month of severe winter weather.
Jeff Smith is certainly confident enough that Olive Garden is back on track that he's convinced he can step down as CEO of Darden Restaurants without consequence. While one quarter doesn't make a trend, the business has been working its way one breadstick at a time toward more robust operations, and it seems safe to say Olive Garden is on track for continued success.
The article Did This Activist Investor Save Olive Garden and Darden Restaurants Inc? originally appeared on Fool.com.
Rich Duprey has no position in any stocks mentioned. The Motley Fool has no position in any of the stocks mentioned. Try any of our Foolish newsletter services free for 30 days. We Fools may not all hold the same opinions, but we all believe that considering a diverse range of insights makes us better investors. The Motley Fool has a disclosure policy.
Copyright 1995 - 2016 The Motley Fool, LLC. All rights reserved. The Motley Fool has a disclosure policy.