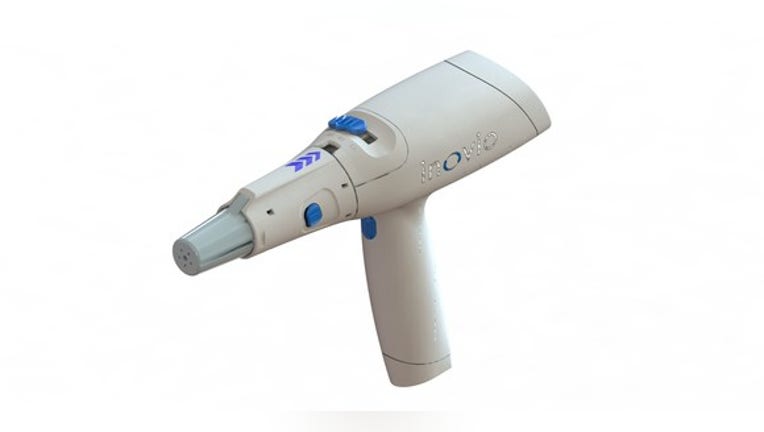 The Food and Drug Administration places a clinical hold!Inovio Pharmaceuticals' (NASDAQ: INO) shares nosedive! The end is near!
While the first two overly punctuated statements are true, the last one isn't. (At least, I don't think it is.) Yes, the FDA recently put a clinical hold on a late-stage study planned by Inovio. And, yes, the biotech's stock dropped 17% on the news. But the market has overreacted in my opinion. Here's why.
Image source: Getty Images.
Clinical holds aren't all alike
The term "clinical hold" sounds pretty scary. But the FDA places studies on clinical hold for lots of reasons. By far, the most concerning cases are when patient safety is at stake. Is that what happened with VGX-3100? Nope.
Inovio hasn't started the late-stage study for the experimental cervical dysplasia vaccine. No patients have been enrolled. None have been dosed. No other clinical study that Inovio has in progress was affected by the FDA's decision.
This particular clinical hold appears to be related to thethe shelf-life of parts of Inovio's Cellectra 5PSP immunotherapy delivery device. The device uses an electric pulse to open the pores in cell membranes and then delivers DNA immunotherapy into the patient's muscle tissue.
Note that I said the clinical hold appears to be related to the Cellectra 5PSP device. Inovio hasn't received the formal letter from the FDA yet. However, the agency did request additional data about the 5PSP and apparently nothing else. It stands to reason that the device is at the center of the FDA's concerns.
Mountains out of molehills
Investors would definitely need to be worried if some problem was found with VGX-3100's safety or efficacy. Such an issue would warrant a huge sell-off like the one that occurred this week. Based on what we know right now, though, I don't think Inovio is suddenly worth $300 million less than it was just a few days ago.
Not to put every word in Inovio's announcement under a microscope here, but my take is that the key phrase to consider was "shelf-life." It sounds like how the 5PSP works isn't a problem but rather how long the device or its components last. That seems like something that Inovio could address relatively easily.
Cellectra 5PSP. Image source: Inovio Pharmaceuticals.
In fact, Inovio's public statement hinted that the company thinks it can move past the clinical hold without too big of a delay. Inovio is working with the FDA and expects that the requested data will be provided before the end of this year. The late-stage study of VGX-3100 won't begin in 2016 as originally scheduled, but Inovio anticipates starting in the first half of 2017 assuming that it works things out with the FDA.
What's next for Inovio?
Although VGX-3100 is Inovio's lead candidate, the biotech's recent fortunes have been driven by another vaccine. Positive results from pre-clinical studies of an experimental Zika vaccine in mice and monkeys sent Inovio's shares soaring. So did the initiation of early-stage testing of the Zika vaccine in humans.
More of Inovio's current valuation is connected to the Zika potential than to VGX-3100. However, the cervical dysplasia vaccine is important to the biotech. Peak annual sales for VGX-3100 are estimated to be up to $500 million. Another pipeline candidate's fate could also hinge on the vaccine's success. INO-3112 combines VGX-3100 with DNA-based immune activator encoded for IL-12.
I predict that Inovio will get past the clinical hold and move forward with its planned pivotal study of VGX-3100 by the early second quarter of 2017. Beyond that point, my view is that the appropriate punctuation for comments about Inovio aren't exclamation points but instead question marks.
A secret billion-dollar stock opportunity The world's biggest tech company forgot to show you something, but a few Wall Street analysts and the Fool didn't miss a beat: There's a small company that's powering their brand-new gadgets and the coming revolution in technology. And we think its stock price has nearly unlimited room to run for early in-the-know investors! To be one of them, just click here.
Keith Speights has no position in any stocks mentioned. The Motley Fool has no position in any of the stocks mentioned. Try any of our Foolish newsletter services free for 30 days. We Fools may not all hold the same opinions, but we all believe that considering a diverse range of insights makes us better investors. The Motley Fool has a disclosure policy.