Did Qualcomm Inc. Kneecap Samsung's Exynos SoCs?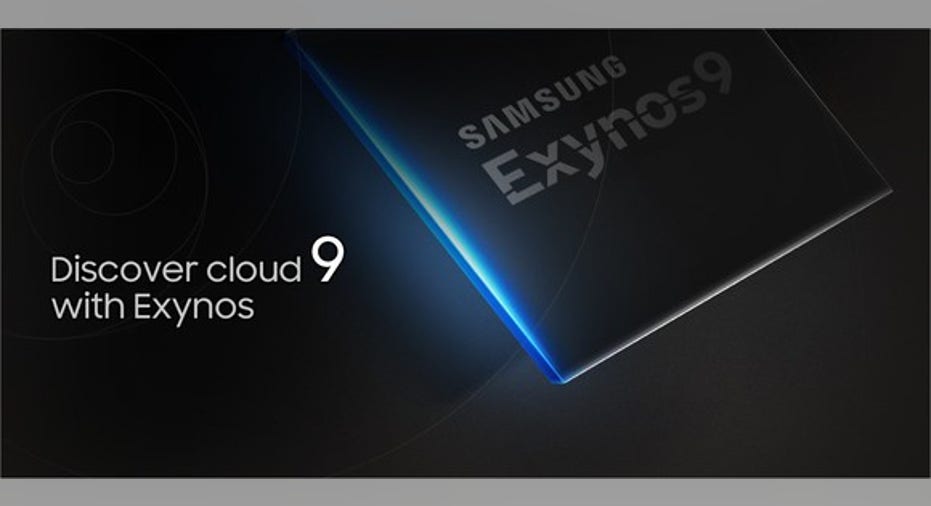 Qualcomm (NASDAQ: QCOM) has been under a lot of fire over the past year, with regulators in multiple countries probing its licensing practices, defiant OEMs demanding lower licensing fees, and longtime customer Apple suing it, alleging lopsided licensing agreements.That's why it wasn't surprising when allegations arose thatQualcomm blocked longtime customer Samsung's (NASDAQOTH: SSNLF) first-party Exynos chips with an arguably lopsided deal.
The Korean Fair Trade Commission, which fined Qualcomm $865 million last December overalleged antitrust violations related to its licensing fees, claims that Qualcomm improperly blocked Samsung from selling its Exynos chips to other manufacturers with a patent deal initially signed in 1993. That deal allowed Samsung to produce SoCs (system on chips) for its own phones using certain CDMA patents, but only for its own devices.
Image source: Qualcomm.
If Samsung wanted to sell Exynos SoCs to a third-party OEM, either Samsung or the OEM had to pay Qualcomm additional licensing fees. Samsung reportedly tried to negotiate new terms with Qualcomm to sell Exynos chips in 2011, but the talks broke down by 2013 -- the same year that the Korean FTC started its antitrust probe. That's why only a few non-Samsung devices, like the Meizu Pro 5, have ever used Exynos SoCs. It also explains why Samsung, which owns its own foundry, never mass marketed Exynos SoCs to challenge Qualcomm's Snapdragon.
Qualcomm and Samsung's complicated relationship
Samsung's semiconductor business accounted for 25% of its sales and 47% of its operating profits in fiscal 2016. Samsung might have benefited if that unit -- which generates most of its revenue from memory chip sales -- sold more application processors to offset its weaker growth in mobile devices.
Image source: Samsung.
When overheating issues with Qualcomm's Snapdragon 810 caused headaches for many smaller OEMs in2015, Samsung used its own Exynos 7420 processors instead. That move gave it leverage against Qualcomm, which agreed to let Samsung's foundry manufacture its subsequent Snapdragon chips -- presumably in exchange for keeping both Snapdragon and Exynos chips in Samsung devices. Samsung's upcoming Galaxy S8 is expected to be powered by both the next-gen Exynos 9 and the new Snapdragon 835 as a timed exclusive -- which could give the company an edge against its high-end rivals.
Exposing weak spots in Qualcomm's business model
Qualcomm is currently appealing the Korean FTC's fine, but Samsung apparently isn't taking any direct action against Qualcomm regarding Exynos sales to third parties. But if the regulators abruptly nullify the 1993 deal, Samsung could be allowed to sell Exynos processors to other smartphone makers without the threat of higher licensing fees.
That could turn Samsung into a major rival, on par with MediaTek, for Qualcomm in the mobile SoC market. Samsung could bundle its SoCs with other components -- like displays and memory chips -- in attractive packages which Qualcomm couldn't match. That would be bad news for Qualcomm's chipmaking business, which posted flat year-over-year sales growth and negative MSM (mobile station modem) shipments growth lastquarter.
But mind the symbiotic relationship
It might seem alarming that Samsung could potentially emerge as a chipmaking rival to Qualcomm, but investors should remember that the two companies have a symbiotic relationship. Samsung could theoretically stop and replace Snapdragon processors with Exynos chips in all its Galaxy devices, but that would likely cost its foundry its Snapdragon orders.
Since this partnership benefits both companies, it would make more sense to maintain the status quo for now. Furthermore, there's no guarantee that smartphone makers would line up to buy Exynos SoCs as alternatives to Snapdragon SoCs unless Samsung's chips were considerably cheaper like MediaTek's. That's probably why other smartphone makers with first-party chips -- like Huawei and Xiaomi -- aren't marketing their chips to other OEMs.
The road ahead...
Qualcomm faces plenty of near-term headwinds, but the Samsung revelation probably doesn't mean that Samsung will start selling more Exynos SoCs to other OEMs. Instead, Qualcomm investors should focus on the issues that matter more -- like the financial impact of the Korean FTC fine, the outcomes of other antitrust probes, its legal battle with Apple, and its ability to close the NXP Semiconductors deal.
10 stocks we like better than QualcommWhen investing geniuses David and Tom Gardner have a stock tip, it can pay to listen. After all, the newsletter they have run for over a decade, Motley Fool Stock Advisor, has tripled the market.*
David and Tom just revealed what they believe are the 10 best stocks for investors to buy right now... and Qualcomm wasn't one of them! That's right -- they think these 10 stocks are even better buys.
Click here to learn about these picks!
*Stock Advisor returns as of February 6, 2017
Leo Sun owns shares of Qualcomm. The Motley Fool owns shares of and recommends Apple and Qualcomm. The Motley Fool has the following options: long January 2018 $90 calls on Apple and short January 2018 $95 calls on Apple. The Motley Fool recommends NXP Semiconductors. The Motley Fool has a disclosure policy.