Did Disney Get a $4 Billion Bargain Buying the Company Behind "Star Wars"?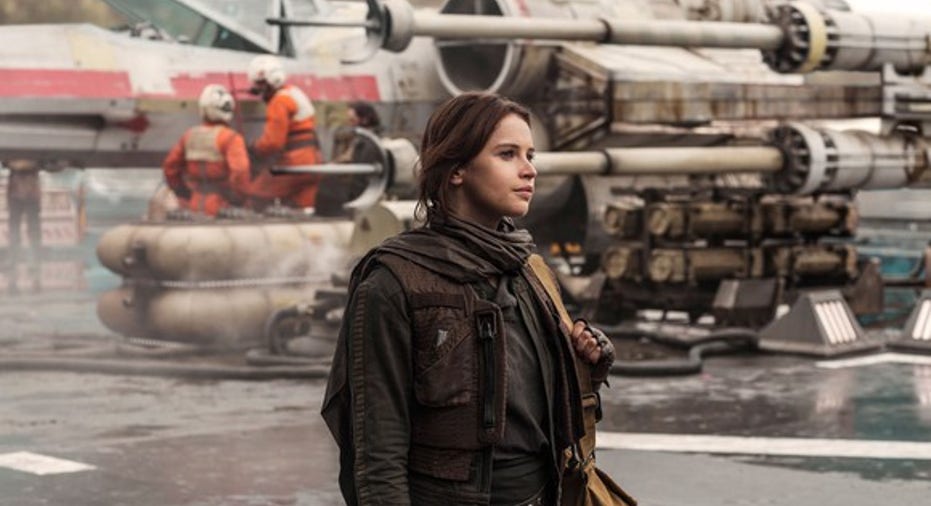 When Walt Disney (NYSE: DIS) paid $4 billion to purchase Marvel in 2009, there was heavy skepticism that the company would get its money back. Those, of course, proved to be unwarranted fears as that investment paid off with a series of superhero movies that have been more successful than anyone could have predicted.
Disney's 2012 purchase of Lucasfilm, also for $4 billion, was deemed less risky. Even though the company essentially had two properties -- Star Wars and Indiana Jones -- new films in the Skywalker saga seemed like such sure things that earning back the purchase price relatively quickly appeared likely. Not even considering the merchandise, licensing, books, game, and other ancillary revenue, it appeared obvious Disney was getting a good deal where it would earn its capital back.
Now, with two Star Wars films having been released by Disney, you can start to see how Disney's investment will play out. It's clearly a winner, but the economics of making movies makes it clear that even with major hits, earning back $4 billion (at least just at the box office) will take some time.
Rogue One is the first stand-alone Star Wars movie. Image source: Starwars.com.
How is "Star Wars" doing for Disney?
The first Star Wars film under the the Disney banner, December 2015's Star Wars: The Force Awakens, made $936 million at the domestic box office and $1.13 billion overseas, according to BoxOfficeMojo.com, which estimated the movie had a $245 million budget. Budget, of course is not the only expense for a film and a heavy investment was made in marketing. Vanity Fair estimated a $350 million marketing budget for Force Awakens, a hefty amount even by modern blockbuster standards.
It's also worth noting that Disney (or any other studio) does not receive all of the box office receipts from its movies. The split with theaters can vary based on a number of factors, but Disney likely had a lot of leverage with a film with expectations this strong, so it's fair to assume a roughly 60/40 split in favor of Disney. Using these numbers, that would mean that Disney would have earned about $1.24 billion from ticket sales and, given $595 million in production and marketing expenses, a $645 million profit.
As for Rogue One, the film has not completed its box office run, but it's clearly on its way to being a massive hit. The film cost an estimated $200 million to make and roughly the same to market. It opened about $90 million below The Force Awakens domestically and had a much steeper drop between its first weekend and its second.
After 18 days of release, and with some important global territories yet to come, Rogue One sat at $789 million in global box office. The film will not equal The Force Awakens (nobody expected it would) but it could finish around $1.3 billion. Using the same 60/40 split, that assumes about $780 million to Disney, leaving it $380 million after marketing and production.
So, after two films have been released, it looks like Disney has made about $1 billion in profit on its $4 billion investment in Lucasfilm, just on the theatrical releases of two films. That does not count the deal the company has with Netflix for all its films post-theater or its recent deal with Time Warner for all the films in the Star Wars universe it controls (everything except the first one) for $250 million over five years.
This was money well-spent
Disney plans to release a Star Wars saga movie every year and a stand-alone title in the opposite year. It's reasonable to think that the movies which advance the ongoing Skywalker saga will be at least as successful as The Force Awakens and that the same will be true of the stand-alone movies in relation toRogue One.
That would mean that Disney would earn about $1 billion just from box office every two years from its purchase of Lucasfilm. Add the other Star Wars revenue, like the estimated $500 million in licensing and retail revenue Disney made in the first year after The Force Awakens was released, and it's very clear Disney got a bargain buying Lucasfilm.
And these numbers don't count TV spinoffs like Star Wars: Rebels, the upcoming Star Wars "lands" at Disney's Florida and California theme parks, or lesser revenue sources like video games or books. On films alone, it looks like Disney would make its money back in eight years, but licensing and other revenue likely cuts that time dramatically.
10 stocks we like better than Walt Disney When investing geniuses David and Tom Gardner have a stock tip, it can pay to listen. After all, the newsletter they have run for over a decade, Motley Fool Stock Advisor, has tripled the market.*
David and Tom just revealed what they believe are the 10 best stocks for investors to buy right now... and Walt Disney wasn't one of them! That's right -- they think these 10 stocks are even better buys.
Click here to learn about these picks!
*Stock Advisor returns as of Nov. 7, 2016
Daniel Kline has no position in any stocks mentioned. He has a lot of Star Wars T-shirts. The Motley Fool owns shares of and recommends Netflix and Walt Disney. The Motley Fool recommends Time Warner. The Motley Fool has a disclosure policy.