Did 3D Systems Corporation Take a Step Forward This Quarter? Here's What Happened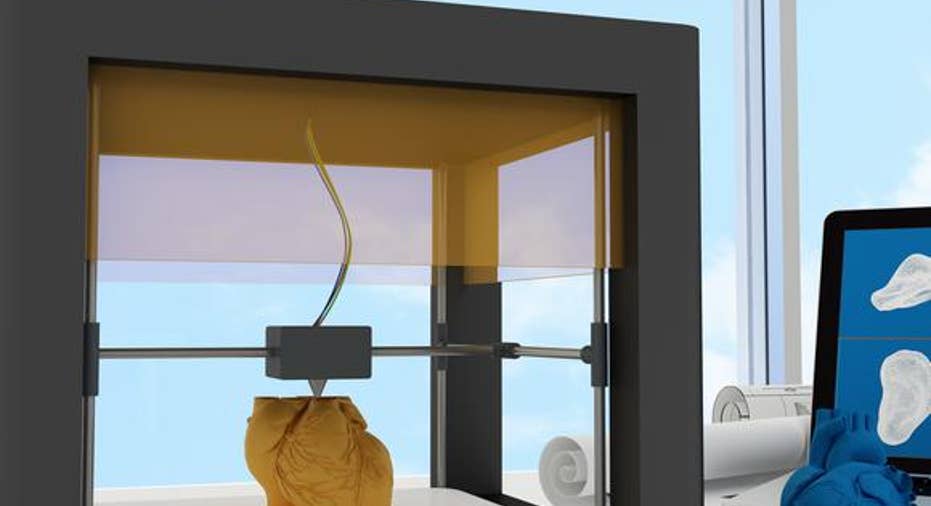 3D Systems has broken investors' hearts over the past couple of years, but a new CEO is trying to turn things around.
Brand-new 3D Systems CorporationCEO Vyomesh Joshi -- after barely a month on the job -- just wrapped up his first quarterly earnings session with analysts. And while Mr. Market doesn't seem too pleased with the results or the outlook (shares are down about 5% post-earnings call), there was a lot of good information in the earnings call.
Let's take a deeper look at the company's results -- keeping in mind that Joshi's fingerprint on those results and the company's future plans has yet to show -- as well as what Joshi had to say on the earnings call. While the numbers always matter, this quarter was one of transition, and a chance for Joshi to get familiar with his company.
The numbers
| | Q1 2016 | Q1 2015 | Change |
| --- | --- | --- | --- |
| Revenue | $152.6 | $160.7 | (5%) |
| Net Income | ($17.8) | ($13.2) | (34.8%) |
| Adjusted EPS | $0.05 | $0.05 | 0% |
Revenue and net income in millions. Data source: 3D Systems.
3D systems reported a GAAP loss but did produce $18.1 million operating cash flow and $14 million in free cash flow, ending the quarter with $170 million in cash (up $14 million from quarter start), $150 million available on its revolving credit line, and essentially no debt. In other words, from an operating and cash flow perspective, the company's performance could have been much worse, and the balance sheet is in fine shape.
Some other key numbers:
Printer sales decreased 17% in the quarter, excluding consumer printers sold one year ago. Production printer revenue increased 18%, while units were up 14%.
Materials revenue increased 4%; up 6% excluding consumer printers.
Adjusting for the consumer business exit, revenue decreased 2%.
Gross margin improved in the quarter to 50.8%, up 170 basis points from the year-ago quarter and significantly better sequentially. Both improvements are tied to the decision to exit the consumer printer business.
SG&A expenses were flat year over year, though up sequentially.
R&D expense was down, largely because of product release timing.
From both a financial and operations perspective, 3D Systems' first quarter was a mixed bag.
What management had to sayCEO Joshi was relatively candid on his thoughts about how he wanted to drive growth. While 3D Systems spent much of the past five years as a serial acquirer (which in no small part contributed to the company's more recent struggles), Joshi is evidently inclined to find profitable growth first:
He was also up front in acknowledging he doesn't have all the answers yet, saying he has "a lot of work to do to figure out" the company's long-term strategy.
CFO Robert Styka talked about the company's expenses going forward, particularly SG&A:
Joshi also weighed in on operating expenses:
Put their comments together, and it's clear that management acknowledges that operating cost and input costs need to be improved, but that it's process-driven as well as cost-driven. Further (maybe most importantly), it's about Joshi's words at the end. This isn't just about improving the bottom line. It's about freeing up resources to invest in returning to growth.
Looking aheadManagement didn't offer -- probably wisely at this stage of the game -- any defined guidance, though Joshi did say on the earnings call that materials sales would probably show "stable growth" similar to the roughly 5% reported in the first quarter. He also said they were getting good acceptance of new products recently launched and pointed out that there were some availability constraints last quarter on new products.
However, with only five weeks on the job, there's still a lot Joshi doesn't know, and his plan to move the company forward is still in the womb. While that leaves investors with as many questions as answers, it's to be expected this early in his tenure.
Lastly, Joshi emphasized on the call multiple times that this is a growth industry, particularly in key vertical markets, and that would factor heavily in his strategy going forward. It may be uncomfortable being a shareholder right now, but it's going to take Joshi time to put his plan in place and see how it will impact the company's future.
The article Did 3D Systems Corporation Take a Step Forward This Quarter? Here's What Happened originally appeared on Fool.com.
Jason Hall owns shares of 3D Systems. The Motley Fool recommends 3D Systems. Try any of our Foolish newsletter services free for 30 days. We Fools may not all hold the same opinions, but we all believe that considering a diverse range of insights makes us better investors. The Motley Fool has a disclosure policy.
Copyright 1995 - 2016 The Motley Fool, LLC. All rights reserved. The Motley Fool has a disclosure policy.