Devon Energy Corp Rebounded 41.3% in 2016. Is There Any Room to Run in 2017?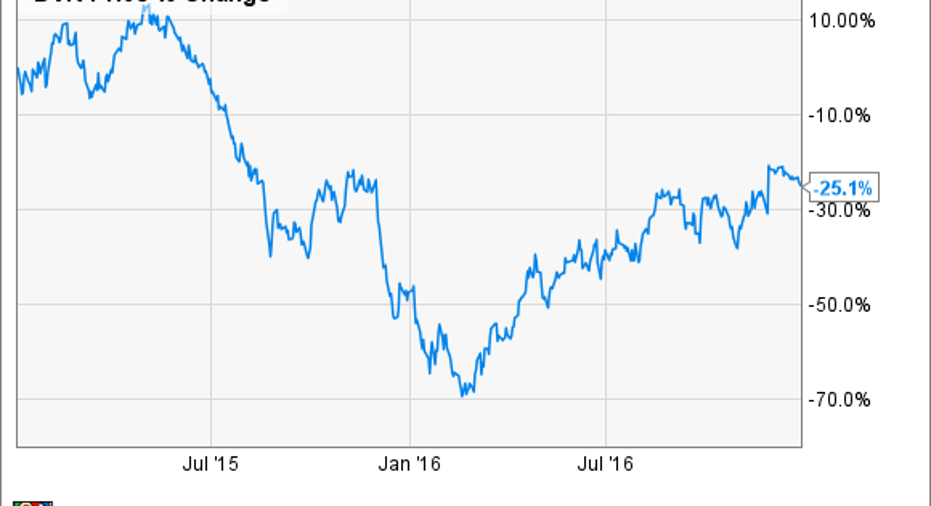 Image source: Getty Images.
North America-focused oil and gas producerDevon Energy (NYSE: DVN) entered 2016 sliding down into the abyss. The company had tumbled in the middle of the prior year before its nosedive accelerated at the end of the year after unveiling bold moves to bolster its position in two emerging shale plays. Investors saw these moves as ill-timed and expensive given that crude prices were sliding into a seemingly bottomless pit. However, the company pulled out of its tailspin in 2016 thanks to several smart moves and operational successes, ending the year up more than 40%.
That said, while the stock recovered the bulk of its losses, it still sits well below where it was before going off track:
The company could continue recovering those losses in 2017 given the expectation that oil prices will stabilize right in the company's new sweet spot for growth.
What happened in 2016?
Last year was a transitional one for Devon Energy. After spending $2.5 billion on acquisitions to reshape its core in late 2015, the company spent the first part of last year monetizing non-core assets to strengthen its balance sheet. The company initially hoped to sell between $2 billion and $3 billion of non-core oil and gas properties as well as its stake in a Canadian oil pipeline. However, it successfully sold $3.2 billion of assets by mid-year, applying the proceeds to reduce net debt by 45% year over year, which strengthened its investment grade balance sheet.
The company's other major initiative last year was to push down costs so it could thrive at lower oil prices. Those efforts paid off and put the company on pace to reduce operating expenses by $1 billion compared to 2015. Meanwhile, its drilling operations performed exceptionally well, with the company delivering record-setting wellperformance during the third quarter. Overall, Devon Energy increased well productivity and drilling efficiency, which permanently reduced well costs and boosted returns.
Image source: Getty Images.
What to expect in 2017
Thanks to last year's actions, Devon Energy is now in the position to ramp its drilling program back up in 2017. Fueling that engine is the forecast that cash flow will increase from an estimated $1.1 billion last year to a projection of $2.5 billion this year at $55 oil and $3 natural gas, which is just about where analystsexpect oil prices to be in 2017. That cash flow would provide Devon with enough capital to boost its rig count from 10 at the end of last year to between 15 and 20 by the end of this year. Those rigs would drill enough new wells so that Devon could achieve double-digit U.S. oil production growth by the end of this year -- and low to mid-single digit top-line production growth -- compared to 2016's exit rate.
That is a good growth rate for a company of Devon's size, though it does trail what many peers expect for 2017. Encana (NYSE: ECA), for example, sees 2017 production growth from its four core assets to be at the upper end of, or exceed the range of 15% to 20%. For perspective, those four core assets produced 242,800 barrels of oil equivalent per day (BOE/d) during the third quarter for Encana. That is a higher production rate than Devon Energy's U.S. oil output of 108,000 barrels of oil per day last quarter, which makes Encana's growth even more impressive. Meanwhile, Concho Resources (NYSE: CXO) sees 18% to 21% top-line production growth next year, and 20% annual oil growth over the next three years. For Concho Resources, that growth comes off a companywide base of 152,900 BOE/d last quarter and an oil base of 91,100 barrels per day, which again makes it more impressive than Devon's projected oil growth rate.
Devon Energy certainly has the potential to grow at a faster clip, but oil prices need to cooperate. For example, the company sees its cash flow growing to $3.5 billion in 2018 under a scenario of $60 crude and $3.25 natural gas, which would drive stronger growth. However, if those higher commodity prices materialize earlier than expected, then Devon would generate more cash flow to potentially accelerate its drilling program. It certainly has no shortage of lucrative well locations, given that it has identified more than 13,000 undrilled locations across its portfolio. As the company starts developing these wells in earnest, it should push the stock price higher because these wells can deliver lucrative economics at current commodity prices.
Investor takeaway
Devon Energy enjoyed a bounce back year in 2016 thanks to its ability to push costs down and strengthen its balance sheet by completing a slew of non-core asset sales. These initiatives put the company in the position to start growing again in 2017. While Devon intends to ramp up slowly, it can accelerate should oil prices strengthen. It is this ability to grow at lower prices that could continue to push Devon Energy's stock back to where it was before 2015's debacle.
10 stocks we like better than Devon Energy When investing geniuses David and Tom Gardner have a stock tip, it can pay to listen. After all, the newsletter they have run for over a decade, Motley Fool Stock Advisor, has tripled the market.*
David and Tom just revealed what they believe are the 10 best stocks for investors to buy right now... and Devon Energy wasn't one of them! That's right -- they think these 10 stocks are even better buys.
Click here to learn about these picks!
*Stock Advisor returns as of January 4, 2017
Matt DiLallo has no position in any stocks mentioned. The Motley Fool owns shares of Devon Energy. The Motley Fool has a disclosure policy.