Detroit Autos Surge in China During December, but 3 Critical Questions Remain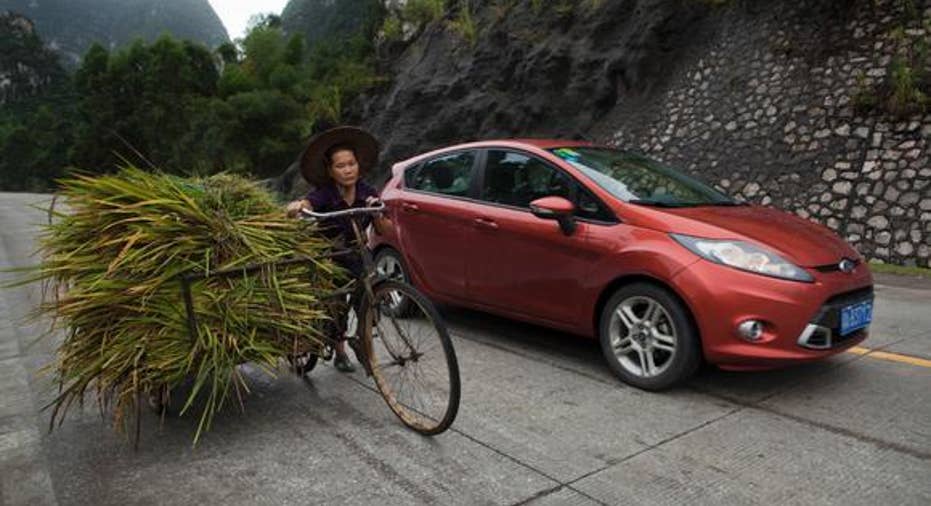 Ford continues to sell well overseas, in China in particular. Image source: Ford Motor Company.
Ask anyone who's driven too fast through a series of speed bumps and they'll tell you it'll ruin your day in a hurry. That's essentially what happened in China's automotive market over the past year: a massive speed bump for vehicle sales.
A market that was once a source of endless potential growth for major automakers, who were posting effortless double-digit sales gains there annually, is now receiving life support from the government in the form of a 50% reduction in the vehicle purchase tax.
Since the tax incentive will be in effect throughout 2016, keeping an eye on China's automotive market will be crucial for investors in major automakers. That said, it appears the tax incentive has certainly helped the cause already: Here's a look at Ford Motor Company's and General Motors' results in the country last month.
The Blue Oval Despite the Chinese automotive market wavering through the middle portion of 2015, a stronger fourth quarter helped Ford set a record for sales in China last year. Ford's vehicle sales reached 1,115,124 units, which narrowly topped 2014's results with a 3% gain. That helps put in perspective how challenging 2015 in China was as a whole, because Ford's sales in December were up a much healthier 27% year over year to 124,768 units, with the government's tax incentive fueling sales.
There were two takeaways that caught my eye in Ford China's sales figures. First, SUVs are selling very well in China just as they are here in the U.S. market -- and that bodes well for Detroit automakers.
Looking at Ford's SUV segment, annual sales of the Ecosport, Kuga (Escape), Edge, Explorer, and Everest topped 250,000 for the first time ever in China. In fact, the sales did so pretty easily, reaching 274,188 units sold, for a 13% gain over 2014's results. Even further, December was Ford's strongest month of SUV sales during 2015, with a 56% gain over December 2014, suggesting that SUV sales momentum will be carried into 2016.
The second interesting thing from Ford's data in China was that the automaker's EcoBoost engines are also selling well, again similar to the trend here in the U.S. market. Sales of vehicles with an EcoBoost engine increased 31% last year compared to 2014, and surpassed 300,000 units in China for the first time in Ford's history.
General Motors Ford wasn't the only one to finish 2015 with a strong sales month in China.Detroit's largest automaker and its joint ventures delivered a record 3,612,635 vehicles in China last year, a 5.2% increase compared to the automaker's previous record set in 2014. Strictly in terms of retail sales volume, that makes China GM's largest market -- though the profits GM generates in China are a fraction of what it generates in North America.
GM noted that it sold a vehicle in China every nine seconds, or nearly 9,900 vehicles per day, in December. That means GM's December sales in China totaled 445,227 units, an increase of 14% compared to the prior December.
Those are impressive results, and both monthly and annual sales figures are three times what Ford posted in China. However, General Motors was an early entry into the Chinese auto market, and the race for top foreign automaker in the market has long been between GM and Volkswagen, with the remaining major automakers at a distance.
Like Ford, GM also posted an excellent year in China with its SUV sales. GM's SUV deliveries soared 144% compared to 2014, which accounted for 13% of GM's total sales in China compared to only 5.6% during 2014. Another great sign for GM investors was that its Cadillac luxury brand set a record for domestic sales, with demand increasing 17% in 2015 compared to the prior year.
3 questions Despite both GM and Ford closing the books on 2015 with a strong finish in China, there are still difficult questions facing investors. How China's weakening economy will impact automotive sales is a question that will remain unanswered for a while. How long the tax incentive will fuel vehicle sales in China is also a reasonable question.
However, I think the most important question investors should ask is: How can foreign automakers better adapt to Chinese consumers' tastes? Automotive News China managing editor Yang Jian makes an excellent point in his recentarticle:
These three questions are important for investors in the automotive industry to keep in mind as we proceed through the new year.
The article Detroit Autos Surge in China During December, but 3 Critical Questions Remain originally appeared on Fool.com.
Daniel Miller owns shares of Ford and General Motors. The Motley Fool recommends Ford and General Motors. Try any of our Foolish newsletter services free for 30 days. We Fools may not all hold the same opinions, but we all believe that considering a diverse range of insights makes us better investors. The Motley Fool has a disclosure policy.
Copyright 1995 - 2016 The Motley Fool, LLC. All rights reserved. The Motley Fool has a disclosure policy.