Detroit Autos Steal the Show in J.D. Power's 2016 Initial Quality Study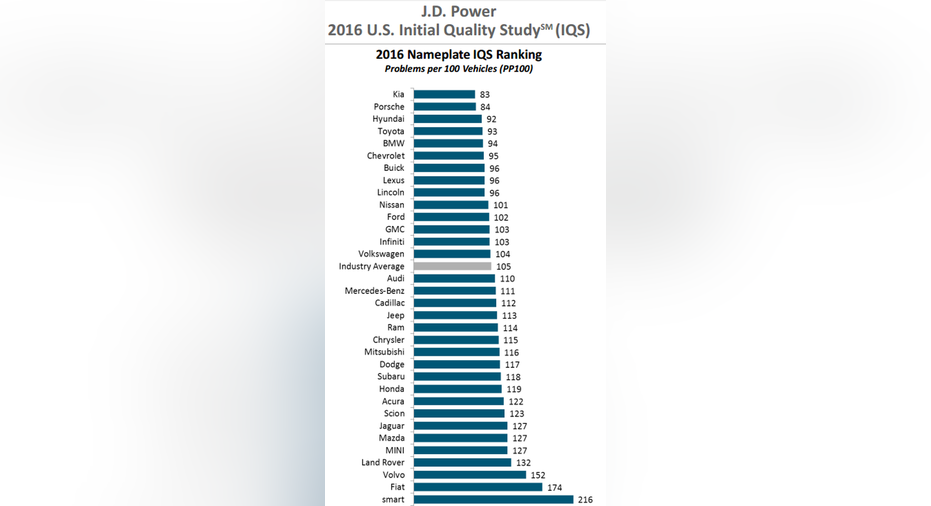 Chevrolet's Equinox won one of seven model-level awards for GM. Image source: General Motors.
About a decade ago, bashing on Detroit automakers for the quality of their vehicles was akin to picking low-hanging fruit. And as consumers who might only purchase one vehicle every five or six years, it's easy for us to miss the massive progress those automakers have made over the past decade. Heck, missing the quality improvements is understandable considering the automotive industry is coming off record years for vehicle recalls, despite that having more to do with increased regulations than a decline in quality.
In fact, if you're asking for proof, J.D. Power's 2016 Initial Quality Study (IQS) shows that not only is overall vehicle quality on the rise, Detroit automakers are some of the most improved of the bunch. Here's a look at the data, the key takeaways for Ford Motor Company , General Motors , and, yes, even Fiat Chrysler Automobiles , and why it matters.
10,000-foot view
J.D. Power's IQS, in its 30thiteration, tallies problems reported by vehicle owners and lessees during the first 90 days of ownership and scores the number of problems as per 100 vehicles, or PP100 -- a lower score reflects higher quality.
Starting from the top, new-vehicle quality improved 6%, which was double the rate of improvement from last year's IQS and the largest increase since 2009. Driving that improvement was 21 of the 33 tested brands improving their quality scores. But of those 21 brands making improvements, Detroit automakers had some impressive accomplishments.
According to J.D. Power, for just the second time in the entire study's history, Detroit brands collectively had lower problem levels than all of their import counterparts combined. Detroit's "big three" combined for an average of 103 PP100, which is an impressive 10% improvement in problems compared to last year's study, and double the improvement rate of the import brands, which landed at a score of 106 PP100.
Most improved, but...
FCA's Chrysler and Jeep brands had the most dramatic improvements in the study, with the number of problems declining 28 PP100. However, despite the impressive reduction, the two brands still found their scores below the industry average of 105 PP100, at 115 PP100 and 113 PP100, respectively.
Furthermore, those two brands sandwiched around the Ram brand, which also scored below average, at 114 PP100. Dodge checked in further back at 117 PP100, while Fiat, perhaps skewed by a shallow vehicle portfolio, placed second to last with 174 PP100. Ultimately, despite some of FCA's brands improving more than any other brand, it's clear the automaker still has some work to do on the quality front.
General Motors and Ford had much better results than FCA but were mixed compared to each other. On one hand, Ford and Lincoln combined to have a 99 PP100 rating, making it the top Detroit automaker on this metric. However, General Motors' company average of 102 PP100 was dragged down with a below-average score from Cadillac, with 112 PP100 -- but GM also had Chevrolet and Buick outscore Ford's mainstream brand, with scores of 95 PP100 and 96 PP100, respectively.
Zeroing in on model-level achievements, GM received seven awards for individual vehicles in their respective segments. That was more than any other automaker, as Toyota followed with six individual awards, and Hyundai and Volkswagen tied with four each. Those seven GM vehicles were the Buick Cascada, Chevrolet Equinox, Chevrolet Silverado HD, Chevrolet Silverado LD, Chevrolet Spark, Chevrolet Tahoe, and the GMC Terrain.
Here's a look at the full standings -- and an explanation of why this study matters.
Image source: J.D. Power's 2016 IQS.
It shouldn't surprise investors or car buyers to hear that higher-quality vehicles equate to higher consumer loyalty. According to J.D. Power, among owners who experience no problems with their vehicle in the first 90 days, 54% stay with the brand for the next vehicle purchase; that drops to 50% among consumers with one problem, and 45% among those who record three or more issues. It doesn't take much for a consumer to consider switching brands for their next big-ticket purchase.
That's a big deal in an industry where a fraction of a percentage of market share can add or subtract hundreds of millions in revenue from an automaker's top line annually. These rankings are a bigger deal than many realize, and for investors in Detroit automakers, the improved quality in this study is a great sign.
The article Detroit Autos Steal the Show in J.D. Power's 2016 Initial Quality Study originally appeared on Fool.com.
Daniel Miller owns shares of Ford and General Motors. The Motley Fool owns shares of and recommends Ford. The Motley Fool recommends General Motors. Try any of our Foolish newsletter services free for 30 days. We Fools may not all hold the same opinions, but we all believe that considering a diverse range of insights makes us better investors. The Motley Fool has a disclosure policy.
Copyright 1995 - 2016 The Motley Fool, LLC. All rights reserved. The Motley Fool has a disclosure policy.