Detroit Automakers Are Responding to Disruption in Many Different Ways -- Invest Accordingly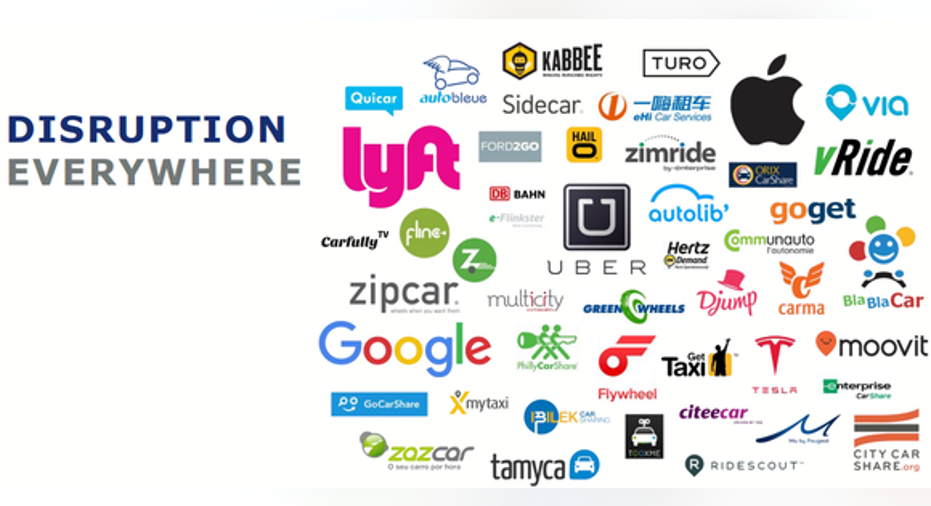 Graphic source: General Motors.
General Motors isn't wrong. In the automotive industry today, disruption is all over the place. Considering that Uber became a household name seemingly overnight and has been valued as high as $60 billion -- which is roughly four times that of Fiat Chrysler Automobiles -- it's clear that major automakers have taken notice. What's interesting, though, is the recent events that show just how different each of the three Detroit automakers are responding.
Detroit Valley? While Ford Motor Company has approached the changing automotive industry from many different angles, such as committing $4.5 billion to build out its electrified vehicle lineup and testing a plethora of smart mobility projects across the globe, its recent announcement might be the most interesting of all.
Image source: Ford Motor Company.
Last week Ford announced plans to transform its Dearborn facilities into a more modern, green and high-tech campus to foster innovation and drive the company's transition to an automaker a mobility company focused on changing how the world travels. That first part, though, sounds really Silicon Valley-like, except in Dearborn.
Ford's transformation plan is a decade long process that will colocate roughly 30,000 employees from 70 buildings into two main locations: a product campus and a world headquarters campus. Check out this snippet from Ford's press release.
"A walkable community with paths, trails and covered walkways, the product campus will include a new design center, autonomous vehicles, on-demand shuttles, eBikes, new onsite employee services, wireless connectivity speeds up to 10 times faster than today and more green spaces."
It's pretty clear that Ford wants to attract Silicon Valley-type talent to Detroit, and if successful that will definitely be a huge plus for the Blue Oval as the industry likely faces more change over the next two decades than in the past half century.
Meanwhile, Ford's cross-town rival General Motors is approaching the situation in a more uber-like fashion.
Maven is cruising Earlier this year GM announced it was launching a personal mobility brand named Maven. The plan is for Maven to combine and expand on GM's multiple projects under a single brand.
"GM is at the forefront of redefining the future of personal mobility," said GM President Dan Ammann, in a press release. "With the launch of our car-sharing service through Maven, the strategic alliance with ride-sharing company Lyft, and building on our decades of leadership in vehicle connectivity through OnStar, we are uniquely positioned to provide the high level of personalized mobility services our customers expect today and in the future."
Image source: General Motors.
One of those missions started in January when Maven began offering its car-sharing program to more than 100,000 people in Ann Arbor, Mich. with GM vehicles located in 21 parking spots throughout the city. More city-based programs will be launched in major U.S. cities throughout 2016.
Maven is merely in the early stages, but it's clear GM is still pushing to find ways to accelerate innovation with its acquisition of Cruise Automation. Cruise will operate as an independent unit within GM's recently formed Autonomous Vehicle Development Team based in San Francisco. Not only is innovation happening with smart mobility projects such as ride-sharing, the future is going to be slowly moving toward more autonomous, self-driving vehicles.
The deal, rumored to be valued at roughly $1 billion, may have hit a snag recently but it's obvious that GM wants to accelerate its development of autonomous vehicle technology as well as its mobility projects under Maven. It's a great sign for investors to see Ford and GM approach the industry's disruption with a go-get'em mind-set. It's an attitude that would have served Detroit automakers well when they long ago scoffed at the idea of designing more fuel efficient vehicles and we know how that ended.
While Ford and GM are wildly changing their business strategies, FCA is all but refusing to join the club.
If you can't beat 'em ... In a way, FCA has basically said that it can't make money on electric vehicles -- which, should be obvious, since nobody is making money producing said vehicles -- and that it won't waste it's time until consumers are ready to pay a premium. So, rather than investing in R&D for electrified vehicles or smart mobility projects, FCA's response to disruption appears to be pushing for a merger.
It's not that FCA CEO Sergio Marchionne is clueless, the man certainly has a point. Automakers would benefit from splitting development costs of similar products. Would it be more efficient for Ford and GM to collaborate and design a more fuel efficient turbocharged engine, rather than separately developing the EcoBoost and Ecotec lineup? Absolutely, it would be. FCA chairman John Elkann had this to say recently.
"For FCA, if you look at doing something with the "Big Guys," our internal analysis indicates that you could end up with annual savings close to $10 billion. If you value that in perpetuity it starts to become very interesting. But you need two to tango and most of our competitors are busy with the great opportunities that technological disruption has to offer."
It's about to be a very interesting decade or two in the automotive industry. And judging by the wildly different responses to disruption, some automakers are going to thrive and some are going to be left behind, we just don't know who is who quite yet.
The article Detroit Automakers Are Responding to Disruption in Many Different Ways -- Invest Accordingly originally appeared on Fool.com.
Daniel Miller owns shares of Ford and General Motors. The Motley Fool owns shares of and recommends Ford. The Motley Fool recommends General Motors. Try any of our Foolish newsletter services free for 30 days. We Fools may not all hold the same opinions, but we all believe that considering a diverse range of insights makes us better investors. The Motley Fool has a disclosure policy.
Copyright 1995 - 2016 The Motley Fool, LLC. All rights reserved. The Motley Fool has a disclosure policy.