Detroit Auto Show: Why Audi's Q8 Concept SUV Is Significant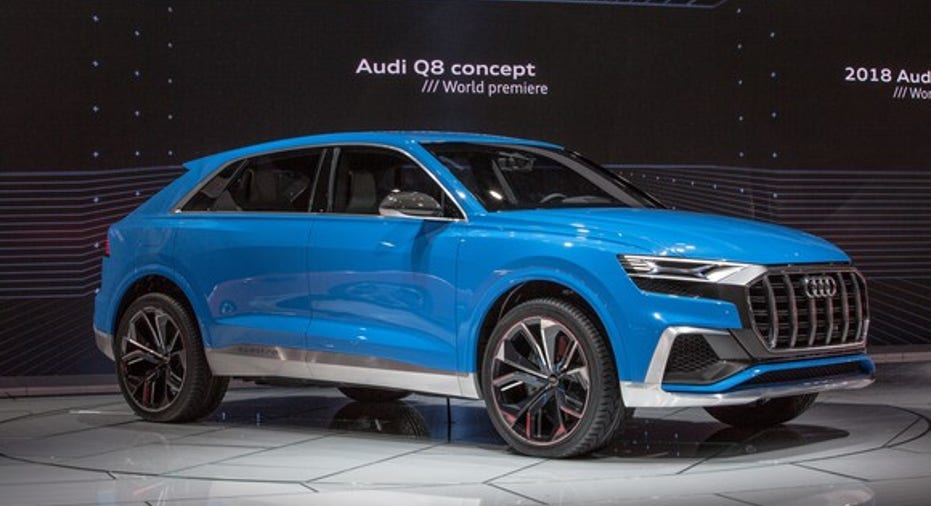 The Audi Q8 Concept at the North American International Auto Show in Detroit. Image source: Audi AG.
German luxury-car maker Audi AG (NASDAQOTH: AUDVF) unveiled a big new SUV in Detroit this past Monday. The Audi Q8 Concept is technically just a show car, but Audi officials said that it's a close preview of an upcoming new full-size luxury crossover SUV from the German brand.
But in addition to being a preview of Audi's new flagship crossover SUV, it's also a preview ofsomething else: The approach that Audi and itscorporate parent will take to get past the diesel-emissions cheating scandal.
What it is: A preview of a new flagship SUV for Audi
First and foremost, although the Q8 at the North American International Auto Show in Detroit is officially a "concept," or show vehicle, Audi officials were clear: Something very much like it, probably with the Q8 name, will arrive at dealers in 2018.
If so, the upcoming new Q8 will be a high-tech luxury powerhouse with a profile that hints at the classic Audi Quattro models of the 1980s. Audi describes its shape as "an elegant alternative to the robust presence" of a typical big SUV.
It is that. The Q8 Concept is big, withhigh sides. But up close it seems well scaled, not enormous -- despite its very big wheels (23 inches) and tires. Inside, it's spacious, with an attractive design and Audi's usual top-notch materials and fit and finish. The Concept's interior features an elaborate series of touchscreen displays and a heads-up display for the driver; it's unclear exactly how much of that will make it into the production model. But much of it might.
The Audi Q8 Concept's interior. Image source: Audi AG.
The plug-in hybrid drivetrain seems more likely to make it to production. It combines Audi's 3.0-liter turbo V6 with a 100-kilowatt electric motor for a combined equivalent of 443 horsepower and a beefy 516 pounds-feet of torque, which should make the Q8 a lively driver. The Concept's 17.9 kilowatt-hour lithium-ion battery pack is good for an electric-only range of just over 37 miles, Audi said.
"The Q8 concept is an Audi in peak form. It demonstrates the strengths of our brand in both technology and design while providing a glimpse at a future full-size, production SUV," said Dietmar Voggenreiter, Audi's chief of sales and marketing. "With its next-generation display and control solutions, we are enabling customers to experience connectivity in a whole new way."
Why it's important: The Q8 Concept signals Audi's move past the diesel mess
Audi, of course, is a subsidiary of German auto giant Volkswagen AG (NASDAQOTH: VLKAY), which is currently contending with a massive (and massively costly) scandal after it admitted to programming millions of diesel-powered vehicles to cheat on government emissions tests.
Audi hasn't been tainted by the scandal to anything like the same extent at VW's namesake brand. But like VW, it needs to show that it will move past the diesel mess into a (cleaner) future -- and like VW, it plans to do that by putting a very strong emphasis on electrified drivetrains.
Another view of the Audi Q8 Concept on Audi's show stand in Detroit. Image source: Audi AG.
Audi plans to launch an all-electric SUV next year. That's expected to provide some serious competition to Tesla Motors' (NASDAQ: TSLA) Model X. But it's likely to be a niche product, at least for the near future. Sophisticated plug-in hybrid drivetrains like the one in the Q8 Concept will be the mass-market alternative until pure-electric vehicles move more fully into the automotive mainstream.
It's likely that the production Q8 will feature a series of gasoline engines as well as a plug-in hybrid version. But the plug-in hybrid as Audi has presented it here is important: Rather than positioning it primarily as an eco-friendly drivetrain, Audi talked up its performance.
That probably reflects a lesson learned from Tesla: Customers will line up for electric vehicles (and by extension, plug-in hybrids) if they're exciting and offer something more than gasoline-only alternatives. The Q8 Concept signals that Audi is thinking along those lines for its upcoming flagship SUV. That's a good sign.
10 stocks we like better than Volkswagen AG When investing geniuses David and Tom Gardner have a stock tip, it can pay to listen. After all, the newsletter they have run for over a decade, Motley Fool Stock Advisor, has tripled the market.*
David and Tom just revealed what they believe are the 10 best stocks for investors to buy right now... and Volkswagen AG (ADR) wasn't one of them! That's right -- they think these 10 stocks are even better buys.
Click here to learn about these picks!
*Stock Advisor returns as of January 4, 2017
John Rosevear has no position in any stocks mentioned. The Motley Fool owns shares of and recommends Tesla Motors. The Motley Fool has a disclosure policy.