Details of Intel Corp.s 2018 Ice Lake Processor Emerge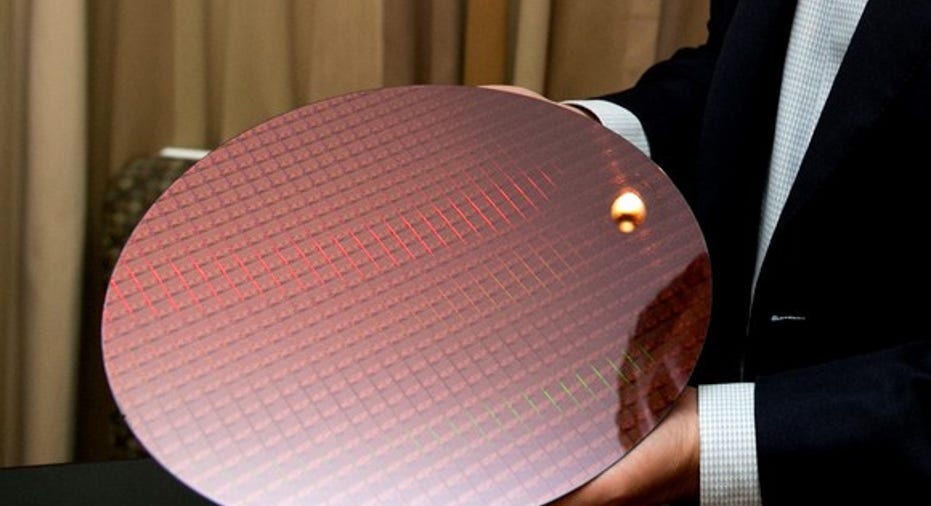 In late 2018, microprocessor giant Intel (NASDAQ: INTC) is expected to introduce a new processor family codenamed Ice Lake. It will be the next major architecture from the chipmaker, following the Skylake architecture, which launched during the second half of 2015.
A wafer of Intel's seventh-generation Core processors. Image source: Intel.
Details about Ice Lake have been scarce -- until now. Thanks to the LinkedIn profile of a former Intel employee, we can now get a much better idea of what innovations the chipmaker plans to introduce with this new architecture.
And, from what I can tell, it's going to be awesome.
New processor, new graphics, augmented reality tech, and more
Per the LinkedIn profile, Intel's second-generation 10-nanometer client processor (also known as Ice Lake; the first generation is Cannon Lake and the third generation is Tiger Lake) will feature new graphics and CPU architectures. These advancements should help improve both performance and power consumption in increasingly demanding computing and gaming applications.
That, however, was to be expected based on Intel's "Process-Architecture-Optimization" product development cadence.
Where things get interesting, though, is in the other technologies that Intel plans to integrate alongside the new processor and graphics cores.
The profile indicates that the new chips will include what is referred to as a "[Computer Vision] engine" to help with augmented and mixed reality applications. The profile also indicates that Ice Lake will be aimed at advanced driver automation systems, or ADAS, as well.
In addition to this new Computer Vision engine, the profile also indicates that Ice Lake will include a specialized hardware to accelerate speech recognition.
Given that Microsoft (NASDAQ: MSFT) included its Cortana personal assistant in Windows 10 (most Intel personal computer processors run Windows) and Apple(NASDAQ: AAPL) has included Siri in macOS, this seems like a sensible thing for Intel to include in a future processor. Performing calculations on specialized hardware is often much more power efficient than doing it in the general purpose CPU cores, so this could help improve battery life.
Intel bringing Core to smartphones
In 2014, Intel's low-power Broadwell processors made it possible for Intel's Core family to credibly power fan-less tablets. Per the LinkedIn profile, Intel's Ice Lake processor architecture will allow the chipmaker to push its Core processors into large smartphones or phablets.
A newer, more power efficient architecture coupled with Intel's new 10-nanometer technology (I think Intel will use its 10-nanometer+ technology for Ice Lake) may finally allow Intel to have a compelling processor offering for some phablets/premium smartphones.
I doubt that such a processor would see much success in typical Android-based handsets, particularly given how entrenched the ARM architecture is in the Android ecosystem.
However, if the speculation is true that Microsoft intends to launch its oft-rumored "Surface Phone," then an Ice Lake-based processor might be a good choice for that -- especially if it wants to make running traditional Windows software a key selling point for such a device.
Ice Lake looks cool
Intel's upcoming Ice Lake processor family looks as though it should be quite exciting. Although Intel seems to have resigned itself to a flat-to-down personal computer market, it's encouraging to see that the company is still working to develop products that add innovative new features that could ultimately help personal computer makers develop compelling new systems.
10 stocks we like better than Intel When investing geniuses David and Tom Gardner have a stock tip, it can pay to listen. After all, the newsletter they have run for over a decade, Motley Fool Stock Advisor, has tripled the market.*
David and Tom just revealed what they believe are the 10 best stocks for investors to buy right now... and Intel wasn't one of them! That's right -- they think these 10 stocks are even better buys.
Click here to learn about these picks!
*Stock Advisor returns as of Nov. 7, 2016
Ashraf Eassa owns shares of Intel. The Motley Fool owns shares of Microsoft. The Motley Fool recommends Intel. Try any of our Foolish newsletter services free for 30 days. We Fools may not all hold the same opinions, but we all believe that considering a diverse range of insights makes us better investors. The Motley Fool has a disclosure policy.