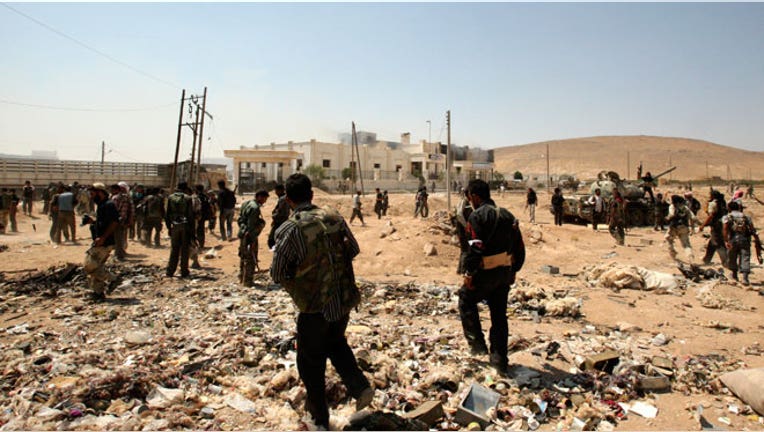 It's only been a few days since a clash with Syria looked imminent, but the looming military conflict has already sent jittery oil prices beyond $110 a barrel to fresh two-year highs.
Nervousness about the fallout of the conflict is set to trickle down to American drivers in the form of moderately higher gasoline prices just as they kick off one of the busiest driving weekends of the year.
However, the impact will likely be limited and $4-a-gallon gasoline is seen as unlikely, at least so long as the situation in the Middle East doesn't spiral completely out of control.
That's because Syria isn't a major oil producer, the domestic supply-and-demand situation doesn't seem to support substantially higher prices and the U.S. still has the 700-million barrel Strategic Petroleum Reserve in its back pocket.
"We are much more insulated vis-a-vis global oil price shocks than we were during the first Arab Spring," said Tom Kloza, chief oil analyst at GasBuddy. "I think the outlook for gasoline still suggests 'temperate prices' through the end of the year, despite the very high crude numbers."
That's not to say gasoline prices and other petroleum products won't experience at least a short-term bump.
According to AAA, the national average price of gasoline ticked up to $3.546 on Wednesday from $3.542 on Tuesday and $3.533 a week ago. Yet gasoline prices remain below the year-ago level of $3.756 as domestic supplies continue to be padded by the ongoing shale boom.
"I don't think we're going to go to $4 unless this thing really escalates," said Darin Newsom, senior commodities analyst at DTN, who sees only an "outside chance" of emotions pushing prices that high.
Newsom predicted the average price of gas could climb another 20-30 cents to about $3.85 a gallon, an increase that could crimp discretionary spending just as the U.S. economic recovery continues to struggle to gain steam.
'Nowhere Near as Vulnerable'
After soaring $3.09 a barrel on Tuesday, crude jumped another $1.09 on Wednesday and closed at $110.10 -- its highest settle since May 2011. Crude closed well off its intraday high of $112.24.
"Every geopolitical event that has occurred over the last ten years or so has seen a similar market reaction. Normally once the event happens and it seems that it is of short duration markets tend to revert back to more normal value trading levels," Dominick Chirichella, founding partner of Energy Management Institute, wrote in a note.
American drivers have a number of factors going in their favor in terms of gasoline prices.
For starters, unlike Europe, the U.S. is not nearly as reliant on Middle Eastern oil as a few decades ago. While the U.S. imports about 1.1 million barrels of oil a day of Saudi crude and another 750,000 bpd from Iraq and Kuwait, those numbers are dwarfed by the 10 million bpd from domestic production and our friends in Canada.
Domestic supplies have benefited tremendously from the shale boom, which has helped boost U.S. production by about 2 million bpd from the first quarter of 2011.
"We are nowhere near as vulnerable as we were in 2003 or 1990," said Kloza, referring to the beginning of the last two wars in Iraq.
It's also worth noting that Syria is not a major oil producer, nor is it a major transit point for oil and gas exports like Egypt. The country has been producing about 50,000 bpd and hasn't been able to export any oil since being slapped by international sanctions near the end of 2011.
At the same time, seasonal factors are likely to play a role as gas prices tend to trade at about par to crude prices during the fall, versus at a premium leading up to the peak summer months.
After the key driving holiday of Labor Day, Kloza estimated gasoline demand will tumble about 300,000 to 400,000 bpd, removing further pressure from the energy markets.
The 700M Barrel Question
Energy traders will be watching closely to see if the U.S. begins hinting at a decision to tap the SPR, which holds nearly 700 million barrels of crude, more than earlier crises. Kloza said that amounts to about 140 days of supplemental supply if every country except Canada refused to sell to the U.S.
Asked about the potential of tapping the SPR, a senior Obama administration official told FOX Business: "We are continuously monitoring the global oil supply and demand situation."
The White House last decided to unleash the SPR during the Libya crisis in 2011, selling 30.64 million barrels of crude from the reserve.
Chirichella told FOX Business he believes the U.S. will tap the SPR if there is a military strike on Syria, a move that would immediately send prices lower.
Others believe such a move would be premature, especially if some of the political calculations are removed from the equation.
"From a purely analytical point of view, I don't think there's a reason to do it," said Newsom, citing the supply-and-demand situation.
For all those reasons Kloza said the "odds favor temperate or perhaps even lower" gas prices through the end of 2013.
Of course, predictions for a limited boost to oil prices could quickly be proven wrong by an escalation of the conflict in Syria. Such outcomes could include violence spilling over into neighboring countries, a more intense intervention by the U.S. beyond surgical missile strikes or even a broader regional war.
FOX Business reporter Sandra Smith contributed to this report.