Despite Rising Crude Prices, These 5 Oil Stocks Slumped Last Month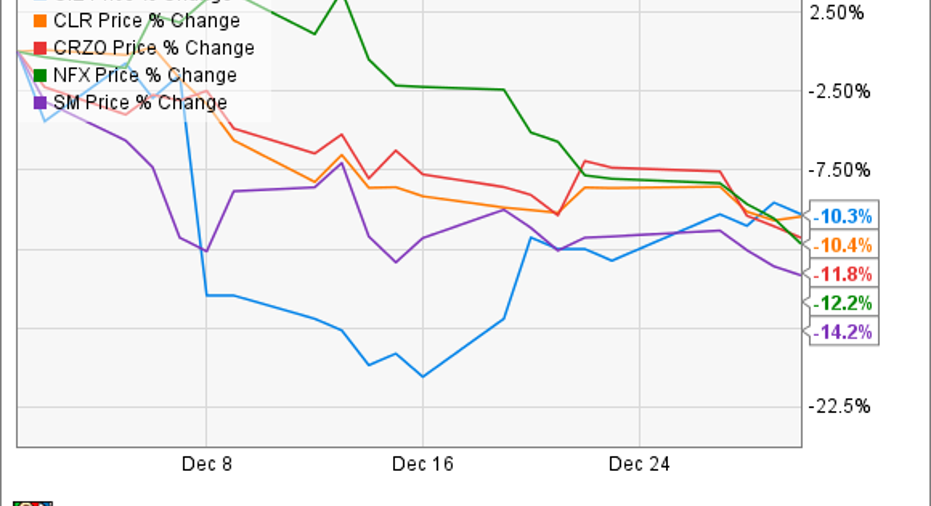 Image source: Cobalt International Energy.
What happened
Crude oil continued to ride an OPEC high in December, ending the month up more than 8%. That rally was one of the drivers behind the scorching-hot moves of several oil stocks.
However, some oil stocks bucked this trend by slumping last month. Leading the laggards were Cobalt International Energy (NYSE: CIE), Continental Resources (NYSE: CLR), Carrizo Oil & Gas (NASDAQ: CRZO), Newfield Exploration (NYSE: NFX), and SM Energy (NYSE: SM):
So what
Offshore oil-field developer Cobalt International Energy spent much of the recent past focusing on ways to improve its balance sheet and liquidity. In December, the company announced two moves geared toward those initiatives, both of which weighed on its stock. First, the company announced the completion of a debt exchange and financing transaction that allowed it to raise $500 million of liquidity and push out half of its 2019 debt maturities by four years. However, it had to pay a steep price for this peace of mind, including issuing 30 million shares, representing 7% dilution. In addition, the company filed a registration statement with the SEC for a proposed mixed-shelf offering that would allow it to issue up to $1 billion of debt and equity securities in the future. While this capital would ease the company's liquidity concerns, the cost could be very high, depending on the route taken.
While Bakken shale driller Continental Resources was one of the best-performing large-cap oil stocks last year, it ended December by sliding off of its peak due to lackluster analyst notes. Deutsche Bank, for example, downgraded the stock from buy to hold because it believes that most of Continental's catalysts played out in 2016. Instead, the bank thought investors should consider a producer that offered a better value proposition or balance sheet, such as Newfield Exploration. In addition, Continental's stock was downgraded by J.P. Morgan and KLR Group, while FBR initiated coverage at just a market perform rating.
Image source: Newfield Exploration.
Carrizo Oil and Gas also received some lukewarm analyst notes last month. Seaport Global, for example, downgraded the stock from accumulate to neutral, while Wells Fargo cut its rating from outperform to market perform. Wells cited headwinds from service cost increases, slowing efficiency gains, and uncertain long-term price expectations as the catalysts behind its downgrade and price-target reduction from a range of $41-$50 to $35-$48 per share. That said, Raymond James Financial issued a bullish note on Carrizo Oil & Gas, initiating coverage at a strong buy with a $60 price target, citing its high-quality inventory in the Eagle Ford region, as well as solid acreage in the Delaware Basin, the DJ Basin, and the Utica and Marcellus shale regions.
Newfield Exploration was also the victim of a Wells Fargo downgrade last month. The bank cut the stock from outperform to market perform while reducing its price target range from $50-$55 to $40-$50. It did so citing the same concerns as in the Carrizo downgrade.
Finally, SM Energy's slump last month was due to a public offering of shares. The company priced and closed an upsized offering that saw it raise $403 million in cash by selling 10.9 million shares at roughly $37 apiece -- a more than 11% discount to its trading price before the offering. The company used that cash to finance a portion of its $1.6 billion acquisition of QStar, which closed last month. While that transaction established a position of significant scale in the Midland Basin, investors did have concerns about the quality of the acreage. Those concerns, however, prompted an analyst from Piper Jaffray to issue some positive commentary on the company, saying that the sell-off tilted the favorability of the stock's risk/reward rating, though investors seemed to dismiss that view last month.
Now what
These December declines serve as a reminder to investors that with just a few keystrokes, analysts can send stocks sinking or soaring. But last month's rating changes and commentary also remind us that analysts do not always agree, with some concentrating on the upside potential while others focus on what might go wrong.
These often divergent opinions are why you should not immediately react to new analyst notes by going out and making buy or sell transactions. Instead, use them as references to understand the issues and catalysts that could impact your long-term investment thesis.
10 stocks we like better than Cobalt International Energy When investing geniuses David and Tom Gardner have a stock tip, it can pay to listen. After all, the newsletter they have run for over a decade, Motley Fool Stock Advisor, has tripled the market.*
David and Tom just revealed what they believe are the 10 best stocks for investors to buy right now... and Cobalt International Energy wasn't one of them! That's right -- they think these 10 stocks are even better buys.
Click here to learn about these picks!
*Stock Advisor returns as of January 4, 2017
Matt DiLallo owns shares of Wells Fargo and Wells Fargo and has the following options: long January 2018 $45 calls on Wells Fargo and short April 2017 $50 calls on Wells Fargo. The Motley Fool has no position in any of the stocks mentioned. The Motley Fool has a disclosure policy.