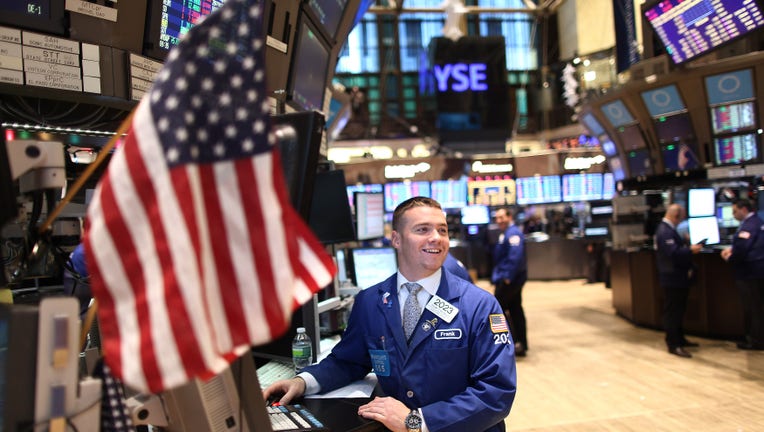 While Wall Street frets about Europe's debt mess and another potential spring slowdown for the U.S. economy, earnings season is off to a surprisingly solid start.
The bar had been set very low this earnings season as analysts had projected operating profits for S&P 500 companies would inch up just 2.2% in the first quarter, down from a 19.7% leap the year before.
In the face of these gloomy forecasts, corporate profits have enjoyed a healthy double-digit increase in the first stage of earnings season and the S&P 500 is on track for a record number of beats.
"Despite macro instability and subdued growth, companies continue to deliver exceedingly strong earnings results, yet skepticism remains given the uneven pace of recent economic data releases," Brian Belski, chief investment strategist at BMO Capital Markets (NYSE:BMO), wrote in a note on Monday.
The stronger-than-expected start to earnings season could help support U.S. stocks at a time when they are coming under heavy pressure from Europe. The blue chips retreated more than 100 points on Monday as worries about the eurozone grow.
Record Pace of Earnings Beats
According to Yardeni Research, profits at S&P 500 companies that reported quarterly results as of the end of last week have jumped 10.4% year-over-year, blowing away forecasts at the start of earnings season.
When earnings beats on Monday from the likes of Xerox (NYSE:XRX) are included, 103 of the 129 S&P 500 companies reporting have actually beat Wall Street's expectations, according to S&P Capital IQ. That 80% beat rate is way up from 59% in the fourth quarter of 2011 and would mark the highest percentage since S&P began tracking this metric in 2001.
"Earnings are coming in much better than expected," said Sam Stovall, chief equity strategist at S&P Capital IQ. "The 80% beat rate is the best we've ever seen. But of course, it's very early in the earnings reporting cycle."
Analysts have been slowly ratcheting up expectations. While they expected meager growth of just 0.5% in late March, analysts are now calling for modest earnings growth of 4.5%, according to S&P.
Likewise, it now appears seven of the S&P 500's 10 sectors will post year-over-year profit increases, compared with earlier this year when seven were projected to suffer declines. Growth is expected to be led by financials and industrials, while materials, telecom and utilities are the only sectors still expected to post declines.
Will Earnings Boost Stocks?
Last week blue-chip members DuPont (NYSE:DD) and American Express (NYSE:AXP) each reported stronger-than-expected increases in quarterly profits amid solid revenue growth.
"The bar was set very, very low mainly because you had very difficult comparisons" with the year-earlier period, Stovall said. He also pointed to negative factors like a 5% jump in the average quarter-over-quarter value of the U.S. dollar and crude oil, each of which threatened to eat into earnings by hurting exports and raising costs.
The good start to earnings season may help keep stocks afloat, but it probably won't be enough to push them higher.
"We continue to see earnings drive the counter weight to concerns centered around" Europe's debt crisis, Peter Kenny, managing director at Knight Capital Group, wrote in a note. While earnings have "provided enough positive guidance to support current pricing," Kenny wrote, "macroeconomic data will need to continue improving for the uptrend in markets to remain intact."
Stovall echoed that sentiment, saying, "It could help support but I don't think it'll be enough to keep [stock prices] higher if we end up getting even worse forward-looking macro data because let's face it, first-quarter earnings are ancient history by the stock market's standards," said Stovall.
Beware of Profit Warnings
Moreover, guidance, which is crucial during these uncertain times, has been less glowing than earnings.
According to S&P Capital IQ, 16 of the 24 companies that have provided guidance for the current quarter have issued negative outlooks, while three were positive and five were in line. That makes a negative-to-positive ratio of 5.3.
Kellogg (NYSE:K) gave ammo to the bulls on Monday as the world's largest cereal maker slashed its 2012 earnings guidance due to weak U.S. volumes and trouble in Europe. The maker of Frosted Flakes and Rice Krispies now sees 2012 sales rising just 2% to 3%, compared with the Street's view of 6%.
Likewise, SanDisk's (NASDAQ:SNDK) shares tumbled late last week after the flash memory chip maker issued a sales warning for the second quarter in a row.
Analysts are projecting earnings at S&P 500 companies will inch higher by just 2.09% in the second quarter, up from 1.68% on April 1 but down from 3.92% at the beginning of the year. By comparison, Wall Street sees a 7.1% jump in full-year earnings.
The ability of major companies to continue to beat Wall Street's forecasts speaks to the broader trend of C-Suites deftly handling analyst and shareholder expectations, especially in the wake of the recession. This process, which involves giving out just enough tidbits of select information, is called "managing expectations."
"Companies adept at expectations management are going to end up beating by one or two pennies every quarter," said Stovall.
With that in mind, last week General Electric (NYSE:GE) disclosed a 12% decline in net income, but the conglomerate's non-GAAP EPS of 34 cents just squeaked by the Street's view of 33 cents.