Derek Jeter dissed by Morgan Stanley in quest for Miami Marlins cash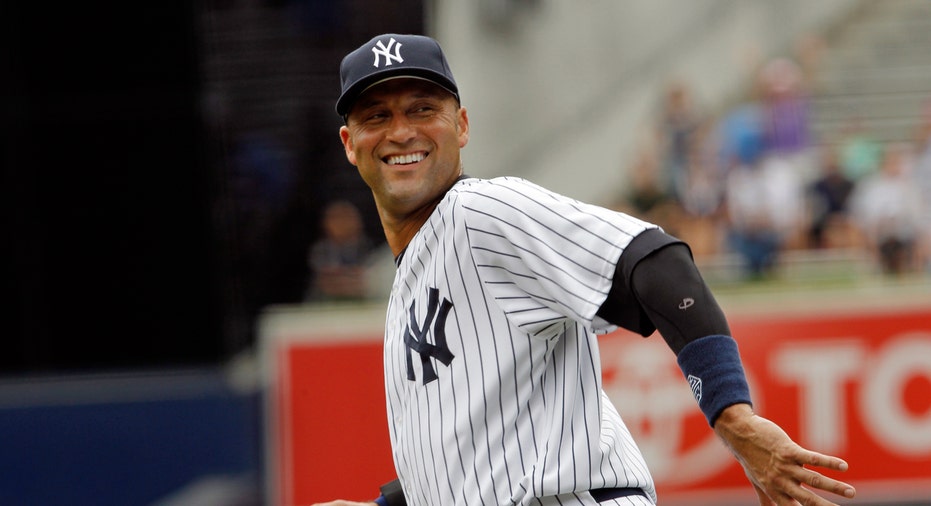 It looks as if former Yankee great and current Miami Marlins co-owner Derek Jeter has whiffed in his attempt to raise money from one of Wall Street's biggest firms as he looks to rebuild the struggling Major League Baseball franchise, FOX Business has learned.
Jeter, along with his investment banker Greg Fleming, received the cold shoulder from Morgan Stanley after they approached executives to see if the firm's biggest brokerage clients wanted to buy a piece of the team, according to people with direct knowledge of the meeting.
During at least one meeting held late last year at Morgan Stanley's offices in Manhattan, Jeter and Fleming gave brokers an overview on how new management would return the Marlins to profitability, according to people with direct knowledge of the matter.
But so far, there has been no interest from the bank's customers to make an investment in the team, these people added.
As FOX Business reported, Jeter and a group of investors including former Wall Street money manager Bruce Sherman won a bidding war and bought the subpar team, which was hemorrhaging money, for a whopping $1.2 billion.
The deal, inked in August of last year, fulfilled Jeter's goal of running a team after he retired from baseball in 2014. Since then, the former Yankee All-Star shortstop and all-but-certain Hall of Famer has made some controversy among Marlins fans by unloading top talent to reduce the team's bloated payroll while stacking the team with minor leaguers as Opening Day approaches in April.
The Marlins finished second in the National League East last year with a 77-85 record, 20 games behind the first-place Washington Nationals. Jeter believes the moves will secure the Marlin's financial condition and pay dividends on the field as the prospects turn into stars.
But many fans aren't convinced and neither were brokers at Morgan Stanley,  who have told Jeter and Fleming that there is little, if any, interest from their clients in buying a piece of the team, these people say.
The brushback from Wall Street underscores skepticism surrounding Jeter's turnaround plans for the Marlins as the team looks to fix a raft of financial problems from poor attendance, to high levels of debt and tens of millions of dollars a year in losses, according to baseball executives. Many baseball executives believed the Jeter-Sherman group overpaid for the team, which former owner Jeffrey Loria bought for just $158 million in 2002.
"It was a very tough ask," said one broker who spoke on the condition of anonymity. "The team has some financial issues, plus the markets are getting wobbly."
A spokesman for the Marlins declined to comment on behalf of Jeter and Sherman. Fleming also declined to comment as did a spokesman for Morgan Stanley.
While Jeter is the public face of the new Marlins management, Sherman, a veteran investor, is the team's "control person" because he holds the largest equity stake in the franchise, with an estimated $300 million to $500 million investment. Jeter holds a relatively small stake compared with Sherman, with an estimated $25 million investment.
People close to Jeter and Sherman said their plan has always been to seek other investors after they took control of the Marlins to reduce investors' equity stake as the team regains its financial footing.
With that, Fleming, who was once head of Morgan Stanley's brokerage unit, started conducting what's known on Wall Street as a "syndication," and began seeking around $150 million from additional investors. Morgan Stanley would be a typical place to shop for new investors not just because Fleming worked there but also because the firm has Wall Street's largest brokerage department that caters to wealthy investors.
These people add that while Fleming may have struck out persuading Morgan Stanley clients to take a piece of the team, he has found a number of other investors, though it's unclear how much he has raised from these sources.