Department Store Stocks Plunge Again: Here's How They Can Bounce Back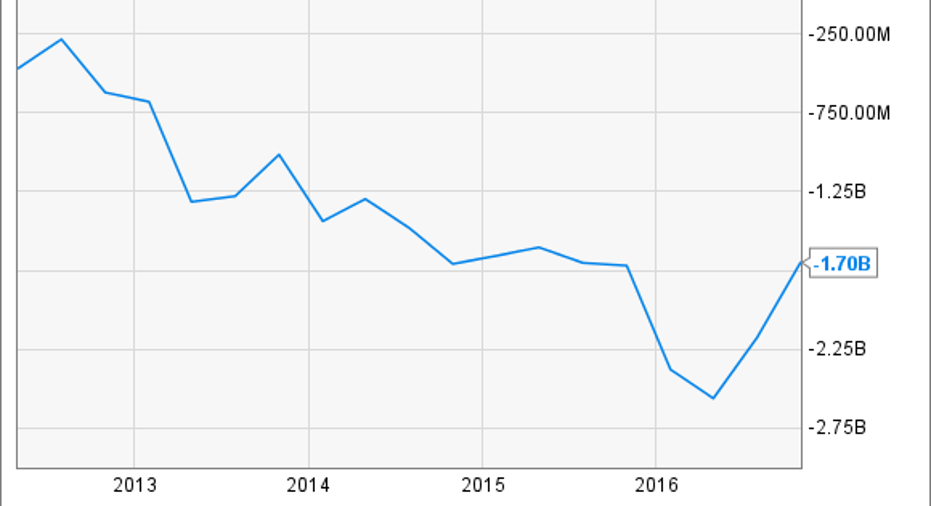 Department store stocks have plunged again this week, leaving shares of many leading department stores at or near multiyear lows. Industry leader Macy's (NYSE: M) saw its stock hit a five-year low below $28 while shares of troubled department store J.C. Penney (NYSE: JCP) fell below $6, reaching lows not seen since 1980.
Shares of Kohl's (NYSE: KSS) and Nordstrom (NYSE: JWN) haven't quite reached their 52-week lows. Nevertheless, both stocks have lost about a third of their value since early December.
Department Store Stock Performance. Data source:YCharts.
It's not surprising that the steep sales declines experienced by most department stores in recent years have caused many investors to give up on the sector. However, while the department store sector is in the midst of a secular downturn, individual department store companies like Macy's, J.C. Penney, Kohl's, and Nordstrom should be able to bounce back.
The secular trends are real -- but not insurmountable
Department stores may not be dead yet, but it's important to recognize that the sector faces strong secular headwinds. In the decade from 2005 to 2015, U.S. department store sales fell by about 30%. If anything, the pace of decline has accelerated in the past year and a half. The rise of e-commerce and the rapid growth of off-price merchants have kept department stores on the defensive for many years.
That said, the fact that department store sales have been dropping for more than a decade means that companies like Macy's, Kohl's, J.C. Penney, and Nordstrom are used to dealing with adversity.
This is a point that outgoing Macy's CEO Terry Lundgren emphasized on the company's Q4 earnings call. Notwithstanding the huge negative impacts since 2000 from 9/11 and the Great Recession, Macy's earned a record profit of more than $1.5 billion in fiscal 2014. Sales declines at the sector level don't mean that all department stores must suffer.
Macy's earned a record profit in 2014 despite the downtrend in department store sales. Image source: Macy's.
Furthermore, department stores still generate a lot of revenue. The top five department store chains alone -- Macy's, Kohl's, Sears, J.C. Penney, and Nordstrom -- produced about $80 billion of revenue last year. (This estimate excludes Sears Holdings' (NASDAQ: SHLD) Kmart discount chain and Nordstrom's off-price Rack chain.)
Some department stores won't survive long
Of course, some department stores won't be able to survive. Many investors assume that means all department store stocks are toxic. However, the demise of weaker chains will be a good thing for stronger companies. Fortunately, it isn't that hard to distinguish one from the other.
Sears Holdings is quite likely to go bankrupt within the next few years, especially if the sales climate continues to deteriorate. It has been burning cash at a rate of more than $1.5 billion a year recently.
Sears Holdings Free Cash Flow (TTM). Data source:YCharts.
Sears has steadily plugged the holes in its balance sheet with asset sales, but it will probably run out of land and brand names to sell by the end of the decade. When that happens, the company is likely to disappear for good. In the meantime, it is closing stores at a furious pace.
J.C. Penney -- which faces its own problems, to be sure -- has carefully positioned itself to profit from Sears' impending demise. In addition to being Sears' main rival at the "value" end of the department store sector, J.C. Penney is also diversifying into appliances, home services, and other lines of business where it has opportunities to gain market share from Sears.
While Sears is the biggest department store to face a high risk of bankruptcy, several smaller chains are also in trouble. If industry sales continue to fall, companies like Bon-Ton Stores may be forced to downsize drastically or even disappear entirely. This would further reduce competition for rivals like Macy's and Kohl's.
Consolidation will also help stabilize profits
A wave of department store bankruptcies -- followed by downsizing or liquidation -- is one way of boosting profits for the rest of the sector. Consolidation through mergers is another route to the same goal.
Slumping profits will increase the pressure on department store executives to consider mergers. By combining with rivals, department stores would have opportunities to cut duplicative costs. They could also close overlapping stores that currently compete with one another. A more concentrated department store sector would probably be far more profitable.
A shakeout is coming
Despite the department store sector's woes over the past few years, there haven't been any major bankruptcies yet. (There haven't been any big mergers since 2013, either.) The fact that nobody has thrown in the towel yet is a big reason why department store profits are still tumbling.
Assuming the bears are right and the department store sales downtrend persists -- which seems likely -- the status quo won't be able to last much longer. Unprofitable department store chains like Sears may be doomed. But as they disappear, rivals like Macy's, Kohl's, J.C. Penney, and Nordstrom could experience a resurgence.
10 stocks we like better than Macy'sWhen investing geniuses David and Tom Gardner have a stock tip, it can pay to listen. After all, the newsletter they have run for over a decade, Motley Fool Stock Advisor, has tripled the market.*
David and Tom just revealed what they believe are the 10 best stocks for investors to buy right now... and Macy's wasn't one of them! That's right -- they think these 10 stocks are even better buys.
Click here to learn about these picks!
*Stock Advisor returns as of February 6, 2017
Adam Levine-Weinberg owns shares of J.C. Penney, Macy's, and Nordstrom. The Motley Fool recommends Nordstrom. The Motley Fool has a disclosure policy.