Department Store Dividends Look Appealing, but Are They Really Traps?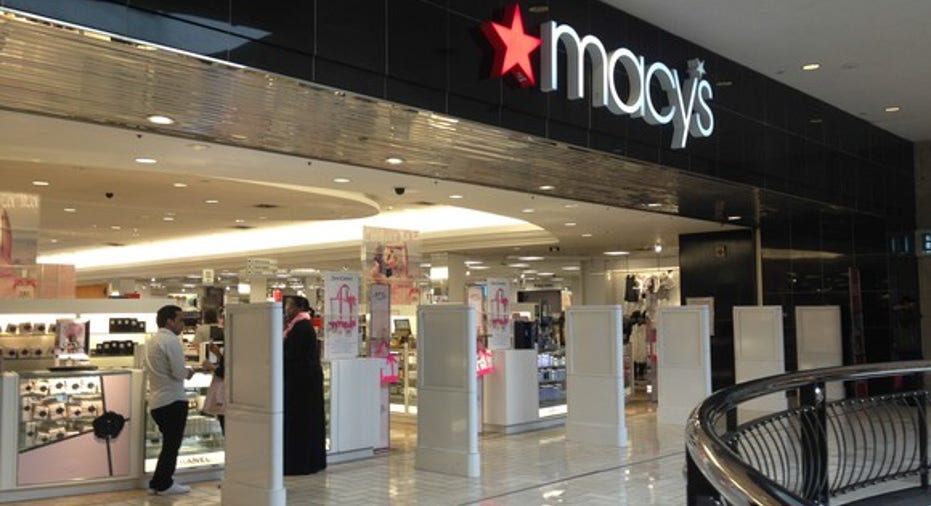 Department stores have been under intense pressure lately.
Almost all of them reported declining comparable sales over the holiday season and for 2016, and many have announced store closings. The troubles have grown as Americans' shopping habits shift. E-commerce is booming, with online sales increasing by about 15% each year, andAmazon.comis set to become the biggest apparel seller in the country. Meanwhile, fast fashion brands like H&M and Zara have taken share as they continue to open new stores, and consumers have flocked to off-price brands likeTJX Companies'T.J. Maxx and Marshall's. Mall traffic has also fallen sharply, pressuring anchor locations.
According to the Census Bureau, nationwide department sales fell 5.6% last year to $155.4 billion, a reflection of the difficult straits the industry now finds itself in.
For investors, however, the sell-off in department store stocks that's resulted from that weakness has created some tempting buy opportunities, especially for value and dividend investors.
Below, the tables shows the price-to-earnings (P/E) ratio and dividend yield for some high-paying dividend stocks.
Company
P/E Ratio
Forward P/E
Dividend Yield
Macy's

(NYSE: M)

10.1
10.4
4.7%
Nordstrom

(NYSE: JWN)

14.7
15.3
3.4%
Kohl's

(NYSE: KSS)

10.5
11
5.5%
Stage Stores
N/A
N/A
29.3%
Data source: Yahoo! Finance.
Based on those figures above, Macy's and Kohl's look like the most appealing choices for value investors. Stage Stores still has earned an eye-popping yield as the stock has crumbled and profits have turned negative. It's a penny stock that's best avoided.
Let's break down what Macy's and Kohl's have to offer dividend investors today.
Image source: The Motley Fool.
Kohl's key dividend stats
| Annual Increases in a Row | Payout Ratio (Net Income) | Payout Ratio (Free Cash Flow) |
| --- | --- | --- |
| 6 (since 2011) | 64.3% | 25.9% |
Source: Company earnings reports.
Kohl's is no different from many of its fellow travelers in the department store industry. The Wisconsin-based retailer saw comparable sales fall 2.4% last year, and earnings per share shrink 6%, from $4.01 to $3.76. That decline was actually better than the 14% drop in net income to $673 million, as the company has been aggressively buying back shares, a sign along with its strong dividend payout of management's commitment of returning capital to shareholders.
The company reduced its shares outstanding by 8.2% last year, buying back 16 million shares. Meanwhile, Kohl's recently hiked its dividend payout 10% to $0.55 a quarter. Over the past year, it closed 19 full-line stores, and for the current year it sees comparable sales falling 1% and earnings per share (EPS) down about 3%. The company also expects to repurchase $350 million worth of stock, or about 8 million shares at current prices.
Kohl's has been a dedicated dividend payer since 2011, having raised it every year by 10% or more. Over that time, its dividend has more than doubled. Based on net income, its payout ratio is still reasonable at 64.3%, and just 25.9% as a percentage of free cash flow, as the company has nearly $1 billion a year in depreciation.
With that kind of room in its free cash flow, Kohl's looks primed to continue raising its dividend over the coming years, though that may not be enough to overcome the headwinds facing the company, such as falling comparable sales and profits.
Image source: The Motley Fool.
Macy's key dividend stats
| Annual Increases in a Row | Payout Ratio (Adjusted Net Income) | Payout Ratio (Free Cash Flow) |
| --- | --- | --- |
| 5 (since 2011) | 47.4% | 38.1% |
Data source: Company earnings reports.
Macy's numbers above are similar to Kohl's, and indeed Macy's underlying performance bears a strong resemblance to Kohl's as well.
Macy's saw its comparable sales fall 3.5% at stores it owns and 2.9% on an owned and licensed basis. Meanwhile, adjusted earnings per share slipped about 3% to $3.11. Last year, the venerable department store chain said it would close 100 stores, and in January named 66 of them and said it would lay off 10,000 employees as the company looks to right-size its fleet.
During the year, the company repurchased 7.9 million shares for $316 million, reducing the total share count by 6.2 million, or 2% of the total when accounting for stock-based compensation. Dividend hikes have been slower lately as its latest was just 3% to $0.375 per quarter.
Macy's core business continues to look troubled as the company sees comparable sales falling about 2.5% this year and adjusted earnings per share of $2.90-$3.15, down at its midpoint by 3% from last year. However, the company does have a singular advantage over Kohl's: its real estate.
Macy's has been unloading parts of its valuable real estate portfolio, bringing $673 million in cash proceeds, or $209 million in book gains, that it used to pay down debt. The company is expected to continue to monetize its property, as it just completed the sale of its downtown Minneapolis location for $59 million, booking a gain of $47 million on the sale.
With dozens more stores that developers would eagerly scoop up, Macy's real estate puts a floor on the stock that Kohl's does not have in the same way.
While this sector will remain risky as long as comparable sales are falling and industry headwinds are apparent, Macy's, with its strong real estate portfolio, looks like the best bet of the bunch for dividend investors.
10 stocks we like better than Macy'sWhen investing geniuses David and Tom Gardner have a stock tip, it can pay to listen. After all, the newsletter they have run for over a decade, Motley Fool Stock Advisor, has tripled the market.*
David and Tom just revealed what they believe are the 10 best stocks for investors to buy right now... and Macy's wasn't one of them! That's right -- they think these 10 stocks are even better buys.
Click here to learn about these picks!
*Stock Advisor returns as of February 6, 2017
Jeremy Bowman has no position in any stocks mentioned. The Motley Fool owns shares of and recommends AMZN. The Motley Fool recommends Nordstrom. The Motley Fool has a disclosure policy.