Democrats' trade policies aim to regain advantage from Trump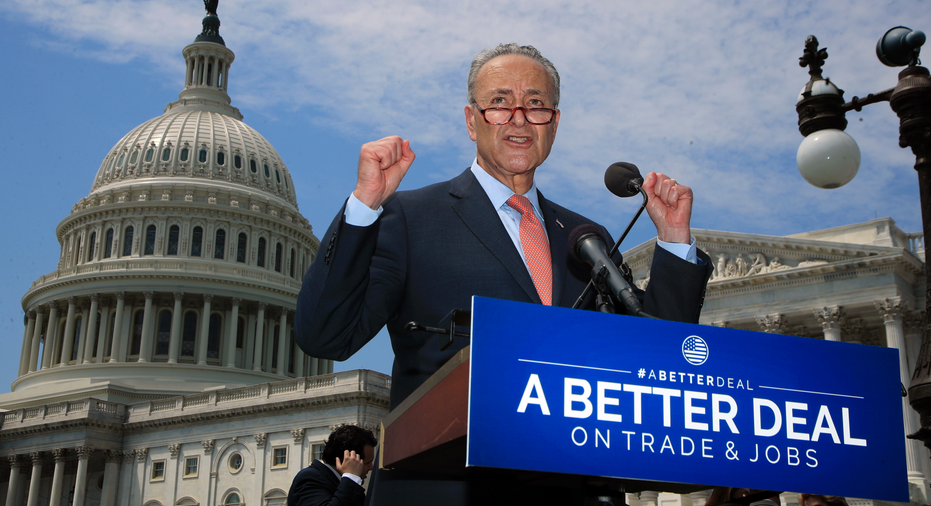 Senate Democrats offered a new set of trade policies Wednesday aimed at appealing to working-class voters and regaining advantage on an issue that Donald Trump seized to great effect during last year's presidential campaign.
Some of the Democratic proposals sounded like talking points straight from Trump, including renegotiating a trade agreement with Mexico and Canada, and strengthening "Buy America" policies.
Despite Trump's rhetoric on those issues, he's taken limited steps as president, although he did formally pull the United State from a 12-nation Pacific Rim trade pact that Congress probably would not have approved anyway.
The Trump administration is also considering ways to punish China for forcing U.S. companies to share their technology in return for access to the vast Chinese market.
"The problem is President Trump has talked a good game and done virtually nothing on trade but study it," Senate Minority Leader Chuck Schumer of New York said at a news conference with fellow Democratic senators from Pennsylvania, Wisconsin, Indiana and Michigan, all up for re-election next year in manufacturing-dependent states Trump won in 2016.
"So we need action and if President Trump wants to work with us to get these things done, good, because we need a better deal for American workers."
Trade had been seen as an area where Trump and congressional Democrats could work together because Trump is more aligned with Democrats on the issue than with the traditional Republican free-trade approach. But such cooperation has not materialized as it's become apparent that Trump and Democrats are unlikely to work together on anything at all, except where strictly necessary.
The trade policies Democrats announced Wednesday were the second roll-out in their new "Better Deal" agenda, which House and Senate Democrats are proposing ahead of the 2018 elections. Last week, Democrats presented their overall agenda and made public the first three planks, which focused on creating more jobs, cracking down on corporate monopolies and lowering prescription drug prices.
On trade, Democrats proposed an American Jobs Security Council to review and potentially halt foreign purchases of U.S. companies. Chinese state-owned enterprises are increasingly entering U.S. markets by purchasing American companies, but the reverse doesn't usually happen because of restrictions in China on U.S. investments, Democrats said.
Democrats also envision a new "independent trade prosecutor" empowered to investigate unfair trade practices outside the unwieldy World Trade Organization process and recommend retaliation in the form of restrictions to U.S. market access.
Democrats called for renegotiating the President Bill Clinton-era North American Free Trade Agreement involving the U.S., Mexico and Canada, with the goal of achieving more American jobs and higher wages, and enforceable labor standards. Trump has called for renegotiating NAFTA, a deal he bashed ceaselessly as a candidate. A couple weeks ago, his administration outlined its goals for doing so, some of which overlap with the Democrats' ideas.
The Democrats called for new tax rules to punish companies that ship jobs overseas and for strengthening "Buy America" provisions in taxpayer-funded projects. Trump, too, has harped on the "Buy America" theme even as it's been revealed that some of his own products and those marketed by his daughter Ivanka's fashion line were manufactured in other countries.
Overall, the Democrats' trade proposals underscored the influence of the party's liberal wing in pushing it in a populist direction that rejects multinational trade deals in favor of more protectionist policies that elevate U.S. workers' interests. It's partly a reaction to Trump's success last year in Rust Belt states and elsewhere where his tough talk on trade and claims that American workers have gotten a raw deal appealed strongly to voters.
In reality, data is mixed on the impact of trade deals on U.S. workers. Experts point to other factors, such as technological advances, that have contributed to job losses and shuttered factories in onetime manufacturing strongholds.
___
Online:
Democrats' proposals: http://tinyurl.com/ybqqxh3c