Delta Wraps Up a Solid Q1 Despite Some Bumps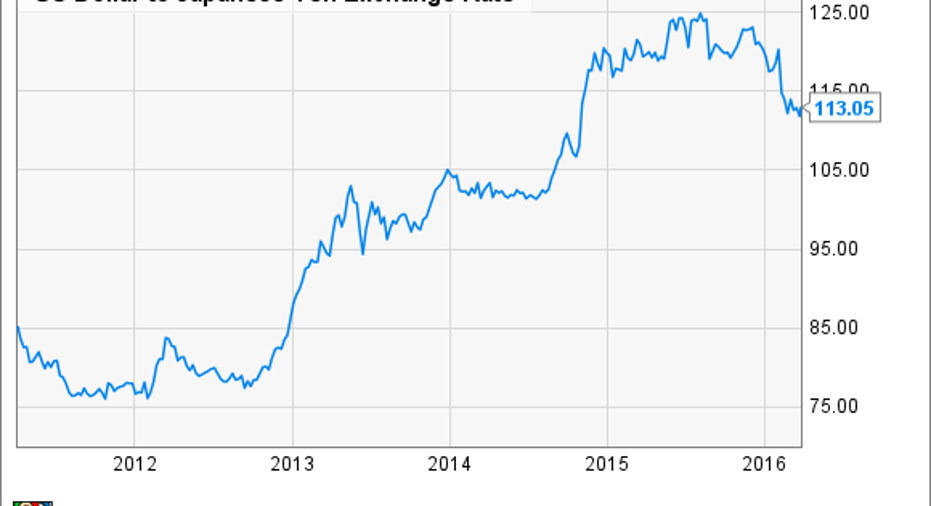 Delta Air Lines is hoping to get unit revenue growing again in 2016, but it didn't happen in Q1. Last week, the company estimated that passenger revenue per available seat mile (PRASM) declined 4.5% during the first quarter.
Nevertheless, Delta is on pace to post strong profit growth for the first quarter (and the full year). Furthermore, its unit revenue trend should improve significantly in the next couple of quarters.
A bump in Delta's unit revenue recoveryBack in October, Delta projected that PRASM would decline 2.5%-4.5% for the fourth quarter of 2015, dragged down by the strong dollar, falling fuel surcharges, and growing pricing pressure in the U.S. However, the company raised its Q4 revenue guidance three times in the ensuing three months. Ultimately, PRASM declined just 1.6% for the quarter.
Delta began the first quarter with similar guidance for a 2.5%-4.5% PRASM decline. This time, it wasn't able to beat its own expectations.
PRASM slumped 4.5% at Delta Air Lines last quarter.
At an investor conference last month, Delta President (and incoming CEO) Ed Bastian stated that there was "choppiness" in domestic demand, particularly for last-minute business fares. Bastian said that the company's 5.5% PRASM decline in February was disappointing and he indicated that Delta's Q1 financial metrics would probably wind up in the lower half of the guidance range.
Sure enough, PRASM declined by about 4.5% for the quarter, falling to the very bottom of the guidance range. Fuel prices also ended up a little higher than expected. Nevertheless, Delta expects to report an 18%-19% adjusted operating margin for Q1. That compares to just 8.8% in Q1 2015, when Delta was hit with massive fuel hedging losses.
Unit revenue should start to bounce backWhile Delta Air Lines had a small unit revenue setback last quarter, it should benefit from some tailwinds as the year progresses.
First, it will have much easier unit revenue comparisons. In Q1 2015, Delta's PRASM declined about 1.7% year over year, whereas PRASM fell 4.6% in Q2 and 4.9% in Q3. This should make it a lot easier for Delta to post smaller PRASM declines (or perhaps even gains) going forward.
Second, the foreign currency pressure that has dragged down Delta's unit revenue for more than a year should begin to subside. The dollar has started to weaken in recent months, as the Federal Reserve has signaled that it won't raise interest rates as fast as initially planned. Most importantly for Delta, the Japanese yen is regaining ground against the dollar. (Japan is one of Delta's largest foreign markets.)
US Dollar to Japanese Yen Exchange Rate, data by YCharts.
Delta still faced a 2 percentage point impact from the strong dollar in Q1. This foreign currency headwind should be much smaller for the rest of the year, based on today's exchange rates.
Third, with each passing quarter, Delta has more time to adapt to changing demand patterns. For example, it announced last week that it would suspend its Atlanta-Brussels route until March 2017 due to reduced demand following the Brussels terrorist attacks. Delta and other airlines also recently closed a loophole that was allowing some customers to pay lower fares by booking multi-city tickets instead of regular connecting itineraries.
Delta has stated that forward bookings are above last year's levels and demand remains strong, despite some weakness in ticket prices. This suggests that Delta's unit revenue results could improve soon.
The profit machine keeps churning out cashAnalysts expect Delta's earnings per share to nearly triple during the first quarter, despite its relatively weak PRASM performance. Delta won't benefit from the same level of fuel cost savings after Q1, but if its unit revenue trend starts to improve as expected, that won't be a problem.
The average full-year analyst EPS estimate is $6.72, which would represent 46% year-over-year growth. Delta Air Lines stock currently trades for just seven times that earnings estimate. This gives Delta shareholders a big margin of safety in case of an unexpected jump in fuel prices or another demand slump.
The article Delta Wraps Up a Solid Q1 Despite Some Bumps originally appeared on Fool.com.
Adam Levine-Weinberg is long Jan. 2017 $40 calls on Delta Air Lines. The Motley Fool has no position in any of the stocks mentioned. Try any of our Foolish newsletter services free for 30 days. We Fools may not all hold the same opinions, but we all believe that considering a diverse range of insights makes us better investors. The Motley Fool has a disclosure policy.
Copyright 1995 - 2016 The Motley Fool, LLC. All rights reserved. The Motley Fool has a disclosure policy.