Delta Air Lines Torpedoes Boeing Stock (Again)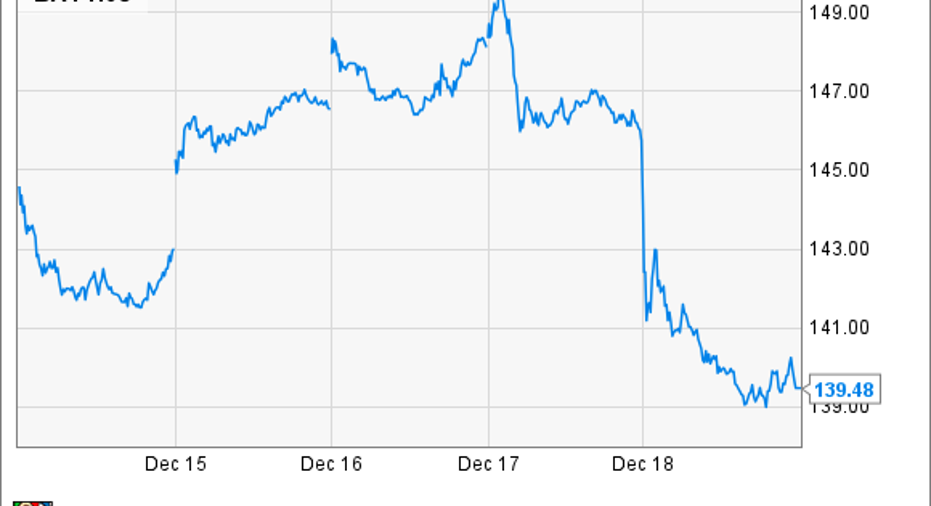 What a difference a few days makes. Shares of Boeing were gaining momentum last week after the company raised its dividend by 20% for 2016 and announced a multibillion-dollar order for 737s from China Southern Airlines.
Then Delta Air Lines CEO Richard Anderson mentioned that his company had recently signed a letter of intent to buy a used 777 jet for $7.7 million. Boeing stock plummeted from nearly $150 before that announcement to $139.58 by the end of the week.
Boeing Weekly Stock Performance, data by YCharts.
Boeing investors are worried about plummeting values for used widebodies like the 777 because it could indicate that a "bubble" in the widebody aircraft market is about to pop. The availability of cheap used planes may cannibalize demand for new planes. However, this news is not quite as meaningful for Boeing as investors seem to think.
Delta wins a betIn October, Anderson stated during Delta's Q3 earnings call that used 777-200 values were plummeting and that 10-year-old planes could be had for $10 million. However, he stated that Delta didn't plan to buy any yet because prices would continue to fall.
Boeing CEO Dennis Muilenburg disputed Anderson's estimate, though. On Boeing's Q3 earnings call, he claimed that the $10 million figure was "the wrong order of magnitude." Most Wall Street analysts agreed that while the price of a used 777-200 had fallen in the past few years, $10 million seemed too low.
Thus, it's not surprising that Anderson seemed to relish telling his audience at the Delta investor day that his company was about to pick up a used 777 for just $7.7 million. But what does this really mean for Boeing and for the widebody market more broadly?
Less than meets the eyeThe fact that Delta managed to buy a 777 for $7.7 million doesn't mean all that much. First, it's no secret that the 777-200 (including its longer-range variants) has fallen out of favor. Boeing has collected a grand total of seven orders for 777-200s since the beginning of 2010 and there are no orders in its backlog.
Boeing hasn't sold many 777-200s in recent years. Photo: Delta Air Lines.
Yet even as demand for the 777-200 has fallen off a cliff, the other 777 models (the larger 777-300ER and the 777F freighter) have continued to sell. Between those two models, Boeing has received nearly 500 orders since 2010. Not coincidentally, there aren't good substitutes for either of those planes today, whereas the 777-200 faces competition from the A330-300 and A350-900, as well as the upcoming A330-900neo and Boeing's own 787-10.
Second, aircraft values can vary dramatically for two different examples of the same model, depending on factors like age, maintenance history, configuration, etc. For example, aircraft leasing firm Aircastle recently wrote down the value of a 17-year-old 777-200ER to scrap value.
This particular plane is Aircastle's only 777-200ER and had been leased to Malaysian Airlines until its bankruptcy. Aircastle determined that the cost of reconfiguring it for another airline and doing required maintenance would likely be prohibitive based on its remaining useful life. But a younger 777-200ER in better condition could be redeployed profitably and would thus be worth a lot more.
Look at what Delta is doingFinally, Delta's own behavior belies its contention that there is a huge bubble in the widebody market. Just a year ago, Delta ordered 50 new A350-900 and A330-900neo aircraft -- planes that are in roughly the same size class as the 777-200.
Delta is spending billions of dollars on new widebodies like the A330-900neo. Photo: Airbus.
Delta will spend about $5.6 billion on these planes, based on the increase to its aircraft purchase commitments recorded in Q4 2014 (when the orders were placed). If used 777-200s were just as good as new planes and widely available at a fraction of the price, why would Delta have placed this massive order?
Used 777-200s are cheap mainly because -- for one reason or another -- they are no longer worth operating. Delta will scrap the 777-200 plane it is buying for spare parts that it can use in its existing fleet of 18 777-200ER and 777-200LR aircraft.
However, this has little or no bearing on the market for new aircraft. As the massive backlogs at both Boeing and Airbus attest, when looking for widebodies they want to fly (rather than use for parts), airlines still want new planes.
The article Delta Air Lines Torpedoes Boeing Stock (Again) originally appeared on Fool.com.
Adam Levine-Weinberg owns shares of The Boeing Company and is long January 2017 $40 calls on Delta Air Lines, The Motley Fool has no position in any of the stocks mentioned. Try any of our Foolish newsletter services free for 30 days. We Fools may not all hold the same opinions, but we all believe that considering a diverse range of insights makes us better investors. The Motley Fool has a disclosure policy.
Copyright 1995 - 2015 The Motley Fool, LLC. All rights reserved. The Motley Fool has a disclosure policy.