Delta Air Lines Receives Its First Airbus A321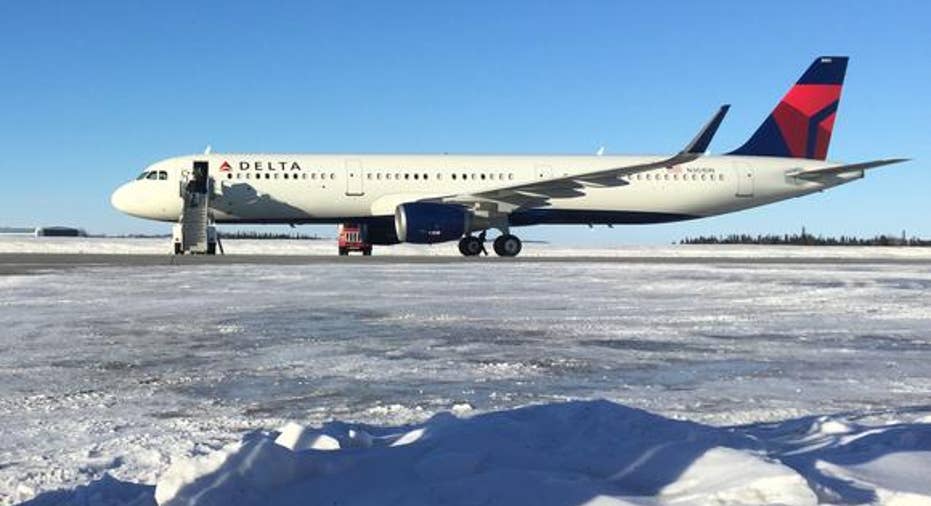 Last week, Delta Air Lines officially took delivery of the first of 45 Airbus A321s that it will receive over the next three years. As these new planes enter Delta's fleet, they will play a big role in keeping unit costs down while improving the customer experience.
Delta's first A321 arrived from Airbus last week. Photo: Delta Air Lines.
Delta orders the A321Delta ordered the A321 a few years ago to continue replacing its older domestic planes. The A321 is the largest member of the Airbus A320 aircraft family. Delta's fleet already includes more than 100 of the smaller A319 and A320 models.
Airbus is transitioning its narrow-body production to the new, fuel-efficient A320neo series, so Delta was able to get a big discount on the outgoing model. In recent years, Delta has shown a firm preference for buying older aircraft models like the A321, particularly for its domestic fleet. The company isn't willing to pay a big premium for the newest, most fuel-efficient models.
The A321 is still very efficientThe A321 may not be state-of-the-art technology anymore, but it is very cost-efficient relative to the planes it will replace. Delta will configure the A321 with 192 seats, making it one of the largest planes in Delta's domestic fleet. Larger planes within a given size class tend to have lower unit costs, because they spread relatively similar total costs over more passengers.
The only planes bigger than the A321 in Delta's domestic fleet are the 757 -- which is typically outfitted with 199 or 234 seats, depending on the version -- and a handful of 261-seat 767s that are scheduled to retire soon. However, these models are significantly heavier than the Airbus A321. As a result, the A321 easily tops them in fuel efficiency.
For the most part, the new A321s are likely to replace Delta's aging MD-88s, many of which are nearly 30 years old. The MD-88s have only 149 seats and use very old engine technology. As a result, Delta's A321s will have 29% more seats at little or no incremental cost.
Making the A321 spiffyDelta recently embarked on a retrofit program to update the interiors of its existing Airbus A319 and A320 fleet. The planes are getting all-new interiors, with improvements to the seats, overhead bins, seat-back TVs, cabin lighting, and lavatories.
The A321s will be outfitted with a similar interior. From a passenger perspective, two key features are overhead bins that slope up toward the ceiling -- creating a much less claustrophobic environment -- and power outlets that will be installed in every row.
Delta's new A321 has an attractive, modern interior. Photo: Delta Air Lines.
The result is that while Delta is packing a lot of seats onto its A321s, it's doing so in a way that will still offer a good experience for customers.
Getting ready for serviceDelta won't put the A321 into scheduled service right away. While Delta has already flown the first aircraft back to the U.S. from the Airbus delivery center in Germany, it is expected to enter scheduled service in early May.
Initially at least, Delta plans to operate the A321 on high-density routes to Florida from its main hub in Atlanta. This will allow the carrier to put its newest aircraft model's high passenger capacity to good use.
The article Delta Air Lines Receives Its First Airbus A321 originally appeared on Fool.com.
Adam Levine-Weinberg is long January 2017 $40 calls on Delta Air Lines, The Motley Fool has no position in any of the stocks mentioned. Try any of our Foolish newsletter services free for 30 days. We Fools may not all hold the same opinions, but we all believe that considering a diverse range of insights makes us better investors. The Motley Fool has a disclosure policy.
Copyright 1995 - 2016 The Motley Fool, LLC. All rights reserved. The Motley Fool has a disclosure policy.