Delta Air Lines, Inc. Has Become a Great Dividend Stock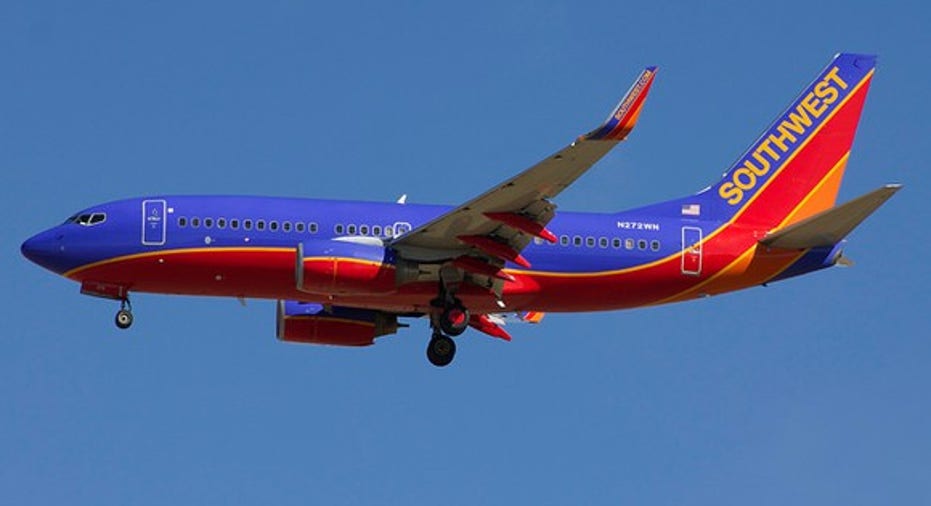 Not too long ago, dividend stocks were few and far between in the airline industry. As airlines recovered from the Great Recession, most chose to hoard their cash rather than distribute it to shareholders.
Over the past few years, that's started to change. Delta Air Lines has been at the forefront of the movement to put airlines on the map for income investors. On Monday, the company raised its dividend by 50% for a third consecutive year. Delta's ability and willingness to keep increasing its payout makes it a great dividend stock for income investors to consider.
Dividends come to the airline industry
Four years ago, Southwest Airlines was one of the few airlines to pay a regular dividend. Yet its quarterly payout was only $0.01. In effect, Southwest was just paying a token sum to stay on the radar of institutional investors who only invest in dividend stocks.
Southwest was one of the only dividend-paying airlines until recently.
However, Delta Air Lines shook up the market by initiating a $0.06 quarterly dividend in 2013. At the time, that represented an annual dividend yield of more than 1%, but Delta's soaring stock price quickly pushed the yield below 1%.
Shortly after Delta announced its dividend plans in May 2013, Southwest Airlines quadrupled its own quarterly dividend to $0.04 to keep pace. Since then, both companies have typically announced significant dividend increases each May.
Another huge increase at Delta
Delta has increased its dividend payout by 50% each year since it began paying a dividend. Beginning in September of this year, Delta's quarterly payout will rise to $0.2025 ($0.81 per year). Based on the stock's Monday closing price of $43.00, that's a 1.9% dividend yield.
Meanwhile, Southwest's yield has slipped below 1%, due to a combination of strong stock performance and slower dividend increases than at Delta.
Delta Air Lines still isn't the top-yielding dividend stock in the airline industry. That title goes to obscure ultra-low-cost carrier Allegiant Air, which recently announced plans to more than double its quarterly dividend to $0.70. Allegiant's dividend yield also rounds to 1.9%, but is slightly higher than Delta's.
Delta's dividend is built to last
Beyond the size of a dividend stock's yield, investors also have to pay attention to whether the company can sustain (and grow) its dividend. Fortunately, that should be very easy for Delta.
Delta Air Lines has plenty of room to continue growing its dividend.
After its recent dividend increase, Delta will be on the hook for about $625 million in annual dividend payments. Meanwhile, the company expects to produce $4.5 billion-$5.5 billion of free cash flow annually for the next three years. That puts the company's payout ratio in the 11%-14% range.
This is a very conservative payout ratio. While there's no hard-and-fast rule about what makes a "safe" payout ratio, a 50%-75% payout ratio is fairly common among dividend stocks.
Delta's free cash flow may decline somewhat by the end of the decade, as cash tax payments increase. Rising oil prices could potentially add to the pressure on its free cash flow. But even if free cash flow were to fall by 50% from the projected 2016-2018 level, Delta could still afford to double or even triple its dividend without driving its payout ratio to an unsustainable level.
The bottom line is that Delta should be able to continue growing its dividend at a high rate for the next few years.
Southwest's turn
If history is a guide, Southwest Airlines will announce a dividend increase of its own during its annual meeting on Wednesday. However, it would have to nearly triple its dividend to overtake Delta's 1.9% yield. Among the largest airline stocks, Delta looks like the best pick for dividend-seeking investors.
The article Delta Air Lines, Inc. Has Become a Great Dividend Stock originally appeared on Fool.com.
Adam Levine-Weinberg is long January 2017 $40 calls on Delta Air Lines. The Motley Fool has no position in any of the stocks mentioned. Try any of our Foolish newsletter services free for 30 days. We Fools may not all hold the same opinions, but we all believe that considering a diverse range of insights makes us better investors. The Motley Fool has a disclosure policy.
Copyright 1995 - 2016 The Motley Fool, LLC. All rights reserved. The Motley Fool has a disclosure policy.