Delta Air Lines, Inc. Earnings: Is a Turnaround in Sight?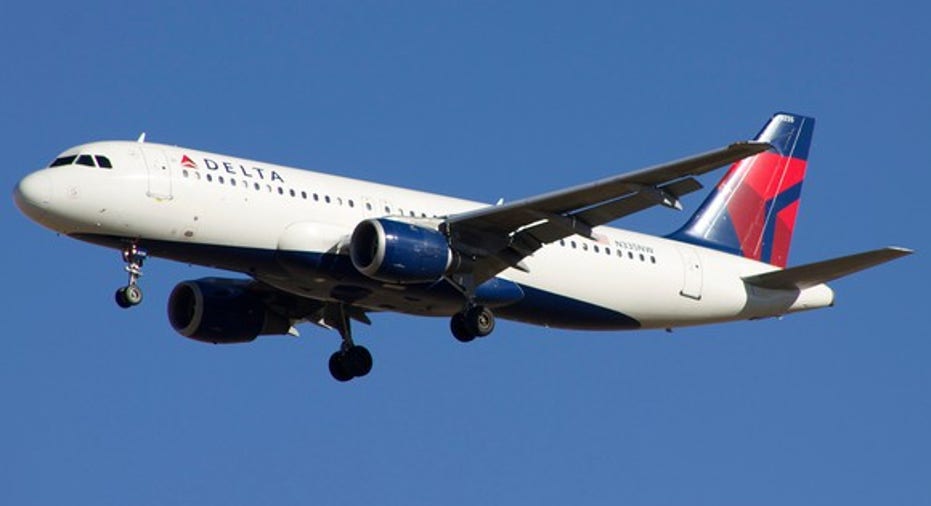 On Thursday morning, Delta Air Lines (NYSE: DAL) capped off a disappointing 2016 with a big fall in earnings. Increased costs from a new pilot contract drove the bulk of the year-over-year decline, with a decrease in unit revenue doing the rest of the damage.
Profit plunged at Delta Air Lines last quarter. Image source: The Motley Fool.
On the bright side, Delta expects passenger revenue per available seat mile (PRASM) to return to growth in Q1 for the first time in more than two years. If unit revenue remains on its upward trajectory this year, the company could return to margin expansion by the second half of 2017.
Delta earnings by the numbers
Last quarter, Delta Air Lines' revenue slipped modestly, to $9.46 billion, as a decline in unit revenue more than offset the carrier's 0.9% capacity growth. However, adjusted earnings per share plunged 31% year over year to $0.82.
Data source: Delta Air Lines Q4 earnings release. YOY = year over year.
The revenue environment started to improve during the fourth quarter. As a result, Delta was able to outperform its initial forecast for a 3%-5% year-over-year PRASM decline, posting a 2.7% decrease.
Labor costs were the main drag on earnings. Delta's new pilot contract cost it $475 million last quarter, leading to a 10.6% jump in non-fuel unit costs. (Fuel costs actually fell by double digits despite the recent rise in oil prices because Delta incurred big hedging losses in Q4 2015.)
The numbers look worse than they are
The new pilot contract made Delta's Q4 earnings performance look a lot worse than it really was. As part of the agreement ratified last quarter, Delta Air Lines gave its pilots 18% raises retroactive to the beginning of 2016. As a result, it ended up booking costs during Q4 that should have been incurred during the first three quarters of the year.
Delta has estimated the retroactive component of the pilots' pay increase at $380 million. This means if the pilot contract had been implemented at the beginning of 2016, Delta's adjusted non-fuel unit costs would have risen less than 4% year over year in Q4. As a result, its pre-tax margin would have been 4 percentage points higher.
Management finally gets it
Looking ahead to the first quarter, Delta Air Lines expects to get unit revenue growing again, with PRASM up 0%-2% year over year. Nevertheless, it will report another steep year-over-year profit decline. Oil prices bottomed out a year ago, and Delta projects that its economic fuel price will be up as much as 30% relative to Q1 2016. Non-fuel unit costs are also expected to rise 5%-7% year over year, largely because of pay increases.
The good news for investors is that Delta's management finally seems to understand that slow capacity growth will be critical for driving a unit revenue recovery.
A year ago, Delta Air Lines talked about returning to unit revenue growth in the near future. Yet it increased capacity by 3% year over year in the first half of 2016, which exacerbated its weak PRASM performance.
This time around, Delta seems more serious about holding capacity in check. For Q1, it plans to reduce capacity on a year-over-year basis. (Adjusting for the leap year in 2016, capacity would be up less than 1%.)
Delta Air Lines will maintain this conservative capacity planning outlook until it is very confident that unit revenue is back on a firm upward trajectory, according to company president Glen Hauenstein. As long as Delta sticks to this plan, its performance should improve over the course of 2017.
10 stocks we like better than Delta Air Lines When investing geniuses David and Tom Gardner have a stock tip, it can pay to listen. After all, the newsletter they have run for over a decade, Motley Fool Stock Advisor, has tripled the market.*
David and Tom just revealed what they believe are the 10 best stocks for investors to buy right now...and Delta Air Lines wasn't one of them! That's right -- they think these 10 stocks are even better buys.
Click here to learn about these picks!
*Stock Advisor returns as of January 4, 2017.
Adam Levine-Weinberg is long January 2017 $40 calls on Delta Air Lines. The Motley Fool has no position in any of the stocks mentioned. The Motley Fool has a disclosure policy.