Delta Air Lines, Inc. Earnings: Another Solid Quarter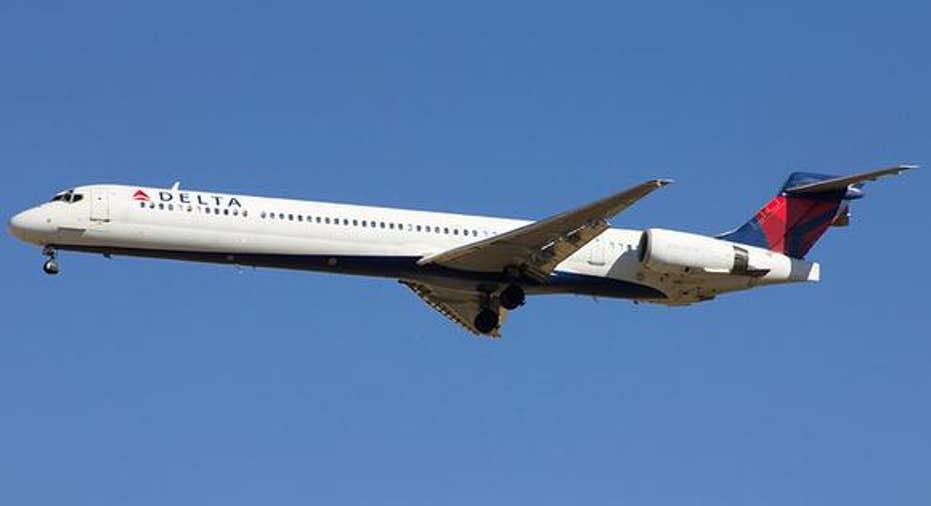 Delta Air Lines suffered a minor setback in Q1 as passenger revenue per available seat mile (PRASM) slumped 4.6%, after it had gotten PRASM nearly back to the flat line in Q4.
Nevertheless, the company posted very good results in what is typically the weakest quarter of the year, driven by significantly lower fuel costs. Furthermore, Delta expects its strong earnings trend to continue as the year progresses.
Delta earnings by the numbersDelta's revenue slipped 1.5% year over year in the first quarter, reaching $9.25 billion: just a fraction below the average analyst estimate. However, adjusted earnings per share nearly tripled from $0.45 to $1.32, edging past the analyst consensus of $1.30.
Key Delta Metrics: Q1 2016

Revenue

$9.25 billion

Adjusted pre-tax income

$1.56 billion

Adjusted EPS

$1.32

Passenger unit revenue

Down 4.6%

Adjusted non-fuel unit costs

Up 4.5%
You don't have to look hard to figure out why Delta Air Lines' profit surged last quarter. In Q1 2015, Delta recorded massive fuel hedging losses, keeping its adjusted fuel price at $2.93/gallon, even as oil prices plunged. By contrast, hedging losses were a much more manageable $118 million last quarter. As a result, Delta's adjusted fuel expense plummeted to $1.33/gallon.
A closer look at revenue and costsAs noted above, Delta's strong earnings growth last quarter came despite a disappointing 4.6% PRASM decline. The revenue weakness was broad based. PRASM declined 4.8% in the domestic market, 6.4% on transatlantic flights, 5.3% on transpacific flights, and 9.2% in Latin America.
Delta stated that currency pressure related to the strong dollar represented a $125 million headwind during Q1. Excluding the foreign currency impact, international routes would have actually outperformed domestic routes in terms of unit revenue. This shows that Delta's capacity cuts in weaker international markets are working.
Delta Air Lines' unit revenue continues to decline.
One bright area was non-ticket revenue. Delta's "other" revenue rose 6.3% year over year in Q1 as Delta continues to find more ways to bring in revenue from fees and ancillary businesses.
On the cost side, Delta's adjusted non-fuel unit costs rose 4.5%, which is above Delta's long-term goal of keeping non-fuel unit cost increases at or below 2% per year. One key driver of this cost growth was Delta's decision last fall to boost base pay for most employees (excluding pilots) by 14.5%.
Second, Delta's big jump in profitability led to a much larger profit-sharing accrual. In fact, even though non-pilot employees' profit-sharing formula is not as generous as in 2015, Delta's profit-sharing expense doubled last quarter.
Looking aheadFor Q2, Delta has forecast better cost performance, with adjusted non-fuel unit costs up just 2% year over year. Adjusted fuel costs are projected to fall from $2.40/gallon in Q2 2015 to $1.48-$1.53/gallon this quarter.
On the revenue side, Delta currently expects PRASM to decline 2.5%-4.5% year over year. At the midpoint, that would represent a modest sequential improvement. According to incoming Delta President Glen Hauenstein, "... [W]e are focused on getting unit revenues back to a positive trajectory and we will make adjustments to our fall capacity levels if we are not making sufficient progress over the coming months."
Even with a 2.5%-4.5% PRASM decline, Delta has projected that its adjusted operating margin will reach a record 21%-23% in Q2. If the carrier can stabilize unit revenue over the next few quarters, shareholders could see big gains ahead.
The article Delta Air Lines, Inc. Earnings: Another Solid Quarter originally appeared on Fool.com.
Adam Levine-Weinberg is long Jan. 2017 $40 calls on Delta Air Lines. The Motley Fool has no position in any of the stocks mentioned. Try any of our Foolish newsletter services free for 30 days. We Fools may not all hold the same opinions, but we all believe that considering a diverse range of insights makes us better investors. The Motley Fool has a disclosure policy.
Copyright 1995 - 2016 The Motley Fool, LLC. All rights reserved. The Motley Fool has a disclosure policy.