Delta Air Lines Cuts Its Q4 Guidance -- and It's a Good Thing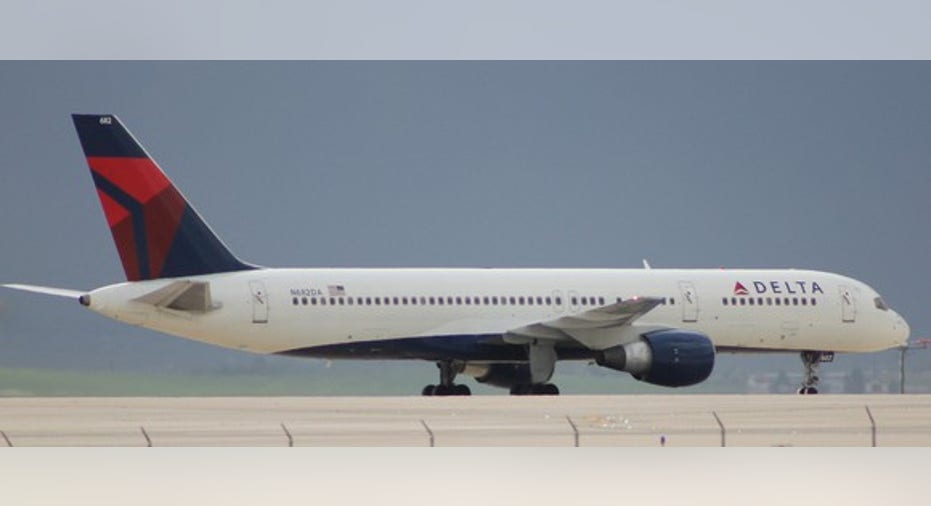 In mid-October, Delta Air Lines (NYSE: DAL) projected that it would post a 14%-16% operating margin in Q4, down modestly relative to Q4 2015. However, on Friday, it slashed its fourth-quarter operating margin guidance to a range of 9.5%-10.5%.
Delta reduced its Q4 margin guidance last week. Image source: The Motley Fool.
However, this isn't the disaster it may appear to be. Delta Air Lines finalized a new multiyear contract with its pilot union last week, following a year and a half of sometimes acrimonious negotiations. The new labor deal includes retroactive pay increases that will show up in Delta's Q4 earnings report, leading to the guidance cut. Meanwhile, the company's underlying earnings results look fairly good.
Delta's pilots get big raises
In mid-2015, Delta's pilots rejected -- by a 65%-35% margin -- a tentative contract agreement that would have given them industry-leading pay.
It turned out to be a smart move. The rejected contract would have boosted pilots' wages by about 14.5% in 2016 in return for accepting lower profit-sharing payouts. By contrast, the new agreement that pilots ratified last week raises their 2016 wages (retroactive to the beginning of the year) by 18%, while keeping the previous -- and extremely lucrative -- profit-sharing arrangement intact.
Delta estimated the annual cost of the 2016 pilot pay increase at $475 million, equivalent to more than 1% of the company's annual revenue. Since Delta is being hit with the entire bill during a single quarter, it's driving a particularly big increase in unit costs right now. Delta now expects its non-fuel cost per available seat mile to rise about 10% year over year in Q4.
Demand is slowly improving
Excluding the impact of the pilot pay increase, Delta would be on pace to reach the high end of its margin guidance for the fourth quarter. Most of the improvement can be attributed to a lower expected average fuel price, following a dip in oil prices during November. (Oil prices have come roaring back in the past week, though.)
Delta left its quarterly unit revenue guidance intact. That said, it reported a relatively solid 1% drop in passenger revenue per available seat mile for the month of November, compared to a 6.5% decline for October.
Delta is on pace to meet its unit revenue guidance this quarter. Image source: The Motley Fool.
Much of the discrepancy was driven by the timing of various holidays during the past two months, but there also appears to be some underlying improvement. Even so, Delta Air Lines remains well short of the low- or mid-single-digit unit revenue growth it will need to offset its rising costs in the years ahead.
Delta can absorb the pilot pay increase
While Delta's recent pilot pay increase will reduce its annual pre-tax margin by more than 1 percentage point, the company will still end the year with a much higher profit margin than either of its legacy carrier peers.
In short, the pilot pay increase may sting in the short run, but it doesn't alter the fundamental picture at Delta. A festering labor dispute would have carried more potential for long-term damage to the company.
Going forward, Delta's pilots will receive modest 3%-4% annual raises through 2019. The company should be able to offset a good portion of those increases through productivity gains, so these additional wage increases shouldn't be a major drag on profitability.
Rising oil prices are likely to be a bigger driver of cost inflation in the coming years. However, unlike labor cost increases, rising oil prices affect all airlines more or less equally. That increases the likelihood that industry capacity growth will slow in 2017 to the point where Delta can regain its pricing power.
10 stocks we like better than Delta Air Lines When investing geniuses David and Tom Gardner have a stock tip, it can pay to listen. After all, the newsletter they have run for over a decade, Motley Fool Stock Advisor, has tripled the market.*
David and Tom just revealed what they believe are the 10 best stocks for investors to buy right now... and Delta Air Lines wasn't one of them! That's right -- they think these 10 stocks are even better buys.
Click here to learn about these picks!
*Stock Advisor returns as of Nov. 7, 2016
Adam Levine-Weinberg is long January 2017 $40 calls on Delta Air Lines. The Motley Fool has no position in any of the stocks mentioned. Try any of our Foolish newsletter services free for 30 days. We Fools may not all hold the same opinions, but we all believe that considering a diverse range of insights makes us better investors. The Motley Fool has a disclosure policy.