Delphi Automotive Tops Estimates and Continues to Focus on Long-Term Trends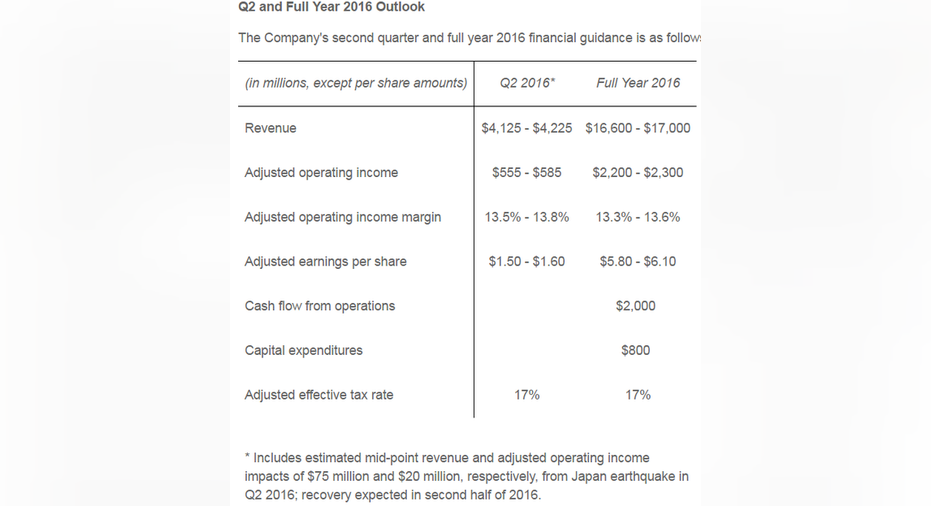 The automotive industry is interesting as a whole, but for investors, the opportunities at the supplier level are even more interesting. That's because, despite what happens in the overall automotive industry, there will always be trends that savvy companies can take advantage of for growth.
Case in point: Delphi Automotive . Thanks to its business in product segments such as safety, electrical architecture, electronics, and engine management, it seems poised to outpace the overall industry's growth in vehicle sales. The company recently reported first-quarter earnings; let's dig into the details.
Q1 highlights Starting from the top, Delphi's first-quarter revenue checked in at $4.1 billion, a 7% increase compared to the same time period last year. Its GAAP net income from operations checked in at $320 million, or earnings of $1.15 per diluted share. Excluding special items, however, its earnings from operations reached $1.36 per diluted share. That was good for a 12% increase compared to the prior year, and above analysts' estimates, which called for $1.34 per share.
Delphi's adjusted operating income margin moved 20 basis points higher, to 12.6%, compared to last year, and its GAAP operating income margin reached 10.9%. That helped generate $268 million of cash from continuing operations, well above last year's $121 million during the comparable period.
Management also announced it had delivered $450 million to shareholders through repurchases and dividends during the first quarter, and reaffirmed its full-year guidance despite near-term impacts from the April earthquakes in Japan.
Graphic source: Delphi Automotive's Q1 2016 press release.
Another note for investors was that the company's interest expense during the first quarter rose to $41 million, an increase from last year's $32 million, due to the issuance of $1.3 billion in senior unsecured notes during the fourth quarter to finance the acquisition of HellermannTyton.
All in all, it was a pretty solid quarter -- just don't tell Delphi your concerns about "peak auto sales" just yet. "Delphi's strong quarterly results reflect the execution of our strategy, which delivered solid revenue growth and margin expansion," said Kevin Clark, president and chief executive officer, in a press release. "We remain confident in our ability to deliver on our customer and shareholder commitments in 2016 and beyond."
Another noteworthy factor for investors was announced recently when Delphi noted it won an appeal with the U.S. Internal Revenue Service to be considered a U.K.-based organization. The issue came up because Delphi is incorporated in England, but its operational headquarters are in Troy, Michigan. The IRS had notified Delphi that it would be taxed as a domestic corporation, which would have meant hundreds of millions in back taxes.
The road ahead Delphi appears well positioned to take advantage of electrification and safety trends that are happening across the global auto industry. In fact, the first quarter brought some major launches for the company.
Delphi launched the onboard charger for plug-in HEV on BMW's 2016 X5, short-range radar for Kia's 2016 Cadenza, infotainment head unit for FCA's 2016 Ram truck, and a media control module for Lincoln's 2016 MKX. Launches and global trends are helping continue the company's consistent bookings growth, which is on pace for another increase in 2016.
Image source: Delphi Automotive's Q1 2016 earnings presentation.
Ultimately, Delphi is an auto-parts juggernaut that was once a part of General Motors, but management has altered its strategy to become more of a producer of electronic systems and technology to serve increased safety and emissions requirements -- trends that aren't reversing anytime soon. While Delphi clearly stands to benefit from growth in its product segments, it's unclear whether or not the market will reward the company with a better valuation, as it's still linked to the cyclical and capital-intensive automotive industry, which currently has bears worrying about sales peaking in the U.S. market.
The article Delphi Automotive Tops Estimates and Continues to Focus on Long-Term Trends originally appeared on Fool.com.
Daniel Miller has no position in any stocks mentioned. The Motley Fool has no position in any of the stocks mentioned. Try any of our Foolish newsletter services free for 30 days. We Fools may not all hold the same opinions, but we all believe that considering a diverse range of insights makes us better investors. The Motley Fool has a disclosure policy.
Copyright 1995 - 2016 The Motley Fool, LLC. All rights reserved. The Motley Fool has a disclosure policy.