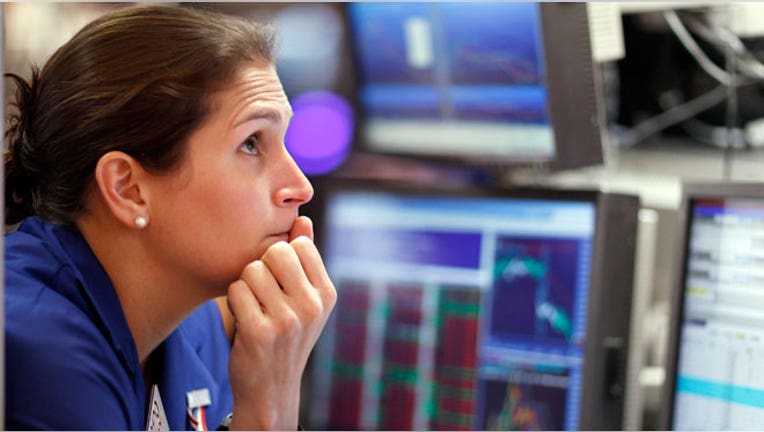 FOX Business: The Power to Prosper
After fading into the background for several weeks, tension over the European debt crisis flared up again on Wednesday on the back of a weak debt auction in Spain, igniting a selloff across equity and commodities markets.
Today's Markets
The Dow Jones Industrial Average slid 125 points, or 0.95%, to 13075, the S&P 500 slumped 14.4 points, or 1%, to 1399 and the Nasdaq Composite dropped 45.5 points, or 1.5%, to 3068.
The Nasdaq posted its biggest selloff since December, a stark contrast from the tech-heavy index's generally stellar showing in recent months. Meanwhile, the more balanced S&P 500 took its biggest hit since early March. In a sign of the breadth of the selling, trades in declining shares outnumbered those in advancing shares by a factor of nearly six to one on the New York Stock Exchange, according to data compiled by FOX Business.
Financial, basic materials, energy and technology shares took the steepest losses. Indeed, the three biggest blue-chip laggards were: Bank of America (NYSE:BAC), Alcoa (NYSE:AA), and Microsoft (NASDAQ:MSFT). On the other side of the spectrum, AT&T (NYSE:T), Procter & Gamble (NYSE:PG) and Merck (NYSE:MRK) were slightly to the upside.
Traders bid up Treasury bonds, pushing the yield on the 10-year down by 0.041-percentage point to 2.243%. Meanwhile, volatility jumped 4.5% as tracked by the Chicago Board of Options Exchange's VIX, sometimes called Wall Street's fear gauge.
Commodities were sharply to the downside, tracking a weak performance in equity markets and a bearish oil inventory report. The Energy Department said crude inventories jumped 9 million barrels last week, much bigger than the 2.2 million-barrel build analysts expected. Gasoline stocks were off 1.45 million barrels, slightly smaller than the 1.4 million-barrel draw that was expected.
Oil traded in New York fell $2.54, or 2.4%, to $101.47 a barrel. Wholesale New York Harbor gasoline dipped 6 cents, or 1.8%, to $3.334 a gallon.
In metals, gold plunged $57.90, or 3.5%, to $1,614 a troy ounce.
Spanish Auction Rekindles Eurozone Fears
A weak debt auction in Spain shifted traders' focus back to Europe once again. The country sold $3.43 billion in bonds, which was at the very low end of its target. The average yield on the on the note that comes due in 2015 jumped by 0.45-percentage point to 2.89%, while the yield on the 2016 soared 0.943-percentage point to 4.319%, according to The Wall Street Journal. Higher yields make it more difficult for the country to grapple with its already sizeable debt burden.
The European Central Bank held its main interest rate steady at 1% on Wednesday as it looks to keep the eurozone's economy afloat while also keeping inflation risks in check.
The Euro Stoxx 50, which tracks eurozone blue chips, sold off by 2.5%, while the euro dropped 0.66% to $1.3146. The dollar rose 0.34% against six world currencies that are tracked by the dollar index.
Traders Digest Mixed Data
The markets received several key reports on the U.S. economy on the day. Data from payroll processor ADP revealed the private sector added 209,000 jobs in March, more than the 200,000 expected. The report comes as economists have been growing increasingly optimistic about growth in the labor market. The Labor Department releases its monthly employment report on Friday.
The Institute for Supply Management's gauge of service-sector activity fell to 56 in March from 57.3 in February, suggesting the sector is expanding at a slower pace. Economists expected a reading of 57.
Minutes from the Federal Reserve released on Tuesday showed that "a few" members of the central bank's policy board thought additional economic stimulus measures would be necessary, dimming hopes that such an action would be imminent.
"At first glance, the difference between '2 out of 10' and 'a few' might not seem like much, but it is often on such nuances that the fate of global markets depends," Chris Beauchamp a market analyst at London-based IG Index wrote in an e-mail.
In fact, analysts at Morgan Stanley wrote in a note to clients that the investment-banking giant now pegs the odds of another round of easing at one in three from two in three.