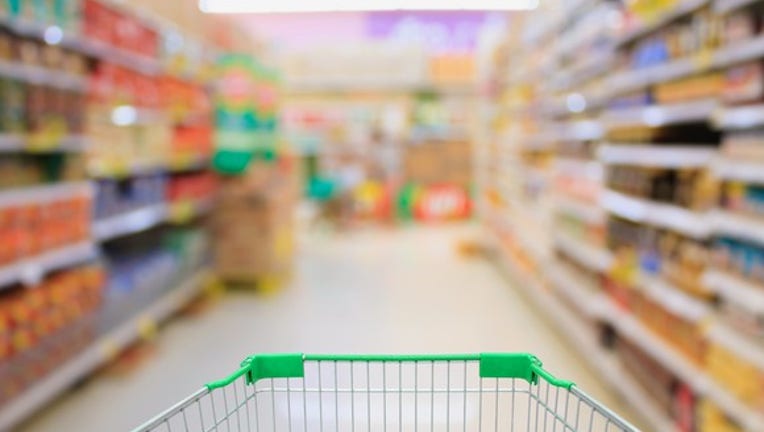 Grocery-aisle pricing pressured Wal-Mart's fiscal third-quarter 2017 results. Image source: Getty Images.
Macroeconomic trends are starting to get a few hooks into the performance of Wal-Mart Stores, Inc. (NYSE: WMT). The global retail and grocery behemoth reported a rather static top-line result in fiscal third-quarter 2017 earnings, released Thursday before the markets opened. After reviewing the report's key raw numbers, we'll examine why economic conditions constrained the company's fiscal third quarter.
Wal-Mart results: The raw numbers
Data source: Wal-Mart Stores 8-K filing.
What happened with Wal-Mart this quarter?
The very slight improvement in total revenue was a function of lighter-than-expected Wal-Mart U.S. sales growth of 2.5%, to $74.6 billion.
Wal-Mart U.S. recorded a comparable-sales increase of just 1.7%, which management attributed to the impact of grocery deflation.
The macroeconomic trend of deflation may persist in coming quarters. Excess farming supply of dairy, meat, and vegetables, combined with a strong U.S. dollar (which curbs U.S. food export demand), has resulted in lower basic food-commodities costs for grocery chains this year. Yet grocers tend to competitively lower their retail prices in these environments in an attempt to grab market share. Passing on price savings is splendid for customers, but the discounting crimps recorded sales, as Wal-Mart demonstrated this quarter.
Wal-Mart's smaller-format Neighborhood Market stores, which are one-fifth the size of a typical supercenter, booked a healthy comparative sales increase of 5.2%.
While Wal-Mart International's recorded revenue fell nearly 5%, to $28.4 billion, the international segment achieved growth of 2.4% after adjusting for currency effects.
Wage increases, investments in technology, and currency translation pushed operating income down 10.4%. The company pointed out that after adjusting for a one-time lease accounting benefit last year, the comparable operating-income drop was closer to 8%.
Wal-Mart's e-commerce business continued to post rapid growth, as online sales surged 20.6%. The company has recently directed substantial resources to pushing its non-brick-and-mortar revenue forward. For example, Wal-Mart closed its $3.3 billion acquisition of Jet.com during the quarter, on Sept. 16.
Sam's Club revenue increased just 1.1% to $14.2 billion. Again, management cited grocery deflation as a limiting factor on sales growth.
What management had to say
CEO Doug McMillon touched on a few significant business trends in the company's quarterly 8-K filing:
There are a few specific takeaways to unpack in this seemingly general statement. McMillon implicitly refers to the international segment's currency-adjusted growth. On a currency-neutral basis, global operations grew faster than those in the U.S. this quarter. He also obliquely applauds the wage increases the company has undertaken ("strategic choices"), and their positive effects on employees. Finally, McMillon signals that the company feels optimistic about its traditional targeted slate of shopping deals for the upcoming holiday period. And of course, a prosperous holiday season for consumers will translate into a prosperous fiscal fourth quarter for Wal-Mart.
Moving forward
Wal-Mart raised its full fiscal-year earnings guidance in Thursday's release. Management now expects 2017 earnings per share to fall between $4.34 and $4.49, versus a previous projection of between $4.29 and $4.49. Executives also boosted adjusted earnings per share slightly, from a previous band of between $4.15 and $4.35, to a new range of $4.20 to $4.35.
As it looks to close out an eventful year, Wal-Mart is highlighting its progress on optimizing working capital. By lengthening accounts payable days (i.e., slowing vendor payments), controlling receivables collections, and cycling inventory faster, the company has improved operating and free cash flow considerably so far this year:
Image source: Wal-Mart Stores investor presentation.
The table above shows a substantial year-to-date increase of $4.6 billion in operating cash flow, or about 31% higher cash from operations versus the prior-year period. A slight decrease in capital expenditure has pushed year-to-date free cash flow to $5.4 billion. Wal-Mart has put its cash excess to work by more than tripling share repurchases this year, to $6.3 billion in the first nine months of 2016. This generation of handsome cash flow will likely remain one of management's talking points, as it attempts to spur sales momentum at the outset of a new fiscal year.
Forget the 2016 Election: 10 stocks we like better than Wal-Mart Stores Donald Trump was just elected president, and volatility is up. But here's why you should ignore the election:
Investing geniuses Tom and David Gardner have spent a long time beating the market no matter who's in the White House. In fact, the newsletter they have run for over a decade, Motley Fool Stock Advisor, has tripled the market.*
David and Tom just revealed what they believe are the ten best stocks for investors to buy right now... and Wal-Mart Stores wasn't one of them! That's right -- they think these 10 stocks are even better buys.
Click here to learn about these picks!
*Stock Advisor returns as of November 7, 2016
Asit Sharma has no position in any stocks mentioned. The Motley Fool has no position in any of the stocks mentioned. Try any of our Foolish newsletter services free for 30 days. We Fools may not all hold the same opinions, but we all believe that considering a diverse range of insights makes us better investors. The Motley Fool has a disclosure policy.