Deere Tries to Plow Through Farming Downturn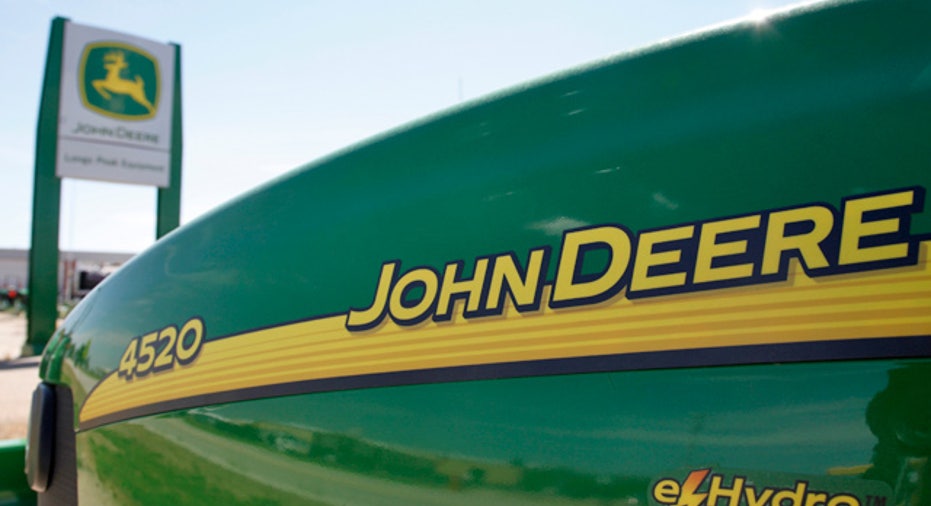 Deere (NYSE:DE) has called it the worst downturn for North American large farm equipment in 25 years, and the tractor maker is still searching for signs of a recovery.
Lower crop prices and declining farm incomes continue to hurt demand for John Deere products in the U.S. and abroad. The downturn in the farm economy, as well as weaker construction sales, pushed total equipment sales 22% lower during the company's fiscal third quarter.
Overall, quarterly earnings dropped 40% year-over-year as global revenue fell 20% to $7.59 billion.
"There was no real surprise in the numbers," J.P. Morgan analysts wrote in a research note to clients. But Wall Street reacted swiftly to a weaker-than-expected outlook for the fourth quarter.
Shares tumbled 6.8% to $84.49 on Friday, pushing the stock into negative territory for 2015 with a year-to-date loss of 4.4%.
Last week, the U.S. Department of Agriculture raised its expectations for the U.S. fall harvest. The agency said corn production will likely hit 13.7 billion bushels, which would reflect the nation's third-largest crop on record.
The report came as a surprise to many commodity analysts who believed that rough Midwest weather would cut into domestic crops. There are also questions of over demand creating a difficult environment for farmers.
Deere, the largest seller of tractors and other farm equipment, is dealing with the ripple effects.
The Moline, Ill.-based company said its agriculture and turf unit booked a 24% decline in sales for the latest three-month period. The sales declines are most pronounced for higher-horsepower models, and Deere has cut production in response.
Construction and forestry equipment, a bright spot for Deere in some recent quarters, also struggled in the most recent period. Sales contracted 13% amid a pullback in oil drilling and a weaker dollar.
Pricing gains helped Deere beat the consensus estimate for third-quarter earnings by nine cents, reporting per-share earnings of $1.53. Samuel Allen, chairman and CEO, noted that Deere is "performing much better than in previous agricultural downturns."
However, Deere expects more trouble ahead before the industry turns the corner.
Worldwide agriculture and turf sales are projected to record a full-year loss of 25%, of which 5% is attributed to currency impacts. Deere previously expected a 24% decline.
The most positive outlook is for turf and utility products, such as John Deere Gator vehicles, in the U.S. and Canada. Deere expects between flat sales and 5% growth this year, thanks to broader economic tailwinds.
Deere also lowered its forecast for construction demand, saying sales will fall 5% in 2015 versus prior guidance for a 2% drop.
Analysts at Goldman Sachs warned that Deere's comments signal another negative year for agriculture equipment sales in 2016.