Deckers Suffers Holiday Blues, Sees Tough Times Ahead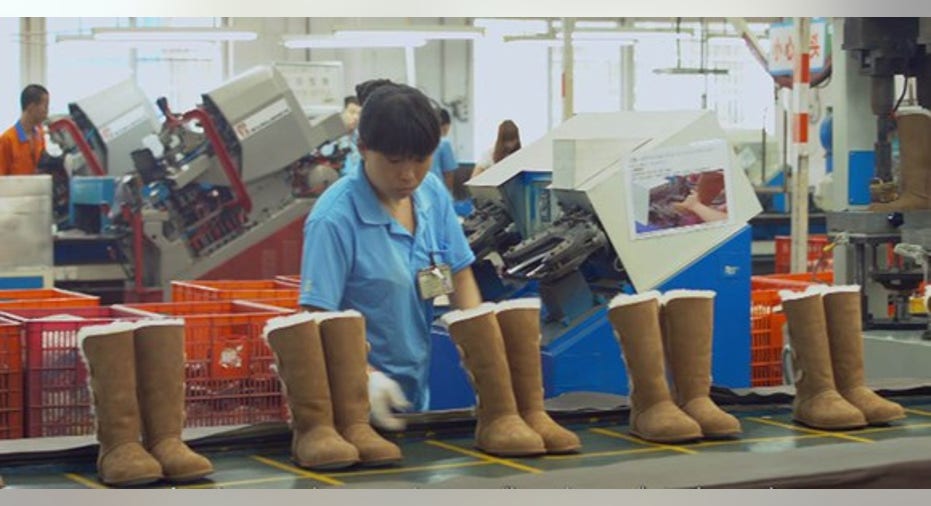 The holiday season is a key one for retailers, and footwear specialist Deckers Outdoor (NYSE: DECK) had hoped that it would be able to rediscover its past growth trends. Yet other retail companies had already revealed that conditions in the retail industry were extremely difficult during the holidays.
Coming into Thursday's fiscal third-quarter financial report, Deckers investors were already prepared for declining profits and sales, but even they weren't ready for the extent of the damage that the Ugg maker had to endure. Moreover, Deckers' guidance for the current future was far from encouraging. Let's take a closer look at Deckers to see what might be behind its sluggish performance.
Image source: Deckers.
Deckers deals with declines
Deckers Outdoor's fiscal third-quarter results weren't pretty. Sales dropped 4.5% to $760.3 million, which was far worse than the $789 million in revenue that most investors were expecting. Net income plunged by nearly three-quarters, and even after allowing for extensive one-time charges against its bottom line, Deckers' adjusted earnings came in at $4.11 per share. That was down by about a seventh from year-ago levels and fell short of the consensus forecast by $0.13 per share.
Looking more closely at how Deckers Outdoor did, one key note was the fact that currency headwinds no longer had a huge impact on the company's overall results. Even on a constant currency basis, net sales were down 3.7%.
Instead, poor performance from the Ugg brand was the key detractor from Deckers' performance. Sales for the brand fell more than 5%, with lower domestic wholesale sales more than outweighing better direct-to-consumer performance. The Teva and Sanuk brands posted mixed performance, with Teva rising and Sanuk sinking, and other brands posted a rise of nearly 30%. Still, with Ugg making up more than seven-eighths of Deckers Outdoor's total sales, the other brands' performance wasn't terribly meaningful.
Wholesale and distributor sales had a huge downward influence on Deckers' total revenue, falling by double-digit percentages from year-ago levels. By contrast, direct-to-consumer sales posted mid-single-digit gains, and comparables grew at a 4.7% clip. Geographically, the domestic segment was very weak, seeing sales fall by a tenth, but international revenue bucked the trend and rose 7% from year-ago levels.
CEO Dave Powers tried to put a rosy note on Deckers Outdoor's performance. "While the slow start to the holiday season limited our reorder opportunities and led to a shortfall in third quarter sales and earnings," Powers said, "sell-through of the Ugg brand accelerated sharply late in the quarter." The CEO also noted that inventory levels were better at the end of this year than they were at the end of 2015.
Can Deckers rebound?
Looking ahead, Deckers will focus on its best opportunities. In particular, the charges related to the Sanuk brand reflect the company's expectations that hoped-for prospects for "future international and domestic expansion are more limited than our initial estimates," in Powers' words.
In addition, Deckers didn't give very favorable guidance for the remainder of the fiscal year. The company now believes that sales will fall 5% for the year, down from previous guidance of a 1.5% to 3% drop, and earnings will come in between $3.45 and $3.55 per share. That bottom-line figure is down $0.60 to $0.70 per share from previous estimates, and it's well below the previous expectations that investors had coming into the report.
For the fiscal fourth quarter, Deckers' guidance was similarly grim. Net sales will fall 5% to 6%, and adjusted earnings per share will range from a breakeven quarter to a loss of $0.10 per share. Investors had wanted a slight sales increase and roughly $0.44 per share in income.
Deckers shareholders were extremely unhappy with the results, sending the stock down more than 20% in after-hours trading immediately following the announcement. In order to right the ship, Deckers Outdoor will have to convince both customers and investors that it can plot a better path forward for the company and its key brands.
10 stocks we like better than Deckers Outdoor When investing geniuses David and Tom Gardner have a stock tip, it can pay to listen. After all, the newsletter they have run for over a decade, Motley Fool Stock Advisor, has tripled the market.*
David and Tom just revealed what they believe are the 10 best stocks for investors to buy right now... and Deckers Outdoor wasn't one of them! That's right -- they think these 10 stocks are even better buys.
Click here to learn about these picks!
*Stock Advisor returns as of January 4, 2017
Dan Caplinger has no position in any stocks mentioned. The Motley Fool recommends Deckers Outdoor. The Motley Fool has a disclosure policy.