Decision on greater sage grouse looms in West after push to preserve imperiled bird's habitat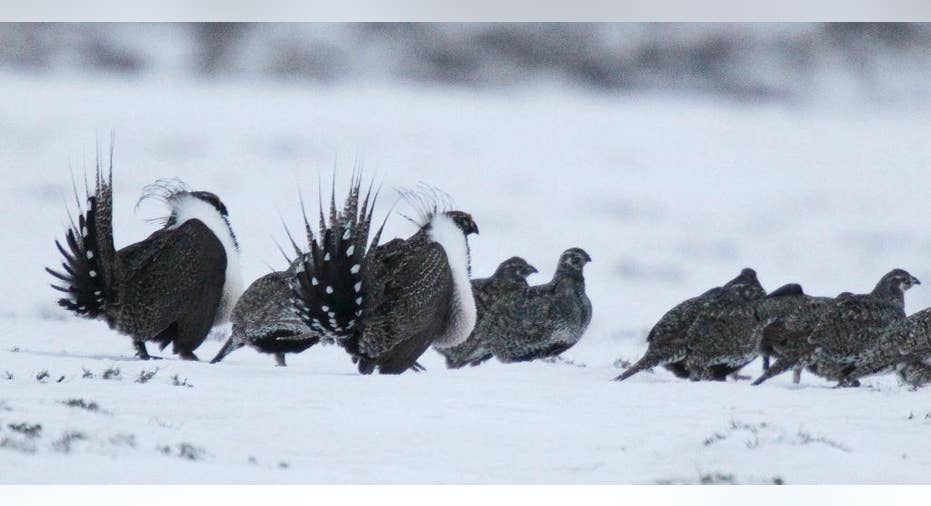 Senior officials from the Obama administration will gather with Western governors in Colorado on Tuesday to announce whether a declining bird species that ranges across 11 states needs federal protections.
State and federal officials committed hundreds of millions of dollars in the past several years to preserve areas of sagebrush occupied by the greater sage grouse. That occurred even as energy companies and other industries placed more pressure on the ground-dwelling bird's population by developing near its breeding grounds.
A determination that the grouse does not need protection under the Endangered Species Act would reverse a 2010 finding that it was headed toward possible extinction.
That would avoid new restrictions on oil and gas drilling, grazing and other human activities in sage grouse habitat. Jurisdiction over the bird would remain with state wildlife agencies.
Greater sage grouse once numbered in the millions across a vast sagebrush habitat that stretches from California to North Dakota and south to Utah and Colorado.
But disease and loss of habitat have taken a heavy toll: Recent estimates put the population at 200,000 to 500,000 birds, and federal officials say the species has lost 56 percent of its historic range.
Wildlife advocates contend not enough has been done to limit mining, drilling and other industrial activities near crucial sage grouse breeding grounds.
Industry groups and state officials have pushed hard to avoid a finding that the birds are in need of protection.
The issue is of particular importance in Wyoming, which has about 40 percent of the grouse population and is a major hub for production of oil, natural gas, coal and other natural resources.
The 2010 decision that the bird needed federal protection was never acted upon because officials said other species took priority. That's precluded this time around under a federal court settlement between environmentalists and the Fish and Wildlife Service that required the government to make a decision by Sept. 30.
___
Gruver reported from Cheyenne, Wyo.