Dear Donald Trump: Please Stop Incorrectly Calling Out Ford Motor Company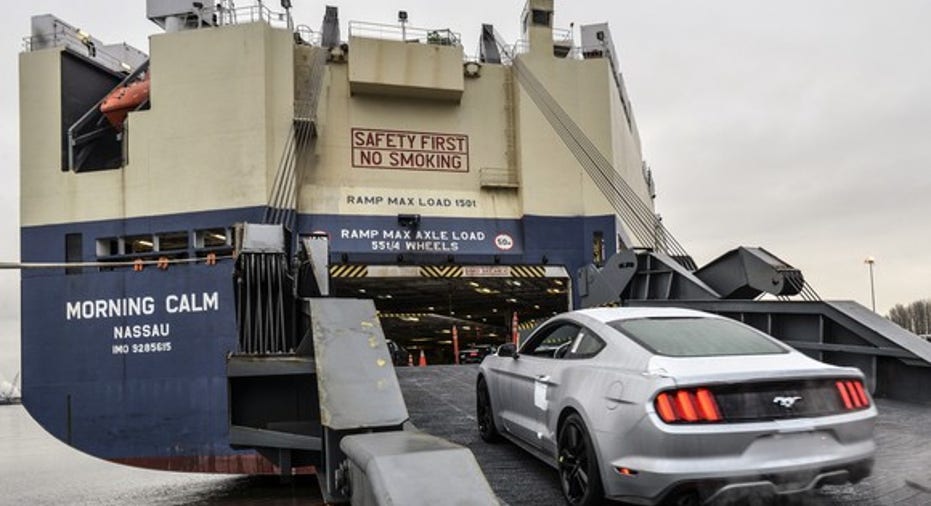 Ford might be shipping small-car production to Mexico, but the jobs are staying put. Image source: Ford Motor Company.
"Our jobs are fleeing the country. They are going to Mexico," said Donald Trump during his first answer of the presidential debate on Monday. "So, Ford is leaving ... Thousands of jobs, leaving Michigan, leaving Ohio. They are all leaving."
It's a little ironic that Donald Trump, who grew his persona greatly in the mid-2000s by slinging the catchphrase "You're fired," has consistently, and mostly incorrectly, called out Ford Motor Company (NYSE: F) for slashing jobs in Michigan and sending production of small cars to Mexico. Trump is right about one thing, but let's put some context around the subject.
Trump is right about small-car production moving
Here's what we know: Ford is moving all of its small-car production to Mexico over the next two to three years. That's because, as we also know, producing cars in the United States is more expensive, and small cars carry smaller margins than Ford's bread-and-butter full-size trucks, SUVs, and Lincoln luxury vehicles. In an increasingly interconnected world, it makes sense to send U.S. production of smaller-margin products to an environment with lower costs: It's a smart business move.
Furthermore, investors need to consider that Ford can build a small car in Mexico and import it to Europe without facing a tariff; that same car built in the U.S. would face a 10% tariff. That's a huge difference for a $15,000 to $20,000 vehicle with historically low margins. The ability to import from Mexico to Europe without a tariff is even more important because of Brexit. Ford, and many other automakers, have significant operations in the U.K. and had previously exported vehicles cheaply to surrounding European Union countries. Now, depending on trade negotiations,their exports from the U.K. could face tariffs because the U.K. opted out of the EU.
The segment's decline forced a timely strategy
Through August, sales of new cars in the U.S. are down 8.4% compared to the prior year, while sales of SUVs and crossovers are up a combined 7.4%. Sales of light-duty trucks, which include the previously mentioned SUVs and crossovers, as well as minivans and pickup trucks, are up 8.1% compared to the prior year. So, not only are small cars less profitable than SUVs and trucks, but the segment's sales are spiraling downward. Ford needed to make a smart business decision, and it did.
Trump's latest accusation prompted Ford to quickly fire back:
With Trump and Ford squaring off against each other, surely the United Auto Workers union has Trump's back, as its members stand to lose these valuable U.S. jobs, right?
Well, that's embarrassing
Whether or not Trump understands the automotive industry and this particular situation correctly -- after all, he may have just been trying to make headlines with the comment -- the fact is that although Ford may be moving production of its small cars out of the U.S. and into Mexico, those jobs aren't disappearing. Rather, the production capacity lost from those small cars will be filled with higher-margin vehicles, rumored to be a new Ford Bronco and a return of the midsize Ranger truck.
In addition, why Trump continues to overwhelmingly call out Ford -- the sole Detroit automaker to trudge through the Great Recession without a bankruptcy -- is a mystery, because the Blue Oval is far from the only automaker producing vehicles in Mexico. General Motors has multiple plants in Mexico, and Fiat Chrysler Automobiles announced earlier this year that it would end production of all cars in the U.S. by the end of 2016. Ford still makes the iconic Mustang and the Taurus, and will soon produce the new Lincoln Continental, in the States.
Moving automotive production to Mexico is an industrywide phenomenon. Mexico has surpassed Canada in annual automotive production, and that appears to be a trend that will continue. According to Yahoo! Finance, the Center for Automotive Research predicts Mexico's vehicle production will rise from about 3.5 million units this year to more than 5 million by 2020.
Despite Trump making a splash by accusing Ford of sending jobs to Mexico, the truth is that Michigan will keep its jobs, and Ford will return more value to shareholders as it creates higher-margin production in the States. Everybody wins. Everybody except, perhaps, for Trump.
A secret billion-dollar stock opportunity The world's biggest tech company forgot to show you something, but a few Wall Street analysts and the Fool didn't miss a beat: There's a small company that's powering their brand-new gadgets and the coming revolution in technology. And we think its stock price has nearly unlimited room to run for early in-the-know investors! To be one of them, just click here.
Daniel Miller owns shares of Ford and General Motors. The Motley Fool owns shares of and recommends Ford. The Motley Fool recommends General Motors. Try any of our Foolish newsletter services free for 30 days. We Fools may not all hold the same opinions, but we all believe that considering a diverse range of insights makes us better investors. The Motley Fool has a disclosure policy.