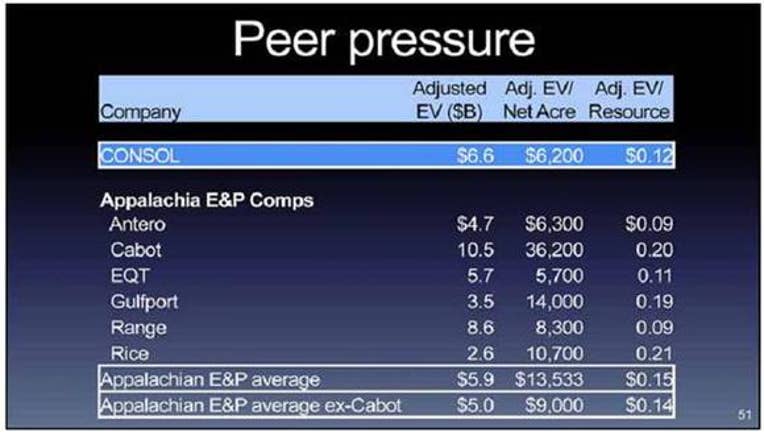 Image Source: Chevron investor presentation
Since starting the fund in May 1996, David Einhorn's Greenlight Capital, L.P. has returned 1,902% cumulatively, or 16.5% annualized, net of fees and expenses to investors.That is some serious stock picking over a two-decade span.
Yes, he had a very bad 2015, down 20%, but to me that means now is a great time to be looking in his portfolio for bargains. So when after a big share-price decline Einhorn pounded the table on Consol Energy (NYSE: CNX) back in November, I started paying very close attention.
With where shares are currently trading today, investors can buy Consol at less than a third of the prices Einhorn was paying less than a year ago. That doesn't make it a sure thing, but it certainly makes it worth a look.
The Einhorn thesisConsol Energy was established in Delaware in 1991. It's an energy company that has both an oil and gas division and a coal-mining division.
In November, Einhorn updated his investment thesis on Consol in a detailed presentation. In his opinion, a big reason for the share price decline was that investors continued to associate with Consol as a coal producer.
Source: Greenlight November 2015 Robin Hood presentation.
As is becoming very clear, the coal business is one that's heading into a slow and likely terminal decline.
Instead, Einhorn thinks the market should be much more focused on the future of Consol, which will be natural gas.
Consol has a big, high-quality, 446,000-net-acre position in the Marcellus shale, and another 109,000 net acres in the Utica shale. The coal division extracts and prepares coal in the same Appalachian Basin region.
As Consol implements its plan of allocating future capital toward those high-quality natural gas assets, Einhorn believes the market will see a lot more value in Consol's shares.
What does Einhorn think Consol is worth?In his Consol presentation, Einhorn splits his valuation of the business into two parts -- the legacy coal business and the natural gas operation.
His opinion is that the coal business alone is worth pretty close to the current enterprise value of the company.
Source: Greenlight Capital
On top of that, he believes that Consol's natural gas assets are worth $6.6 billion, a figure he arrived at through both a discounted-cash-flow and value-per-comparable-acre approach.
Source: Greenlight Capital
That's $12.1 billion of assets from which we need to deduct $3.7 billion of debt (at the time of Einhorn's valuation), which would leave $8.4 billion of value for shareholders.
With 230 million diluted shares outstanding, that would imply a value per Consol share of $36.52, which is several times the current share price. That may seem high relative to the current share price, but Einhorn thinks it could go even higher.
On top of that, Einhorn notes that his valuation is based on current commodity prices, so there could be considerable upside if coal or natural gas prices turn higher. His valuation takes strip pricing for natural gas and assumes that Appalachian coal stay around $50 per ton for the long term.
This would be the point where I would always suggest that if you aren't bullish on the future of a commodity there likely isn't much reason to own the producer. For Consol you need to be bullish on natural gas.
Does the recent asset sale move the needle?To try to force the market to realize some of that value Einhorn sees, and to also improve its balance sheet while transitioning to natural gas, Consol recently sold $420 million worth of coal assets. In 2013, Consol sold five West Virginia coal mines and last year spun off other coal assets into an MLP called CNX Coal Resources (NYSE: CNXC).
At the same time as this most recent asset sale, Consol announced it would halt its dividend payments to shareholders. This transaction won't radically change anything, but it does push out the runway on the need to make any other moves to enhance liquidity until markets improve. As almost all oil, gas, and coal producers are doing these days, Consol is hunkering down to make sure it can ride out the storm.
Investor takeawayInvesting alongside David Einhorn guarantees nothing in terms of results. What it does guarantee is that a very smart (and proven) investment firm has been carefully analyzing this company and believes there is a lot of upside in the share price.
But (there's always a "but") as an investor you must realize that Consol is a commodity producer. Therefore, to be bullish on the stock for the long term, you really need to be bullish on the commodity as well.
For coal, that's very hard. Today, for natural gas, which is trading near two-decade lows, it isn't much easier.
Henry Hub Natural Gas Spot Price data by YCharts
Over time, as natural gas prices go, so, too, will go Consol's share price.
The article David Einhorn Paid 3 Times the Current Price for Consol Energy -- Does That Make It a Bargain Today? originally appeared on Fool.com.
TMFWolfpack has no position in any stocks mentioned. The Motley Fool has no position in any of the stocks mentioned. Try any of our Foolish newsletter services free for 30 days. We Fools may not all hold the same opinions, but we all believe that considering a diverse range of insights makes us better investors. The Motley Fool has a disclosure policy.
Copyright 1995 - 2016 The Motley Fool, LLC. All rights reserved. The Motley Fool has a disclosure policy.