Dave & Buster's Stock: Next Stop, $72?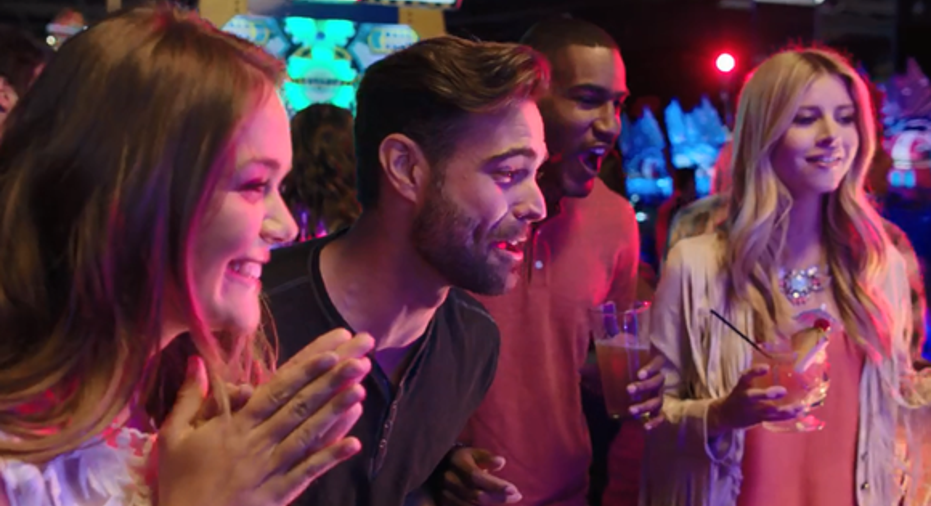 Dave & Buster's Entertainment Inc. (NASDAQ: PLAY)is bucking the "restaurant recession" malaise that has tripped up a lot of publicly traded eateries these days. The stock hit an all-time high of $61.20 last week, and at least one Wall Street pro sees the shares moving even higher.
Maxim analystStephen Anderson initiated coverage of Dave & Buster's on Tuesday. He's tagging it with a buy rating. His $72 price target implies 21% of upside off of Monday afternoon's close.
Bullish analyst initiations are always welcome, but the timing of this rosy view is important. Dave & Buster's reports quarterly results next week, shortly after Tuesday's market close. Anderson's bullish move just six trading days before the earnings announcement is encouraging. If he was feeling uneasy about the report -- a reasonable concern given the restaurant implosions that we've seen -- he would've held back a week and chimed in after the earnings release.
Image source: Dave & Buster's.
D&B plays to win
Dave & Buster's stock has nearly quadrupled since going public at $16 less than three years ago. Healthy double-digit growth on the top line has been the handiwork of brisk expansion and refreshingly positive comps. Same-restaurant sales rose 5.9% in its fiscal third quarter, a far cry from its peers. Profits are growing even faster. Net income more than doubled inits latest quarter.
The concept is unique. You won't find too many restaurants where food and beverage sales account for less half of the revenue mix, but that's Dave & Buster's. A little more than half of its business comes from its high-end arcade stocked with the latest video games and a few classic throwback diversions. These are high-margin gaming machines, and it distances Dave & Buster's from traditional table-service chains that live and die by food and labor costs.
Comps won't always be positive. Dave & Buster's courts young adults with disposable income looking for a one-stop entertainment shop. If the economy starts to tank, there will be less money for revelers at D&B to spend on games, booze, and grub.
Maxim's Anderson isn't alone. The last major analyst to initiate coverage on Dave & Buster's was SunTrust, slapping it with buy rating and a $68 price target three months ago. In January we saw Nicole Miller Regan at Piper Jaffray reiterate her bullish view, raising her price target from $57 to $63 after channel checks turned up healthy sales momentum.
Now we're a week away from another financial report, and this comes from a company that has beaten Wall Street's profit targets with ease in each of its first nine quarters as a public company. Momentum remains in Dave & Buster's corner for now.
10 stocks we like better than Dave and Buster's EntertainmentWhen investing geniuses David and Tom Gardner have a stock tip, it can pay to listen. After all, the newsletter they have run for over a decade, Motley Fool Stock Advisor, has tripled the market.*
David and Tom just revealed what they believe are the 10 best stocks for investors to buy right now... and Dave and Buster's Entertainment wasn't one of them! That's right -- they think these 10 stocks are even better buys.
Click here to learn about these picks!
*Stock Advisor returns as of February 6, 2017
Rick Munarriz has no position in any stocks mentioned. The Motley Fool recommends Dave and Buster's Entertainment. The Motley Fool has a disclosure policy.