DARPA Just Built a Robotic Hunter-Killer in Record Time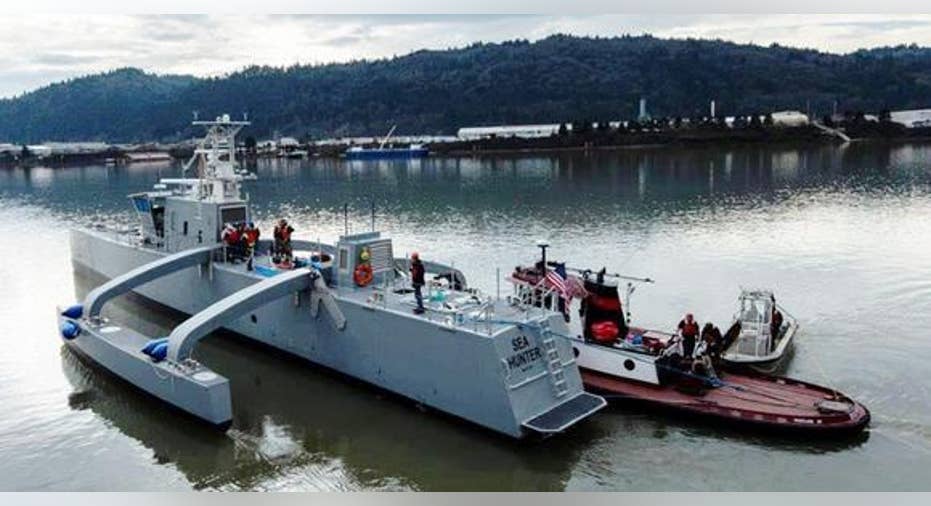 Sea Hunter. See Sea Hunter hunt submarines. Hunt, Sea Hunter! Hunt! Image source: Leidos.
Was it really only December that DARPA told us it was building a submarine-hunting drone-ship for the Navy? Well, get ready to be surprised.
Just four months after we learned of the existence of the Anti-Submarine Warfare Continuous Trail Unmanned Vessel program, or ACTUV, it's already complete -- and afloat. Last week, the Pentagon's mad scientists at the Defense Advanced Research Projects Agency unveiled the ACTUV prototype in Portland, Ore., christening the vessel Sea Hunter.
Built by small shipbuilder Vigor Industrial (that's another military shipbuilder we'll want to keep an eye on) under the supervision of prime contractorLeidos and equipped with a novel sonar system from Raytheon , Sea Hunter measures 130 feet in length and is powered by twin propellers. Equipped with a robotic "autonomy suite," DARPA says Sea Hunter can be guided remotely with "sparse" supervision. But it's also said to be capable of self-navigation "in compliance with maritime laws and conventions for safe navigation," avoiding both fixed obstacles and steering around manned maritime vessels "in all weather and traffic conditions, day or night."
To put these assertions to the test, the vessel will now embark upon an "extended" period of open-water testing conducted jointly by DARPA and the Office of Naval Research.
What comes next?DARPA is taking its time testing out Sea Hunter and does not anticipate transferring the vessel to operational status with the U.S. Navy before 2018. Once it does, though, DARPA predicts that Sea Hunter will be able to perform submarine hunting duties "at a fraction of the cost of manned vessels that are today deployed for similar missions." According to defense tech magazine SIGNAL, the precise operating cost of Sea Hunter will range from $15,000 to $20,000 per day, on top of an estimated construction cost of $23 million for the vessel itself.
If it succeeds in living up to its billing, chances are good that the Navy will order more copies of the initial prototype vessel from Leidos.
What it means to investorsHow many Sea Hunters might the Navy ultimately need, and how much revenue will that mean for Leidos, Raytheon, and Vigor? Leidos notes that there are 377 virtually silent diesel-electric submarines scattered about the globe. Iran possesses 17 of these subs. Venezuela, with whom America has thorny relations as well, is said to be buying five for its navy.
Sea Hunter's mission is to use its Raytheon sonar package to track individual diesel subs at-sea "for months" at a time -- freeing up expensive manned U.S. surface warships and submarines for other missions. Tasking Sea Hunters with shadowing potentially hostile submarines on a one-to-one ratio therefore implies a potential market for hundreds of these drone ships. And at a per-drone cost of $23 million, that suggests that the market opportunity for Leidos and its team could reach as high as $8.7 billion.
If that sounds like a lot of money, well, it is. On the other hand, when you consider that just one of the Navy's new Ohio-class submarines will cost $7 billion -- getting hundreds of robotic sub-hunters for a similar cost may not be such a bad deal after all.
See? Sea Hunter has room for humans on board, but only for maintenance work. Ideally, this trimaran floating robot will spend most of its time all alone at sea. Image source: Leidos.
The article DARPA Just Built a Robotic Hunter-Killer in Record Time originally appeared on Fool.com.
Fool contributorRich Smithowns shares of Raytheon. You can find him onMotley Fool CAPS, publicly pontificating under the handleTMFDitty, where he's currently ranked No. 283 out of more than 75,000 rated members.The Motley Fool has no position in any of the stocks mentioned. Try any of our Foolish newsletter services free for 30 days. We Fools may not all hold the same opinions, but we all believe that considering a diverse range of insights makes us better investors. The Motley Fool has a disclosure policy.
Copyright 1995 - 2016 The Motley Fool, LLC. All rights reserved. The Motley Fool has a disclosure policy.