Daimler's Profit Doubles on Strong Mercedes-Benz SUV Sales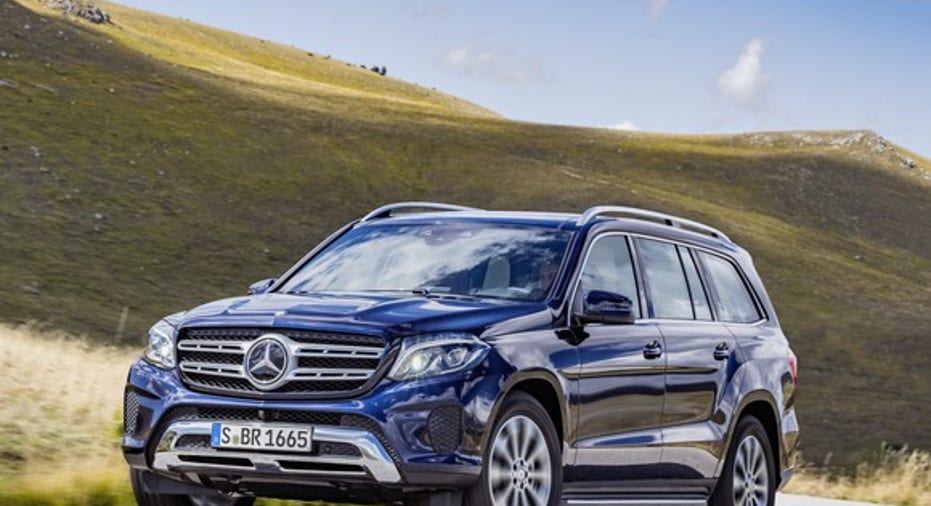 German automaker Daimler AG (NASDAQOTH: DDAIF) said on April 26 that its first-quarter net profit doubled to 2.8 billion euros ($3.1 billion) from a year ago, on a strong increase in sales of its Mercedes-Benz luxury vehicles.
The report wasn't a surprise, as it confirmed preliminary results that Daimler had released earlier in April. Shares rose modestly on the news.
Daimler also raised its full-year guidance, saying that it now expects a significant increase in operating income over its very good 2016 result.
The Mercedes-Benz GLS-Series was one of several SUV models that helped the luxury brand to an 11% first-quarter sales gain. Image source: Daimler AG.
Daimler earnings: The raw numbers
Unless otherwise noted, all numbers are shown in billions of euros. As of April 26, 1 euro = about $1.09.
Data source: Daimler AG.
The nutshell summary: Why Daimler's profit jumped
Daimler said in its preliminary earnings report on April 11 that its big increase in profit was driven by three factors:
A jump in the valuation of HERE, a mapping service owned jointly by Daimler, BMW, Audi, and Intel. Daimler's stake in HERE increased in value by 183 million euros (on paper) after Intel bought 15% of the company in January. (BMW realized an identical gain.)
A gain of 267 million euros from the sale of real estate belonging to one of Daimler's truck units.
The reversal of an impairment charge of 240 million euros on Daimler's stake in Chinese automaker BAIC.
There was one other factor, an important one: Worldwide sales at Daimler's Mercedes-Benz Cars unit, which builds and sells Mercedes-brand luxury cars and SUVs, rose a healthy 14% in the first quarter.
How Daimler's business units fared
Here's how each of Daimler's business units performed during the quarter.
As noted above, sales at Mercedes-Benz Cars rose 14% to 568,100, its best-ever first-quarter sales total, on strong demand for Mercedes' highly profitable SUV models and its new midsize E-Class sedans. EBIT rose to 2.23 billion euros from 1.40 billion euros a year ago, and the unit's EBIT margin rose to a healthy 9.8% from 7% in the year-ago period.
Daimler Trucks, which builds medium and heavy trucks under several brands, saw sales decline 11% to 94,000 on weakness in the heavy-truck market in North America. But its EBIT rose to 668 million euros from 516 million euros a year ago, and its margin to 8.4% from 6.3% a year ago, on that 267 million-euro gain from the sale of real estate.
Mercedes-Benz Vans, Daimler's commercial-van unit, posted a 13% increase in sales (to 86,800), a new first-quarter record driven by strong results in Europe, China, and South America. EBIT rose 19% to 357 million euros, with a strong 11.9% margin (up from 10.7% a year ago).
Sales at Daimler Buses rose 12% to 5,400 units. Sales fell in Turkey, an important market, but were up strongly in Latin America and Asia. EBIT jumped 67% to 65 million euros, with a margin of 7.2% (versus 4.7% a year ago).
Daimler Financial Services completed leasing and financing contracts worth 16.8 billion euros in the quarter, up 23% from the year-ago period. EBIT rose 21% to 524 million euros.
Many automakers have seen sales of car models suffer in recent months as buyers increasingly choose SUVs. But Mercedes' new E-Class lineup bucked the trend and did well in the first quarter. Image source: Daimler AG.
What Daimler executives said about the quarter
CFO Bodo Uebber said Daimler was on track to meet its full-year goals:
CEO Dieter Zetsche looked ahead to additional growth opportunities:
Daimler is spending heavily to develop new technology including electric drivetrains for trucks. It expects to bring an electric medium-duty truck to market within a few years. Image source: Daimler AG.
Cash reserves and key spending items
Daimler's capital expenditures totaled 1.3 billion euros in the first quarter, much of it spent to revamp factories for upcoming new products.
Research and development spending rose to 2.1 billion euros from 1.7 billion euros a year ago. Daimler is making heavy investments in future technologies including self-driving systems and electric drivetrains for both luxury vehicles and commercial trucks.
Daimler had 21.1 billion euros in cash and credit lines available to its industrial businesses as of March 31, up 1.3 billion euros from Dec. 31, 2016.
Looking ahead: Daimler raised its full-year guidance
Daimler now expects its unit sales to increase "significantly" at all units except Daimler Trucks in 2017. (Earlier guidance expected sales to increase "slightly".) It likewise now expects overall revenue and EBIT to increase "significantly," driven largely by a substantial year-over-year increase in EBIT at Mercedes-Benz Cars.
10 stocks we like better than DAIMLER AG ORDWhen investing geniuses David and Tom Gardner have a stock tip, it can pay to listen. After all, the newsletter they have run for over a decade, Motley Fool Stock Advisor, has tripled the market.*
David and Tom just revealed what they believe are the 10 best stocks for investors to buy right now... and DAIMLER AG ORD wasn't one of them! That's right -- they think these 10 stocks are even better buys.
Click here to learn about these picks!
*Stock Advisor returns as of April 3, 2017
John Rosevear has no position in any stocks mentioned. The Motley Fool recommends BAMXFand INTC. The Motley Fool has a disclosure policy.