Cyprus, Israel, Greece push for gas pipeline to Europe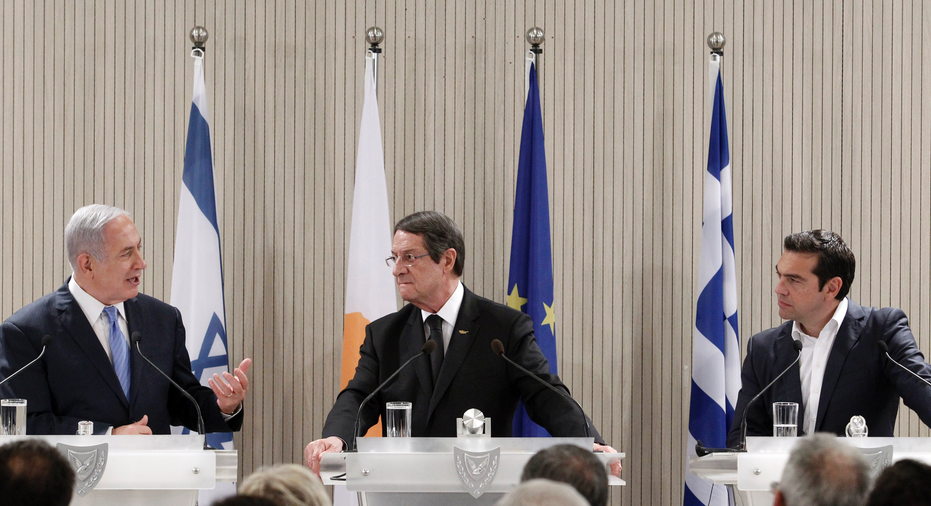 The leaders of Cyprus, Israel and Greece said Tuesday they're determined to push ahead with plans for a pipeline that would supply east Mediterranean gas to Europe as the continent seeks to diversify its supplies.
Israeli Prime Minister Benjamin Netanyahu called the East Med pipeline a "very serious endeavor" that's important for Europe, which is looking for new sources of energy.
Cyprus President Nicos Anastasiades said the three countries aim to sign an agreement this year to nudge the pipeline project forward.
Greece's Prime Minister Alexis Tsipras called the project "emblematic" of the cooperation between the three countries.
"This project creates an unrivalled network of common interests and clear strategic benefit for our countries and beyond since its implementation will tangibly contribute to the security of the European Union's energy supply," Anastasiades said.
The EU is looking favorably on the project, too, since the 28-member bloc has forked out 34.5 million euros ($41 million) to fund a technical study, the Cypriot president said.
The pipeline is estimated to cost over 6 billion euros ($7 billion) and would take six to seven years to build. Among the pipeline's advantages, officials say, is that it won't have to cross many national boarders and will be less vulnerable to sabotage.
The pipeline would potentially carry gas from recently discovered deposits in the eastern Mediterranean, including in waters of Cyprus and Israel.
The project was the centerpiece of Tuesday's tripartite meeting between the leaders, their fourth since Jan. 2016 when they agreed to hold such gatherings to strengthen ties.
"We are building a great alliance, an alliance of good among our three democracies," Netanyahu said. "You have to look only a few years back and it's almost inconceivable that our countries did not have this warm, intimate and direct contact."