Cypress Semiconductor Outlines a Busy Quarter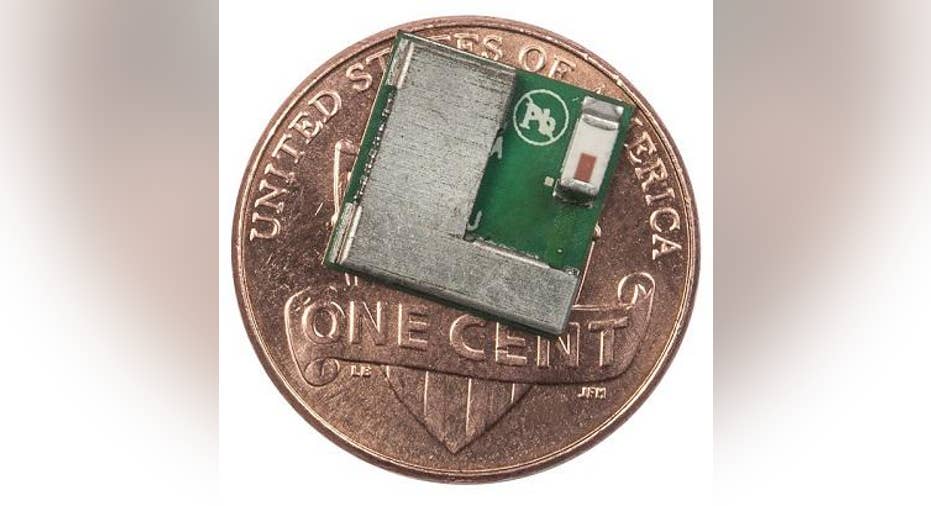 Cypress' new EZ-BLE PRoC Module, IMAGESOURCE: CYPRESS SEMICONDUCTOR
Cypress Semiconductor Corporation released first quarter 2016 results Thursday morning. Shares of the semiconductor company initially jumped as much as 6%, then settled to close to roughly even with where it started. So what gives?
Let's take a closer look at how Cypress Semiconductor started the year:
Cypress Semiconductor results: The raw numbers
| Metric | Q1 2016 Actuals | Q1 2015 Actuals | Growth (YOY) |
| --- | --- | --- | --- |
| Adjusted Revenue* | $425.2 million | $209.1 million | 148% |
| Adjusted Net Income | $23 million | ($87.9 million) | N/A |
| Adjusted EPS | $0.07 | ($0.45) | N/A |
*Adjusted (non-GAAP) revenue includes $6.25 million in revenue from intellectual property licensed toSamsung, which was excluded from GAAP revenue due to purchase accounting for the Spansion merger. YOY: year over year. Data source: Cypress Semiconductor.[
What happened with Cypress this quarter?
Keeping in mind year-over-year growth was primarily due to Cypress'merger with Spansionlast year; revenue fell 6.8% sequentially from last quarter due to normal seasonality.
Revenue was right at the middle of Cypress' guidance for$410 millionto$440 million, while earnings came in near the high end of its per-share guidance range of $0.04to$0.08.
Gross margin also fell sequentially to 36.9% in Q1, down from 39.8% last quarter. This was above expectations, but still below Cypress' long-term goal as it continues to run its wafer fabs at a lower rate than demand to burn off excess inventory. Cypress is also working on correcting inefficiencies in ex-Fujitsu manufacturing, which is being integrated now.
The company has realized $150.4 million in annualized synergies so far, up from $137.7 million last quarter and $120.3 million two quarters ago. Cypress remains well ahead of its recently accelerated plan to achieve $180 million in synergies by the end of 2016.
Revenue by business segment:
Programmable systems rose 4% sequentially, to just under $164 million.
Memory products decreased 17% sequentially, to $215.1 million.
Emerging technologies climbed 20%, to nearly $26 million.
Data communications rose 15%, to $20.1 million.
By geography:
Japan represented 27% of sales, compared to 29% last quarter.
Europe represented 15% of sales, up from 14% last quarter.
Americas represented 14% of sales, down from 16% last quarter.
China/rest-of-world division represented 44% of sales, up from 41% last quarter.
Repurchased $182.5 million in common stock, under its $450 million repurchase authorization approved two quarters ago.
Introduced several notable new products including
two families of 40-nm, ARM-based microcontrollers, one for automotive products, and the other for high-volume consumer applications.
the new PSoC-based EZ-PD CCG3 controller for the emerging USB Type-C connectivity standard.
a new Bluetooth Low Energy module which extends Bluetooth's range to 400 meters, or roughly eight times the distance of current solutions.
Presented its portfolio for Internet of Things solutions to 50 customers at the Embedded World 2016 trade show in Germany.
Along with today's report, announced Cypress will acquire Broadcom's Internet of Things business unit for $550 million in cash.
The deal will add $189 million in trailing 12-month revenue to Cypress
Positions Cypress well to capitalize on estimated 17% annualized growth of Wi-Fi and Bluetooth connectivity in the consumer, industrial, and automotive IoT segments.
Expected to close in the third quarter of 2016, and be accretive to earnings per share in 2017.
Announced Cypress subsidiary Deca Technologies will receive a $60 million investment from Advanced Semiconductor Engineering , and will license Deca's M-Series Fan-out Wafer-Level Packaging technologies and processes.
ASE and Deca will also jointly develop the M-Series fan-out manufacturing process, and expand production of chip-scale packages using the technology.
Announced CEO T.J. Rodgers will step down this week after more than 30 years at the company. A search will be launched to consider both internal and external candidates to replace him. In the meantime, daily operational activities will be taken over by an "Office of the CEO" comprised of four current Cypress EVPs., including Hassane El-Khoury (EVP, Programmable Systems), Dana Nazarian (EVP, Memory Products), Joe Rauschmayer (EVP, Manufacturing), and CFO Thad Trent. Rodgers, for his part, will remain on Cypress' board and work as a project leader on key technical projects.
What management had to sayRodgers elaborated on Cypress' current state during the subsequent conference call:
Looking forwardFor the current (second) quarter, Cypress expects adjusted net sales in the range of$440 millionto$470 million, compared to $491 million in last year's second quarter and assuming typical seasonality. That should translate to adjusted earnings per diluted share of$0.10to$0.14, compared to earnings of $0.15 per share in the same year-ago period.
In the end, this was a largely solid report from Cypress as it remains on track with its post-merger synergies and positions itself to return to sustained, profitable growth through the burgeoning Internet of Things market. But it was also unsurprising to see Cypress stock give up its early gains given both the large size of its acquisition of Broadcom's IoT business, and uncertainty created through the departure of its longtime CEO. However, for patient investors willing to watch Cypress' long-term plans come to fruition, I think today's report should serve as another encouraging step in the right direction.
The article Cypress Semiconductor Outlines a Busy Quarter originally appeared on Fool.com.
Steve Symington has no position in any stocks mentioned. The Motley Fool recommends Cypress Semiconductor. Try any of our Foolish newsletter services free for 30 days. We Fools may not all hold the same opinions, but we all believe that considering a diverse range of insights makes us better investors. The Motley Fool has a disclosure policy.
Copyright 1995 - 2016 The Motley Fool, LLC. All rights reserved. The Motley Fool has a disclosure policy.