Cypress Semiconductor Delivers Another Solid Quarter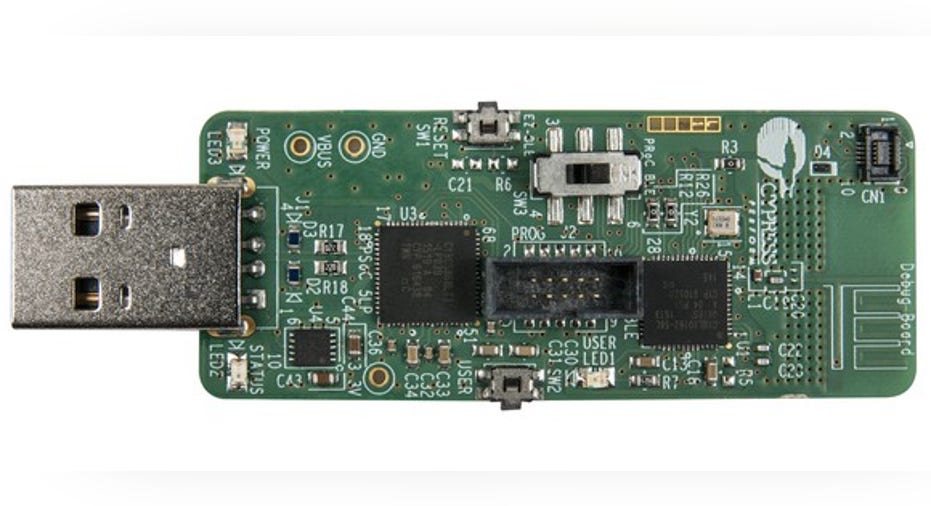 Cypress Semiconductor Corporation(NASDAQ: CY)released strong fourth-quarter 2016 results Thursday after the market closed. With shares of the semiconductor specialist hovering near a fresh 52-week high, let's have a look at both how Cypress closed the year and what investors can expect going forward.
IMAGE SOURCE: Cypress Semiconductor.
Cypress Semiconductor results: The raw numbers
| Metric | Q4 2016 | Q4 2015 | Year-Over-Year Growth |
| --- | --- | --- | --- |
| Adjusted revenue | $530.2 million | $456.4 million | 16.2% |
| Adjusted net income | $53.8 million | $45.5 million | 18.2% |
| Adjusted EPS | $0.15 | $0.13 | 15.4% |
Adjusted (non-GAAP) revenue in the fourth quarter of 2015 included $6.25 million in revenue from intellectual property licensed toSamsung, which was excluded from GAAP revenue because of purchase accounting for the Spansion merger. DATA SOURCE: Cypress Semiconductor.
What happened with Cypress this quarter?
These results were near the high end of Cypress' guidance provided in late Octoberfor adjusted revenue of $510 million to $540 million and adjusted earnings per per share of$0.12 to $0.16.
Revenue included $72.3 million from the connectivity business acquired from Broadcom this past July, well above the $60 million to $65 million guidance.
Adjusted gross margin was 40.1% during the quarter, down from 40.5% last quarter due to typical seasonality, but around 10 basis points above guidance for 40%.
Factory utilization increased to roughly 63%, as expected, as production levels ramped to meet customer demand.
Inventory at the end of the year was $287.8 million, up 16.2% sequentially from last quarter driven by an increase in MCU and connectivity inventory to support demand.
Lean inventory initiatives have resulted in net inventory reductions of over $80 million in excess inventory, as expected.
Realized annualized synergies of $188.5 million from the Spansion merger, up from $175.8 million last quarter and well above the $180 million Cypress had planned to reach by the end of 2016.
Changed the company's corporate structure from four divisions to two in an effort to improve efficiency, enhancing Cypress' go-to-market strategy to align high-growth markets such as automotive, industrial, and consumer.
As such, adjusted revenue by business segment included:
4% sequential growth in microcontroller and connectivity division (MCD) revenue, to $294.9 million. This includes the microcontroller and PSoC lines from the former programmable systems division, wireless connectivity/Internet of Things and USB product lines from the former data communications division, the foundry business from the former emerging technologies division (ETD), and the IP business unit, which was formerly part of the memory products division.
a 2% sequential decline in the memory products division (MPD), to $235.3 million. This segment now includes flash, SRAM and specialty memories, and the AgigA Tech subsidiary, which was formerly part of the ETD.
Adjusted revenue by geography was broken down as follows:
Japan represented 21% of total sales, consistent with last quarter.
Europe comprised 11% of sales, down from 12% last quarter.
Americas made up 11% of sales, down from 12% last quarter.
The China/rest-of-world division amounted to 57% of sales, up from 55% last quarter.
What management had to say
Cypress CEO Hassane El-Khoury said:
Looking forward
For the current quarter, Cypress expects revenue of $495 million to $525 million, assuming normal seasonality in its base business. Cypress also anticipates gross margin to be roughly 39%, though that figure might vary slightly with fluctuations in utilization as well as product and customer mix. On the bottom line, Cypress expects first-quarter adjusted earnings per share of $0.09 to $0.13.
By comparison -- and though we don't usually pay close attention to Wall Street's demands -- analysts' consensus estimates predicted first-quarter revenue and earnings per share near the low ends of Cypress' respective guidance ranges.
Once again, there were no big surprises this quarter from Cypress Semiconductor. Rather, investors were treated to more of the same modest outperformance relative to expectations as the company continues to outgrow its peers. With its organizational structure now streamlined to even better take advantage of its growth opportunities, it's no surprise to see Cypress Semiconductor stock trading higher right now.
10 stocks we like better than Cypress Semiconductor When investing geniuses David and Tom Gardner have a stock tip, it can pay to listen. After all, the newsletter they have run for over a decade, Motley Fool Stock Advisor, has tripled the market.*
David and Tom just revealed what they believe are the 10 best stocks for investors to buy right now... and Cypress Semiconductor wasn't one of them! That's right -- they think these 10 stocks are even better buys.
Click here to learn about these picks!
*Stock Advisor returns as of January 4, 2017
Steve Symington has no position in any stocks mentioned. The Motley Fool recommends Cypress Semiconductor. The Motley Fool has a disclosure policy.