CVS Health Tops Expectations in Q4 Thanks to CareMark PBM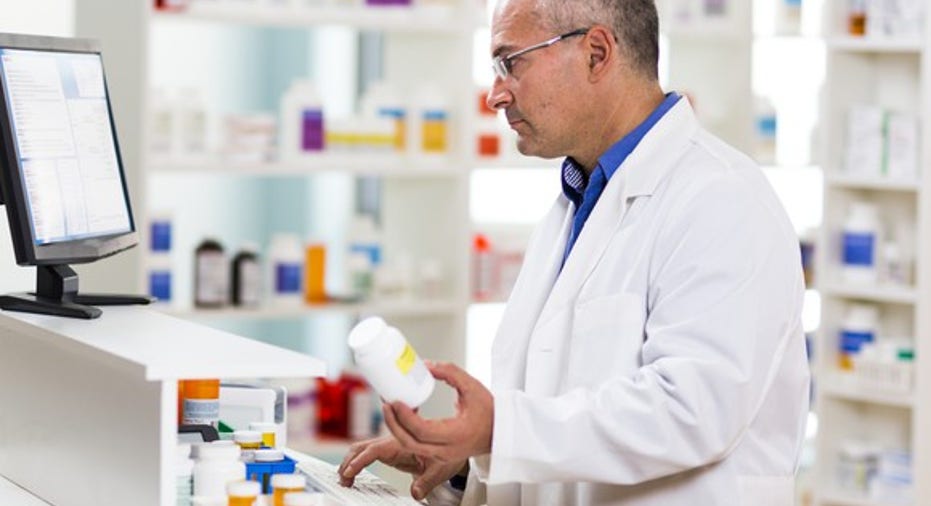 CVS Health (NYSE: CVS) appeared to be on a roll in 2016, handily beating earnings estimates each quarter. But the giant pharmacy services company hit a big bump in the road after rival Walgreens Boots Alliance (NASDAQ: WBA) took away a couple of major contracts. CVS Health cut its fourth-quarter and full-year 2016 guidance as a result.
On Thursday, CVS Health reported its results for the fourth quarter and full-year 2016. The company yet again topped expectations, although those expectations were lower than before. Here are the highlights.
Image source: Getty Images.
CVS Health results: The raw numbers
| Metric | Q4 2016 | Q4 2015 | Change (YOY) |
| --- | --- | --- | --- |
| Sales | $46.0 billion | $41.1 billion | 11.7% |
| Net income from continuing operations | $1.7 billion | $1.5 billion | 13.8% |
| Adjusted EPS | $1.71 | $1.53 | 11.8% |
Data source: CVS Health. YOY = year over year.
What happened with CVS Health this quarter?
CVS Health's reduced guidance provided in November called for fourth-quarter adjustedearnings per diluted share between $1.64 and $1.70. The company beat that guidance slightly thanks largely to a strong performance from its Caremark pharmacy benefits management (PBM) business.
This PBM business, which CVS Health refers to as its pharmacy services segment, generated revenue of$31.3 billion in the fourth quarter, up 17.9% year over year. New business helped drivepharmacy network claim volume higher during the quarter.
The company reported fourth-quarter revenue from its CVS Health's retail/long-term care (LTC) segment of$20.8 billion. While that's an increase of 4.7% from the prior-year period, the growth stemmed primarily from the acquisition of Target's pharmacies. Same-store sales actually decreased slightly compared to the fourth quarter of 2015.
CVS Health's earnings increased a little more on a percentage basis than revenue in part because of areversal of an accrual of $88 million related to a legal settlement. An increase in the company's generic dispensing rate for both pharmacy services and retail/LTC segments also helped improve the bottom line.
During the fourth quarter, CVS Health closed 25 retail stores and opened 40 new stores. The company also relocated 16 retail stores during the period. As of the end of 2016, CVS Health operated9,709 retail stores across 49 states,the District of Columbia, Puerto Rico, and Brazil.
What management had to say
CVS Health CEO Larry Merlo said:
Looking forward
CVS Health confirmed its guidance provided for the full year and first quarter of 2017. CVS still expects 2017 GAAP diluted earnings per share will be between $5.02 and $5.18. Adjusted earnings per share are projected to come in between $5.77 and $5.93.
For the first quarter, the company expects GAAP diluted earnings per share of $0.82 to $0.88. Adjusted earnings per share in the first quarter should be between $1.07 and $1.13. All of these estimates assume that CVS Health buys back another $5 billion of its stock as planned.
The company's full-year 2017 guidance reflects only minimal growth at the mid-points of the ranges. However, Larry Merlo expressed confidence that CVS can return to higher growth levels in the years ahead.
Walgreens' victories in the Prime Therapeutics and Tricare deals will certainly take a toll this year. CVS Health has some ground to regain, but the company has a plan it thinks will work. In the meantime, investors can enjoy the company's dividend -- which CVS Health has committed to increasing in the future.
10 stocks we like better than CVS HealthWhen investing geniuses David and Tom Gardner have a stock tip, it can pay to listen. After all, the newsletter they have run for over a decade, Motley Fool Stock Advisor, has tripled the market.*
David and Tom just revealed what they believe are the 10 best stocks for investors to buy right now...and CVS Health wasn't one of them! That's right -- they think these 10 stocks are even better buys.
Click here to learn about these picks!
*Stock Advisor returns as of February 6, 2017.
Keith Speights has no position in any stocks mentioned. The Motley Fool recommends CVS Health. The Motley Fool has a disclosure policy.