Cubs' Dream Still Alive After Win Over Indians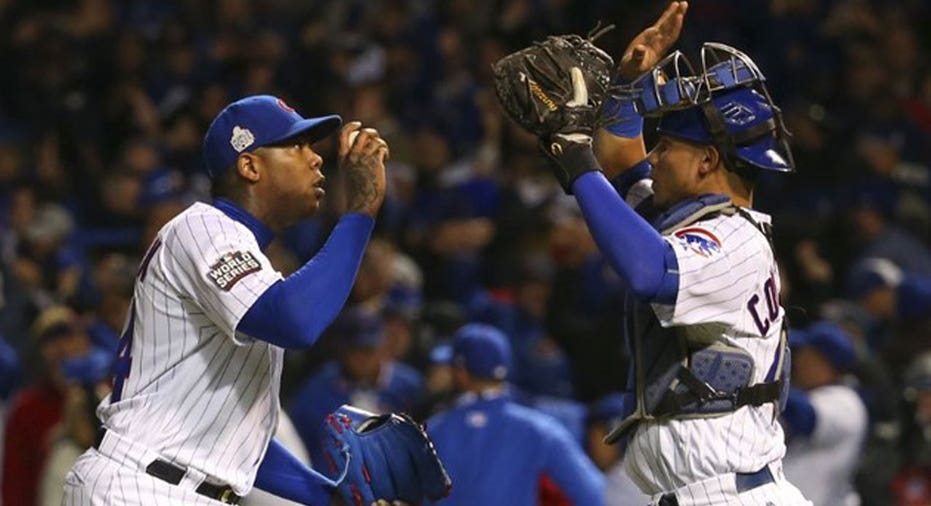 The Chicago Cubs kept alive their World Series hopes by beating the Indians 3-2 in a chilly Game Five at Wrigley Field on Sunday to send the best-of-seven Major League Baseball championship back to Cleveland.
The Indians lead the series 3-2 ahead of Game Six on Tuesday.
Chicago's quiet bats came to life in the fourth inning with three runs, sparked by a home run from Kris Bryant and four more hits that followed that allowed the Cubs to hold on to the dream of winning their first World Series in 108 years.
On the brink of elimination, Cubs ace Jon Lester turned in a strong six innings to reignite roars from the home crowd and flame-throwing reliever Aroldis Chapman did a yeoman's job in registering the last eight outs to preserve the must win.
"It didn't feel like an elimination game," said Bryant, whose home run gave him his first RBI of the Series. "Jon doing his thing, Chapman coming in for eight outs. That was an unbelievable win."
Rizzo, who followed Bryant's blast with a double off the wall, had a different take on the mounting tension in the win-or-go-home thriller.
"High anxiety and a lot of deep breaths," Rizzo said about the pressure. "Every pitch gets bigger and bigger as the game goes on."
CRITICAL SAVE
Chapman, whose longest outing this season was 2 1/3 innings, was asked to go one out longer when manager Joe Maddon brought him in with one out in the seventh, a man on first and the score 3-2.
But the Cuban-born reliever poured his 100 mph-plus fastballs in to overpower the Indians, striking out four on his way to the critical save.
"It's something you can't normally do during the season without beating somebody up too badly," said Maddon. "But I talked to Chappy before the game. He was aware of being ready in the seventh inning."
Lester, who yielded two runs on four hits while striking out five, registered the victory. Cleveland starter Trevor Bauer took the loss, his second of the Series.
Pre-game, Chicago fans seemed subdued, wary of a third straight loss at Wrigley and worried about an offense that had been shut out twice.
It did not go well early, as Jose Ramirez belted a homer off Lester in the second to put Cleveland ahead.
Chicago fired up the crowd with Bryant's home run that tied it in the fourth.
Rizzo doubled, advanced on Ben Zobrist's single and scored on an infield hit by Addison Russell. After a bunt single by Javier Baez, David Ross drove in the third run with a sacrifice fly.
Francisco Lindor singled home Rajai Davis for the Indians in the sixth to make it 3-2 before Chapman arrived to shut the door.
After victory was clinched, fans inside and outside Wrigley stood and sang the team song with the title dream still alive.
"I'm feeling amazing," Nicole Herrington, who lives near the stadium with her husband and four-month-old boy, told Reuters.
"It's been unbelievable. One hundred and three wins in the regular season. They got to take it in Cleveland. They have to take it in Cleveland.
"How can we not win it now?"
Indians manager Terry Francona tipped his cap to the Cubs. "Sometimes you've got to respect what the other team can do, too," he said. "I didn't think we beat ourselves. I thought they beat us."
Chicago's Jake Arrieta, the Game Two winner for the Cubs, is scheduled to start Game Six on Tuesday against Josh Tomlin, with a Game Seven to be played in Cleveland on Wednesday if needed.
(Additional reporting by Timothy McLaughlin; Editing by Steve Keating/Andrew Both)