Cuba's new president unlikely to undo Castro economic legacy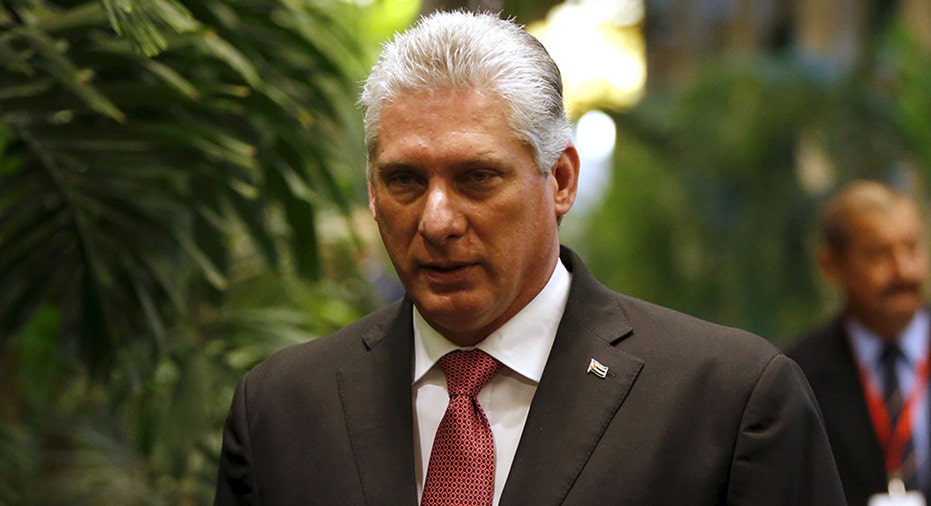 Miguel Diaz-Canel will inherit a struggling economy when Cuban President Raul Castro transfers power to his handpicked successor on Thursday, and it's highly unlikely that the longtime Communist Party loyalist will enact sweeping reforms to the largely state-run system.
Diaz-Canel, the 57-year-old vice president of Cuba, is set to assume the presidency a day after members of Cuba's national assembly named him the sole candidate to succeed a dynasty that began when Fidel Castro seized power in 1959. The transition of power is unfolding amid long-term economic turmoil for the island nation.
While Diaz-Canel's relative youth, civilian background and advocacy for reforms such as internet access for Cuban civilians have stoked optimism about an economic policy shift, multiple experts on Cuba told FOX Business that the life-long Communist Party member is unlikely to buck the system – especially with Raul Castro installed as head of Cuba's only political party through 2021.
"Miguel Diaz-Canel Bermudez is a long-time party activist, conservative and not one to argue for a market opening," said Riordan Roett, a political scientist and director of Johns Hopkins University's Latin American studies program. "Diaz-Canel is sort of a caretaker for the Castro legacy, and only after Raul is no longer able to influence policy will Diaz-Canel – possibly – be able to take the country in a different direction."
Minor reforms enacted during Raul Castro's presidency have done little to jumpstart foreign investment or bolster average state worker wages of just $31 per month, according to the Associated Press. The government remains wary of private industry and opted to stop issuing licenses for private businesses in 2017. Cuba is contending with a complicated dual currency system, troubled relations with the U.S. government under President Donald Trump and the economic freefall of its key trade partner, Venezuela.
Cuba's economic growth has all but stalled because of negative factors including the U.S. trade embargo that has remained in place since the early days of the Cold War. While Cuban officials said their economy grew by 1.6% in 2017 after a downturn in prior year, independent economists are skeptical of that claim.
Cuba's gross domestic product (GDP) per capita is smaller today than it was in 1985, when Cuba was supported by the Soviet Union, Reuters reported, citing a study. The country is largely reliant on imports to feed its population.
"The [Communist Party of Cuba] confronts a situation where most Cubans and many party members no longer believe their system works, but the party fears that dismantling the economic structure could cause the whole system to collapse," John Caulfield, the former chief of the U.S. Interests Section in Havana, told FOX Business.
Cuba's tourism industry has boomed since President Barack Obama re-established diplomatic ties with the country and unwound some barriers to business in 2015; the total of international visitors more than doubled, according to the AP.
But relations have once again grown frosty since Trump re-tightened elements of the embargo last November. Trump ordered most U.S. diplomats to leave Cuba in response to a mysterious incident that left American embassy workers with neurologic damage, including hearing loss. Cuba has denied responsibility.
China, which the Trump administration recently targeted with a series of tariffs, has emerged as a key investor on Cuba. The Chinese government earmarked $36 million earlier this year to modernize elements of Cuba's infrastructure, while the island's famous cigars have become a sought-after product in China, USA Today reported.
With Castro still in control of the political landscape and longtime Communist party hardliners still populating key government positions, economic reforms are expected to unfold at a slow and uneven pace. Any significant changes to economic structure, such as a rollback in restrictions on private industry, could stoke social tensions and destabilize the government's hold on the island.
"Diaz-Canel has not shown any signs of being a radical reformer of the Cuban economy, or of the political model for that matter," said Pedro Freyre, international practice chair at the law firm of Akerman LLP and an expert on Cuban economic policy. "To the contrary, his public statements have reaffirmed the traditional party line. [But] Cuba is in dire need of significant economic reform to let loose entrepreneurial drive, energize agriculture and make Cuba an attractive site for investments and business development."
The end of the Castro dynasty offers a rare opportunity for a fresh start between Cuba and the U.S., Freyre added.
"If it is possible for the United States to reach out and negotiate with North Korea, Cuba should be considerably easier," he said.