CSX Disappoints With Falling Earnings Despite Stronger Coal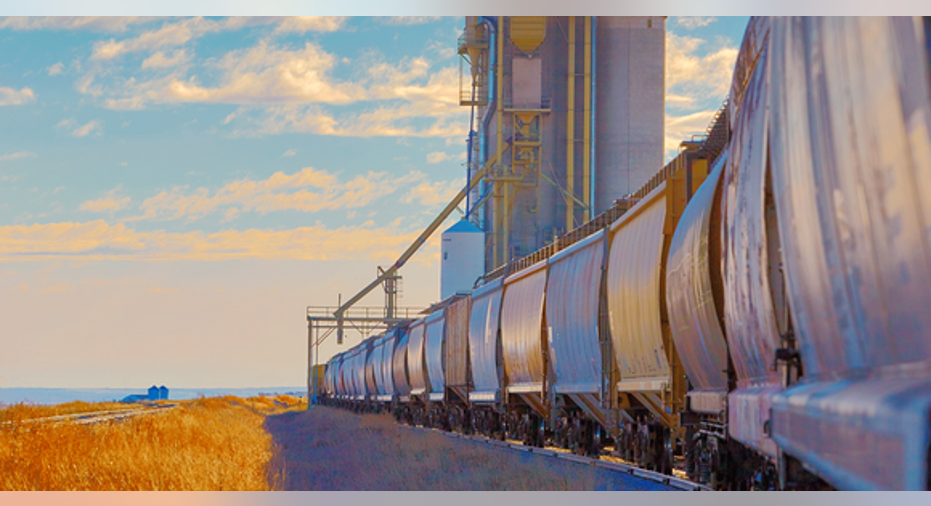 Railroads thrive when demand for the goods they transport is strong. That's been a problem for CSX (NASDAQ: CSX) lately, because demand for the commodities that are among the most popular goods for rail transportation has been weak. Coming into Tuesday's fourth-quarter financial report, CSX investors wanted to see the railroad find ways to grow its revenue and earnings at least modestly. But CSX didn't manage to succeed in growing its bottom line, raising some new concerns among shareholders. Let's take a closer look at how CSX did and what it means going forward.
Image source: CSX.
CSX hits the brakes
CSX's fourth-quarter report highlighted the challenges that the railroad continues to have to overcome. Revenue climbed 9% to $3.04 billion, benefiting in part from an extra week in the fiscal quarter but also topping expectations for just 3% growth. However, net income fell 2% to $458 million. A drop in outstanding share counts still led to a small rise in earnings per share, but at $0.49, the figure slightly missed the consensus forecast among investors.
Taking a closer look at CSX's financial results, perhaps the biggest surprise was that the company's coal segment performed quite well. After adjusting for the extra week in the quarter, overall volume was down 1% to 1.63 million units, but coal volumes actually rose 3%. Combined with strong pricing increases, dollar revenue from coal jumped 16% from year-ago figures. Although automotive shipments were also strong, weakness in forest products, chemicals, and metals and equipment offset much of coal's upward boost. Weak pricing for fertilizer also hurt overall revenue.
CSX kept doing a reasonable job of controlling expenses, containing increases to just 2% despite the extra week. Rising labor, fuel, and equipment costs were offset by falling expenses of materials and supplies. Efficiency and restructuring-related cost reductions continued to produce substantial savings, although it wasn't enough to shrink the budget from the year-ago quarter.
CSX's operational figures were generally positive. Ton-miles climbed by 8% to 110.1 billion, and personal injury frequencies improved by 13% on a 1% fall in train accident rates. On-time origination and departure rates rose by two to four percentage points. The biggest negatives came from train speed and delay times and key terminals, both of which worsened by 3% to 4%.
CSX CEO Michael Ward put the quarter in context of a challenging but successful 2016 full year. "In an environment where the company lost almost $470 million of coal revenue and experienced weakness across most of its markets," Ward said, "CSX delivered nearly $430 million of productivity savings in 2016 while improving customer service."
Can CSX speed up in 2017?
CSX believes that 2017 could bring a long-awaited turnaround for the industries it serves. In Ward's words, "With business conditions gradually improving and the ongoing transformation into the CSX of Tomorrow, we will continue to deliver sustainable shareholder value." The CEO also expressed optimism about the incoming Trump administration's calls for balanced regulation, tax reform, and infrastructure investment. If greater domestic manufacturing takes place, CSX could see volumes rise going forward.
Yet some investors are worried about what impact trade restrictions could have on the railroad industry. Recent dollar strengthening could bring on yet another wave of downward pressure on exports, while uncertainty about whether the U.S. might get into disputes with foreign trade partners could weigh on railroad shipping volume if things turn out badly.
CSX investors weren't happy with the railroad's earnings shortfall, and they sent shares of the company down almost 4% in after-market trading on Tuesday afternoon following the announcement. Although the railroad has taken smart steps to try to bolster its financial strength and take care of itself through the adversity hitting its customer base, CSX will need to see more general economic improvement if it wants to build on revenue gains in the fourth quarter of 2016 and grow more strongly in 2017 and beyond.
10 stocks we like better than CSX When investing geniuses David and Tom Gardner have a stock tip, it can pay to listen. After all, the newsletter they have run for over a decade, Motley Fool Stock Advisor, has tripled the market.*
David and Tom just revealed what they believe are the 10 best stocks for investors to buy right now... and CSX wasn't one of them! That's right -- they think these 10 stocks are even better buys.
Click here to learn about these picks!
*Stock Advisor returns as of January 4, 2017
Dan Caplinger has no position in any stocks mentioned. The Motley Fool recommends CSX. The Motley Fool has a disclosure policy.