CSX 4Q profit up 25 percent and railroad gets tax-cut boost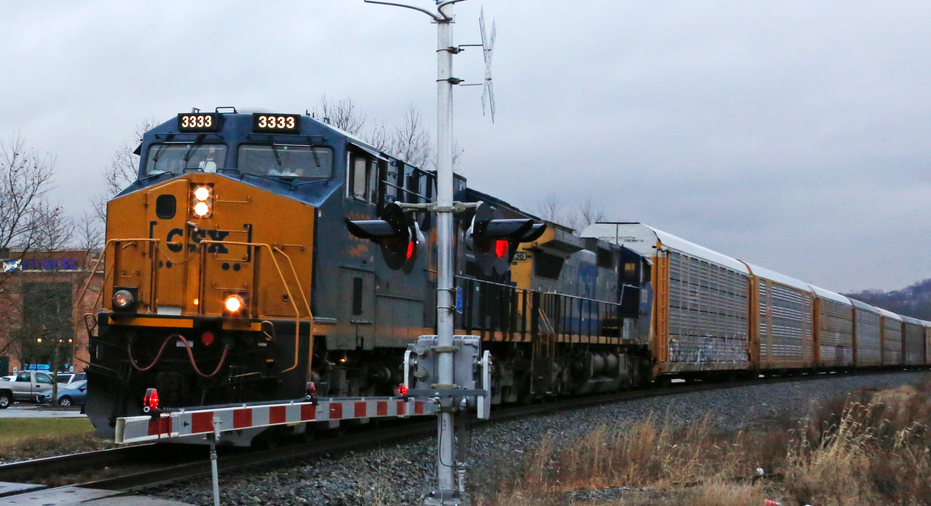 CSX Corp. reported Tuesday that its fourth-quarter profit grew 25 percent as it further cut expenses, and on top of it the railroad booked a $3.6 billion benefit from the corporate tax cut Congress approved last year.
The Jacksonville, Florida-based railroad said Tuesday that if the tax cut benefit is included, it posted a $4.14 billion profit, or $4.62 per share. That's up from $458 million, or 49 cents per share, a year ago.
Without the tax cut gain and a $10 million restructuring charge, CSX would have earned $573 million, or 64 cents per share. That topped the 56 cents per share expected by the nine analysts surveyed by Zacks Investment Research.
The freight railroad's revenue declined 6 percent to $2.86 billion in the period as CSX hauled 1 percent fewer carloads of freight. Six analysts surveyed by Zacks expected $2.88 billion.
But the railroad reduced its expenses by 14 percent to $1.7 billion.
Tuesday's report was the first since Jim Foote was promoted to the CEO job following Hunter Harrison's death in December.
Foote reiterated his promise to continue the reforms that Harrison implemented last year in his nine months with CSX.
"I'm committed to seeing this through," Foote said about implementing and refining CSX's new operating model.
Foote said that one of the first things he did within hours of being named CEO was to have a hill that was used in assembling trains in the company's Atlanta railyard bulldozed.
That made permanent the changes Harrison made at that railyard and 11 others. The railroad also idled hundreds of locomotives and eliminated more than 4,000 jobs last year.
The changes led to severe service problems last summer, but performance has been improving since then.
CSX plans to spend about $1.6 billion on capital investments this year, down from $2 billion last year and $2.7 billion in 2016. The lower spending is possible because CSX has stored so many locomotives and canceled any purchases of more while it works to make better use of its existing equipment and track.
Edward Jones analyst Dan Sherman said in a research note that he expects CSX to continue improving efficiency, so the stock is attractive at current prices.
CSX shares were down 63 cents, or about 1 percent, at $57.50 in extended trading following the release of the earnings report. They are up about 50 percent in the past 12 months.
CSX operates more than 21,000 miles of track in 23 Eastern states and two Canadian provinces.
_____
Elements of this story were generated by Automated Insights using data from Zacks Investment Research. Access a Zacks stock report on CSX at https://www.zacks.com/ap/CSX