Crude Prices Rise More Than 1% on Mideast Unrest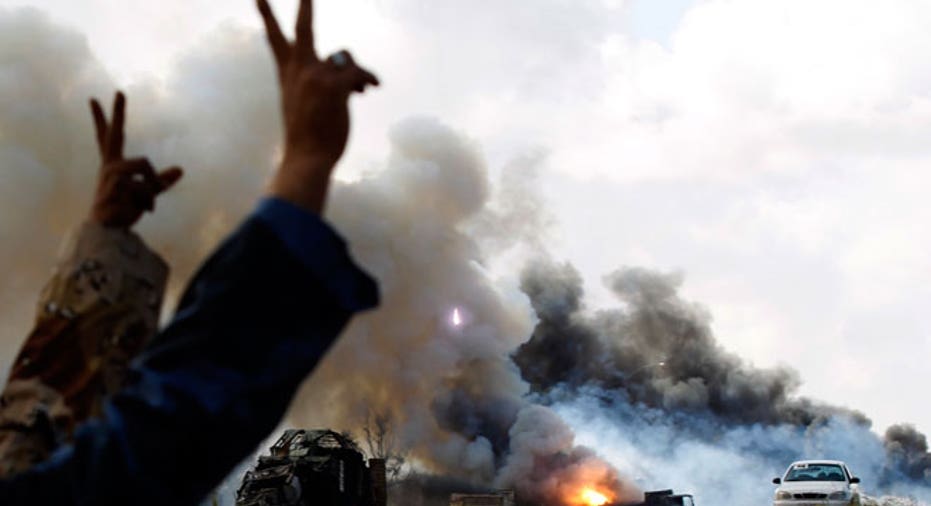 Oil prices rose 1 percent on Monday as spreading unrest in the Middle East intensified concerns about potential threats to the region's oil supply and U.N.-mandated air strikes kept flow reduced from OPEC-member Libya.
Failure of both Brent and U.S. crude prices to reach Friday's intraday highs, the approaching expiration Tuesday of the U.S. April crude contract and lingering concern about oil demand in Japan as it deals with its post-earthquake nuclear reactor crisis helped pull oil down from its early peak.
Total crude trading volumes remained well below average, continuing last week's trend and underscoring the uncertainty facing the market and diminished open interest, brokers and analysts said.
Brent crude futures for May delivery rose $1.03, or 0.9 percent, to settle at $114.96 a barrel, off its intraday peak of $116.22.
U.S. crude futures for April delivery rose $1.26, or 1.25 percent, to settle at $102.33 a barrel, off its high of $103.35. The April contract expires on Tuesday.
Brokers noted that both front-month Brent and U.S. crude met resistance ahead of their respective Friday intraday peaks of $117.29 and $103.66, hit before the "cease-fire" declaration by Gaddafi's government in Libya pulled prices from their intraday highs.
"The key is really how Saudi (Arabia) and Iran play out. Cool heads need to prevail. It's contained at the moment, but if things worsen, you see a Mideast premium very quickly," said Jonathan Barratt, managing director of Commodity Broking Services.
MIDDLE EAST UNREST AND SAUDI ARABIA
Unrest flared again in the Middle East over the weekend, spreading to authoritarian Syria. In Saudi Arabia's neighbor Yemen top generals, ambassadors and some tribes threw their support behind anti-government protesters in a major blow to President Ali Abdullah Saleh's efforts to ride out demands for his exit.
Tension also increased between Bahrain and Iran as tit-for-tat diplomatic expulsions followed Tehran's anger at last week's crackdown on Shi'ites. Bahrain's king on Monday announced a foreign plot had been foiled.
Top-exporter Saudi Arabia has not yet experienced the kind of mass uprisings that have rocked other parts of the Arab world this year, but dissent has surfaced as protests took root in nearby Yemen, Bahrain and Oman.
LIBYAN UNCERTAINTY
Criticism of the Western air attacks on Libya came from Russia and China, who along with India, Brazil and Germany abstained from the U.N. Security Council vote last week authorizing the use of force against Gaddafi.
The critiques raised the possibility of reshaped Libyan oil deals, shutting out countries involved in the U.N.-authorized attacks, if Gaddafi retains control of oil infrastructure.
Libya is considering offering oil block contracts directly to China, India and other nations it sees as friends, Libya's top oil official said on Saturday.
Libya's oil output has fallen to less than a quarter of the 1.6 million barrels per day (bpd) produced prior to the rebellion against the Gaddafi rule.
JAPAN'S NUCLEAR WOES
Headlines from Japan's troubled nuclear complex revived worries about the country's economy as unexplained smoke from two reactors kept investors uncertain.
Anxiety also rose over mounting evidence of radiation from the damaged nuclear plant in vegetables, water and milk, and the Pacific Ocean nearby.
REFINED PRODUCTS STRENGTH
U.S. gasoline futures posted the strongest percentage rise on Monday, though heating oil futures also rose, with gasoline benefiting from the end of the winter heating season and hopes for better driving demand ahead.
"Gasoline is following crude and there its seasonality, as we come out of heating oil season and approach driving demand season," said Robert Yawger, senior vice president for energy futures at MF Global in New York.
Also supportive to products were analyst expectations that weekly reports on U.S. oil inventories will show stockpiles fell last week.
A Reuters analyst survey on Monday yielded a forecast for crude stocks to have risen 2 million barrels last week, but for gasoline stocks to be down 1.9 million barrels and distillate stockpiles to be down 1.5 million barrels.