Crocs, Inc. Stock Was Hammered in 2016 -- Here's Why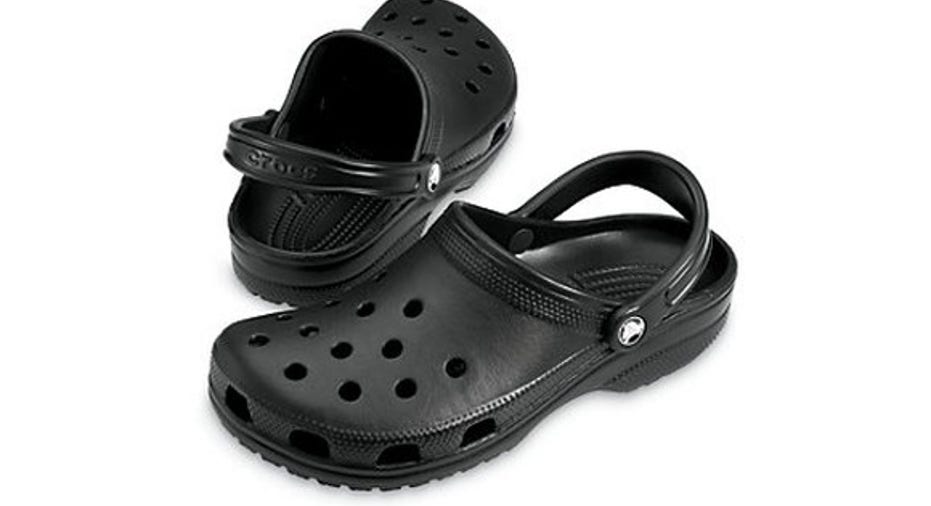 Image source:Crocs.
What happened
Shares ofCrocs, Inc. (NASDAQ: CROX)lost 30% of their value throughout 2016, according toS&P Capital IQdata. The iconic rubberized-clog company has had a volatile year with drastic share-price swings both ways as the market tried to make sense of mixed earnings each quarter. Though the company gained some steam early in Q1, the stock was pushed lower following Q2 and Q3 earnings. Still, some analysts think the company's fortunes could turn.
So what
Crocs' stock got a major boost following Q1 earnings, which showed rising sales, year over year, and net income of $0.07 for the quarter. In the few months following the earnings, the stock nearly doubled. By mid-July, the stock was up around 20% from the start of the year.
However, the market wasn't as excited about the following quarterly earnings. In Q2, sales declined 6.3%, year over year,and in Q3 another 11.6%. The company had some highlights in 2016, such as improved inventory management that could lead to higher gross margin in the future, though gross margin has declined substantially in the past three years. Net losses for the nine months ended Sept. 30 were $13 million, compared with net income of $24 million for the same period of 2015.
Crocs' "Find Your Fun" campaign has been a highlight in recent earnings calls. Image source: Crocs.
Another problem that has plagued Crocs this year is continued legal and patent battles, both from and toward the company, that have diverted money and focus away from the company's already tough uphill climb.
Now what
Looking ahead to 2017, Crocs will be seeking to prove that it can reduce the trend of declining sales and gross margins and especially show that it's on the path to produce a profit again. It'll have to do that while other young companies are growing aggressively in the footwear market, such as Under Armour (NYSE: UAA)(NYSE: UA), which grew its footwear salesmore than 50% in the first nine months of 2016, year over year.
Still, some analysts are bullish that Crocs can still do just that. The average analyst estimate for those covering the stock is that full-year 2017 earnings will be $0.12, up considerably from the $0.13 loss expected for the full year 2016. With new spokespeople, such as Drew Barrymore and others, as well as more disciplinedcost management, 2017 could be a much better year for Crocs.
10 stocks we like better than Crocs When investing geniuses David and Tom Gardner have a stock tip, it can pay to listen. After all, the newsletter they have run for over a decade, Motley Fool Stock Advisor, has tripled the market.*
David and Tom just revealed what they believe are the 10 best stocks for investors to buy right now... and Crocs wasn't one of them! That's right -- they think these 10 stocks are even better buys.
Click here to learn about these picks!
*Stock Advisor returns as of Nov. 7, 2016
Seth McNew owns shares of Under Armour (A Shares) and Under Armour (C Shares). The Motley Fool owns shares of and recommends Under Armour (A Shares) and Under Armour (C Shares). The Motley Fool recommends Crocs. The Motley Fool has a disclosure policy.