Criteo SA (ADR) Serves Up Another Quarterly Beat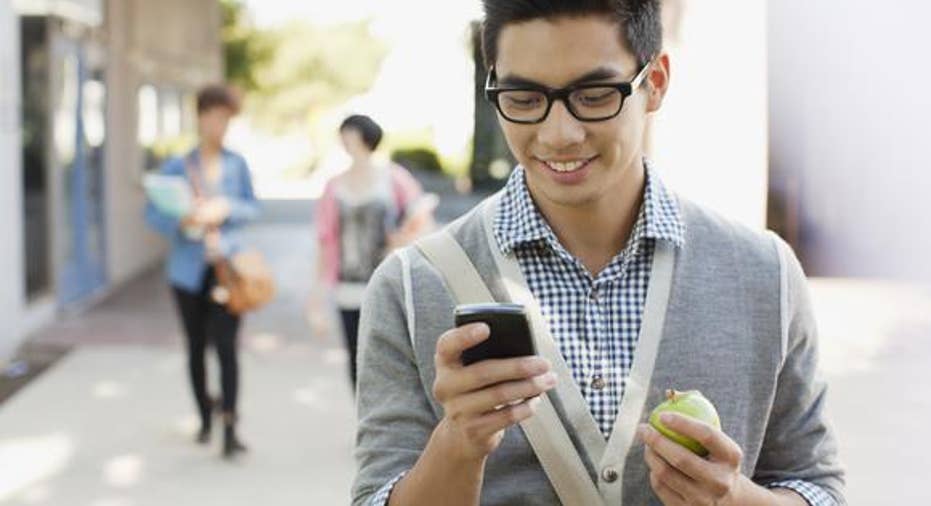 Mobile ads drove more than 50% of Criteo's revenue ex-TAC during the quarter.
Shares ofCriteo SA (ADR) may have fallen 5% Wednesday after the advertising-retargeting specialistannounced first-quarter 2015 results Wednesday morning. But don't take that to mean the company's performance was sub-par. Let's take a closer look at how Criteo kicked off the new year.
Criteo results: The raw numbers
| Metric | Q1 2016 Actuals | Q1 2015 Actuals | Growth (YOY) |
| --- | --- | --- | --- |
| Revenue (ex-TAC*) | $162.5 million | $118.3 million | 37% |
| Net income available to shareholders | $17.1 million | $13 million | 32% |
| Net income per share | $0.26 | $0.20 | 30% |
ex-TAC = excluding traffic-acquisition costs; YOY = year over year. Data source: Criteo S.A.
What happened with Criteo this quarter?
Revenue ex-TAC climbed 41% year over year on a constant currency basis.
Adjusted net income grew 34.8% year over year, to $28.1 million, or $0.43 per diluted share.
Adjusted EBITDA increased 54% (56% at constant currency), to $48.8 million.
By comparison, both the top and bottom lines were above expectations; Criteo's guidance provided last quarter called for lower revenue ex-TAC of $153 million to $158 million, and adjusted EBITDA of$36 million to $41 million.
Cash flow from operations was $18.9 million, down from $41 million this time last year, while free cash flow declined to $6.8 million from $28.1 million.
Both figures were negatively affected by an unusual change in working capital on higher income tax paid.
Criteo CFO Benoit Fouilland explained during the subsequent conference call that "the working capital pattern we saw in Q1 2015, specifically on the payable side, was quite unusual and have since normalized."
The quarter ended with cash and equivalents of $386 million, up from $354 million at the end of 2015.
Criteo added more than 760 net clients in Q1 and maintained client retention at 90%.
Existing clients at the end of last year's first quarter generated 21% more revenue ex-TAC at constant currency in the latest quarter, speaking to Criteo's ability to expand revenue within its existing customer base.
More than 50% of revenue ex-TAC was generated from mobile ads during the quarter.
CEO Eric Eichman said during the subsequent conference call that "virtually all clients are using our complete multi-screen solution."
Nearly 5,000 advertisers are live onFacebookmobile via Criteo's integration with dynamic product ads as of the end of the quarter, up from just over 3,000 at the end of Q4 2015.
On a geographic basis:
Americas region revenue ex-TAC rose 43% year over year (48% at constant currency) to $56 million, or 35% of Criteo's total.
Europe, Middle East, and Africa revenue ex-TAC increased 26% (30% at constant currency) to $68 million, or 42% of the total.
Asia-Pacific revenue ex-TAC grew 53% (52% at constant currency) to $38, or 23% of Criteo's total.
What management had to say"We are making advertising accountable to performance metrics through innovation and technology,"Eichmann said. "2016 is off to a strong start and our pipeline of exciting new products will continue to fuel high growth."
"We delivered fast growth and increased profitability," Fouilland succinctly added. "This combination remains a unique feature of our business model."
Looking forwardFor the current quarter, Criteo expects revenue ex-TAC between $158 million to $162 million, with adjusted EBITDA between $32 million and $36 million. With the caveat that we don't lend much credence to Wall Street's near-term demands, analysts' consensus estimates similarly called for second-quarter revenue of $161.1 million.
For the full year 2016, Criteo continues to expect revenue ex-TAC growth of between 30% and 34% at constant currency, while adjusted EBITDA margin as a percentage of revenue should increase between 60 and 100 basis points.
All things considered, this was another solid showing from Criteo despite broad advertising industry headwinds, especially as it reiterated the strong full-year guidance that had the market so excited three months ago. As long as Criteo can sustain this momentum as it builds on its steadily growing base of loyal clients, I think long-term investors should be pleased with where it stands.
The article Criteo SA (ADR) Serves Up Another Quarterly Beat originally appeared on Fool.com.
Steve Symington has no position in any stocks mentioned. The Motley Fool recommends Criteo. Try any of our Foolish newsletter services free for 30 days. We Fools may not all hold the same opinions, but we all believe that considering a diverse range of insights makes us better investors. The Motley Fool has a disclosure policy.
Copyright 1995 - 2016 The Motley Fool, LLC. All rights reserved. The Motley Fool has a disclosure policy.