Credit Suisse Shares Plunge on Huge Loss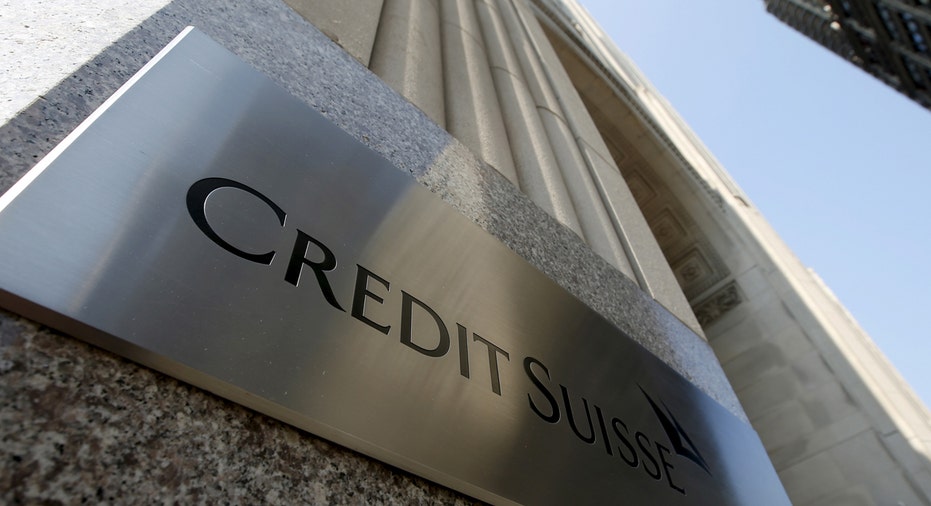 Just as Credit Suisse undertakes a costly transition away from its investment banking past, it is learning that wealth management can also be a volatile business.
Shares in the Swiss bank tumbled 9% on Thursday, after the bank posted a bigger-than-expected net loss, and suffered wealth management outflows similar those reported earlier by rival UBS Group.
Credit Suisse's reported net loss of 5.8 billion Swiss francs ($5.8 billion) for the fourth quarter came after writing down a chapter of its history in which the Swiss lender sought to compete with the biggest investment banks on Wall Street.
The loss stemmed from a 3.8 billion franc goodwill impairment charge, primarily related to its acquisition of U.S. investment bank Donaldson, Lufkin & Jenrette for $11.5 billion in 2000--a price widely viewed at that time as expensive.
As Credit Suisse absorbs both the impairment and recent market turbulence, it plans to cut about 4,000 jobs as it seeks to ramp up billions of dollars in cost savings.
The fourth-quarter loss compared with a net profit of 691 million francs in the same quarter a year earlier. Net revenue fell 34% to 4.2 billion francs, Credit Suisse said.
The bank had previously flagged the likelihood of a large quarterly loss. Still, analysts had expected of a loss of 4.97 billion francs for the period, and 4.85 billion francs in net revenue.
The latest report is the first to reflect Credit Suisse's new structure under Chief Executive Tidjane Thiam, who took over in July and announced his strategic plans for the bank in October. Those plans include bolstering wealth management, particularly in regions such as Asia, while reducing the resources directed to its investment bank.
The bank's new structure includes units focused on Switzerland, Asia and other regions targeted as part of an international wealth management business--in addition to having Credit Suisse's international investment banking operations in a supporting role.
Investors and analysts have generally cheered Credit Suisse's shift in direction, which could spare it from some of investment banking's volatility.
However, results posted earlier this week by Credit Suisse rival UBS Group AG demonstrated that wealth management is also not without risk. UBS, which has sharply reduced its own investment bank, reported billions of dollars in outflows from its core wealth management business, as clients pulled money out amid challenging markets or declined to invest.
On Thursday, Mr. Thiam said, "the environment has deteriorated materially during the fourth quarter of 2015 and it is not clear when some of the current negative trends in financial markets and in the world economy may start to abate."
Like UBS, Credit Suisse cited a lower level of activity among its clients in the quarter. Credit Suisse's private banking businesses in Switzerland, and at the international wealth management unit, each reported net asset outflows in the period.
However, the bank's private banking unit in Asia reported 3 billion francs in net new assets in the quarter--up from 1.6 billion francs in the same period a year earlier.
"We continue to believe that wealth management, supported by our investment banking capabilities, remains a uniquely attractive long-term opportunity," Mr. Thiam said. Meanwhile, Mr. Thiam said he has opted to accelerate a cost-cutting program already in place, designed to save about 3.5 billion francs by the end of 2018. The job cuts announced by the bank on Thursday include contractors and consultants, Credit Suisse said.
The bank's operation in its home country of Switzerland, dubbed its Swiss Universal Bank, is slated for a partial, initial public offering of shares to the public by next year. The business reported that pretax profit fell to 367 million francs in the fourth quarter, compared with 707 million francs in the period a year earlier.
Net revenue at the Swiss Universal Bank fell 14%, Credit Suisse said. Net asset outflows at the unit's private banking business totaled 2.9 billion francs.
The bank's international wealth management business, which is focused on expanding in emerging markets including Eastern Europe and sub-Saharan Africa, reported a pretax loss of 20 million francs in the quarter, compared with a pretax profit of 423 million francs in the period a year earlier.
The international wealth management unit reported net asset outflows of 4.2 billion francs in the quarter for its private banking business.
Credit Suisse's private banking net asset inflows in Asia were offset by a fourth-quarter pretax loss of 617 million francs for the business, compared with a pretax profit of 122 million francs in the period a year earlier.
Write to John Letzing at john.letzing@wsj.com