Cowboys owner Jerry Jones withdraws threat to sue NFL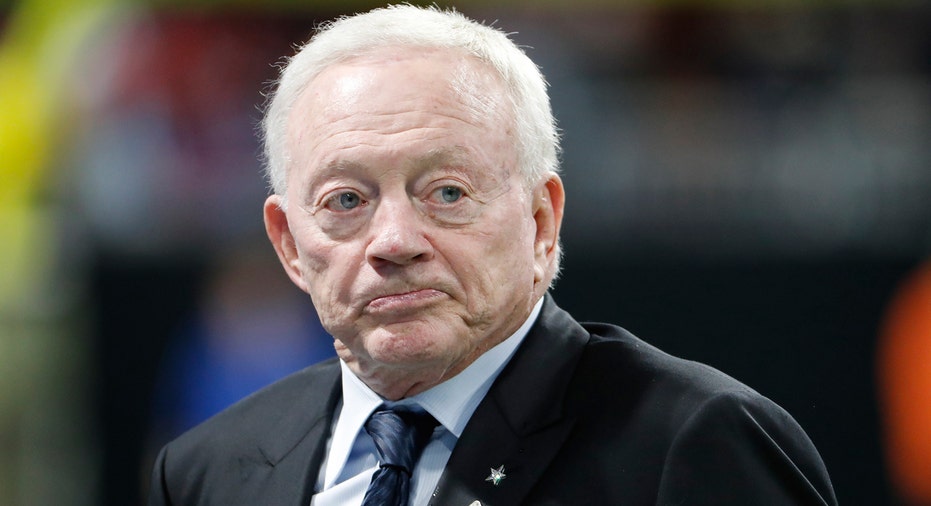 Dallas Cowboys owner Jerry Jones said late Tuesday that he is "standing down" from his threats of litigation against the NFL, even as he stepped up his criticism of commissioner Roger Goodell, according to a letter reviewed by The Wall Street Journal.
Amid simmering tensions over Goodell's contract extension, Jones wrote that he believes the league's compensation committee is receiving "valuable feedback from a number of owners" and is subsequently withdrawing his threatened legal action over approving the deal.
After acknowledging "I know you are tired of hearing from me," Jones said that he believes the commissioner's performance "cannot be rewarded at this time."
"Our job is far from finished," he said, adding that he is trying to prevent further damage beyond what has transpired since May, when the league's owners unanimously approved an extension for Goodell.
Jones cited declines in television ratings for NFL games, lower ticket sales and attendance, discontent among fans, and high-profile litigation over player suspensions, among other problems related to Goodell's leadership. He also noted "inflated" league staff and budget in his Tuesday letter. In addition, he argued he isn't "acting out in retaliation for my player's suspension," a reference to Goodell's high-profile suspension of Cowboys running back Ezekiel Elliott.
Jones wrote that his "goal these past few weeks has been to ensure that we have an opportunity, as a league, to engage in an open and frank conversation about this contract extension" while the league is facing "unprecedented reputational challenges."
The league's compensation committee and Jones have written hostile letters back and forth over the past week, with the committee urging Jones to quit his battle against Goodell. Previously, the committee wrote that his attempts to sabotage the deal, which he previously voted in favor of, "reflects conduct unbefitting an owner and is damaging to the League."
Jones's actions in previous weeks have upset his fellow owners, especially after he hired high-profile litigator David Boies and threatened to sue them and the league. Owners also believed he was behind critical comments from Papa John's CEO John Schnatter, and have discussed potential repercussions against Jones -- including potentially stripping him of his franchise.
Jones on Tuesday wrote that he looks forward to discussing the league's issues during a meeting scheduled for Dec. 13.
Jones's decision to withdraw his litigation threat were previously reported by USA Today. The contents of Jones's letter haven't been previously reported.
The NFL didn't immediately respond to requests for comment about the letter.
Write to Andrew Beaton at andrew.beaton@wsj.com